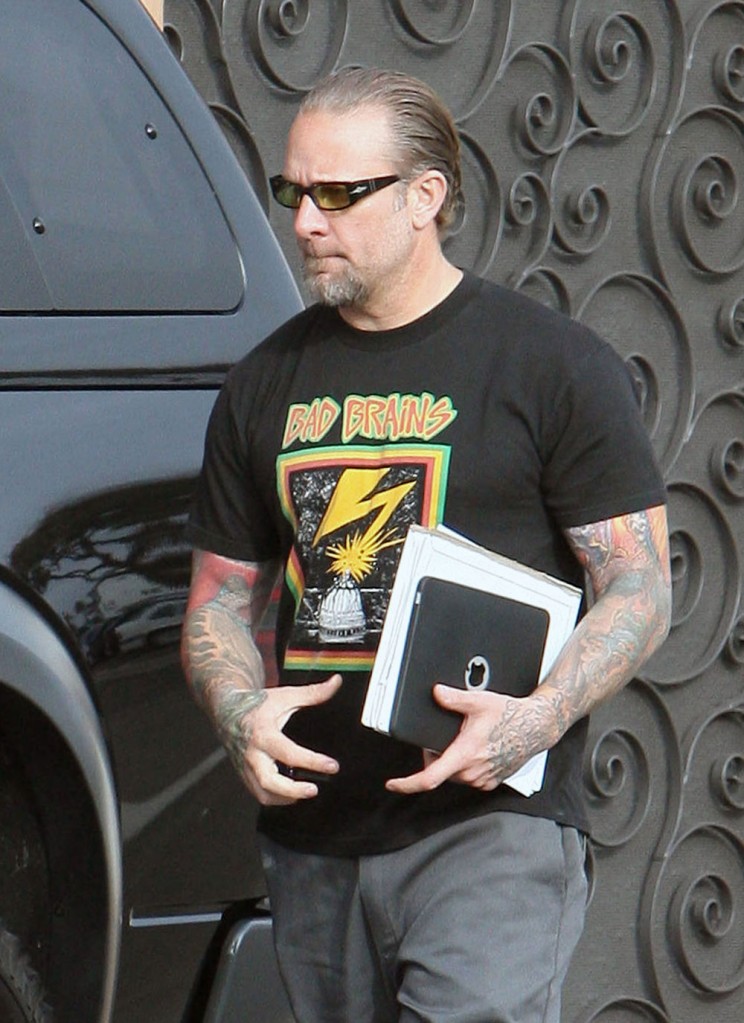 Jesse James' former stepmother is so upset at his allegations of abuse at the hands of her former husband that she's now resorted to attacking his character. According to Janina James Coan, who was married to Jesse's dad Larry and lived with his family since Jesse was six, Jesse's claims aren't true and he was a bad kid to boot. Coan has since divorced Jesse's dad, but she says she was there throughout Jesse's childhood. She detailed some disturbing incidents in which Jesse was both racist and cruel. According to Coan, Jesse went through a period as a teen when he injected baby rats with alcohol in order to kill them, comparing it to the terrible experiments that Dr. Mengele did on concentration camp victims. She also said that Jesse used the "N" word all the time along with an epithet against Mexicans. As if we didn't already dislike the guy.
Coan, along with James' dad Larry, have both already denied that Larry abused James as a child. Now they think that heaping allegations on against James will somehow help their case. It kind of makes them look desperate, actually, but here's what she said:
"When Jesse was about 14 or 15 years old he started killing baby rats by injecting them with alcohol," his former step-mother told RadarOnline.com exclusively. "He told me it's what Dr. Mengele would do."

"Jesse found it fascinating that Hitler could seduce a whole country," Coan said. "Then he became obsessed with Hitler's personality and the SS and he was fascinated with the Nazis. He definitely has an attraction with the power race thing."

"I heard him use the N word a bunch of times," Coan told RadarOnline.com. "I don't know if I'd call Jesse a white supremacist or not but he's definitely racist.

"He didn't like Mexican people either. He always referred to them as wetbacks," Coan continued.

RadarOnline.com previously reported that James used derogatory terms about gay people. In an email obtained exclusively by RadarOnline.com, James called two former employees "f***ots"…

Coan was involved with Jesse's dad from the time that Jesse was six years old. They married when Jesse was in high school and later divorced.
[From two different articles on Radar Online]
I'm not surprised that James was kind of a bad seed as a teen, but who knows how bad he really was? Did he kill some baby rats once or was he doing it for months/years? If he was really using the "N" word and other epithets, it was up to his parents to set him straight and tell him that was absolutely unacceptable. Where do you think he learned it from in the first place?
As we mentioned yesterday, James' sister supports his version of events and says that she witnessed abuse at home. Enough with the back and forth from this family! If anything, it shows that there was some dysfunction going on. Whether or not it was full blown abuse is something only they can know, unless there were outside witnesses or authorities involved.
The truth expert at Eyes for Lies had a chance to analyze James' full interview, where he cried when he recounted the abuse. (This is a follow-up to Eyes' earlier analysis in which she observed that James seemed arrogant and self centered in the advance clips that were out.) According to Eyes, James' story of abuse falls through, and it looks like he's working hard to muster up tears about an incident he describes only in very vague terms.
So is James just a scared man-child acting out or is he a manipulative creep like he's been since he was a teen? I think we have plenty of evidence to judge his character without knowing anything about his childhood background.
Photos are from 5/27/10 and include one of Jesse's two daughters: Sunny, 6, and Chandler, 15. Credit: Fame Pictures