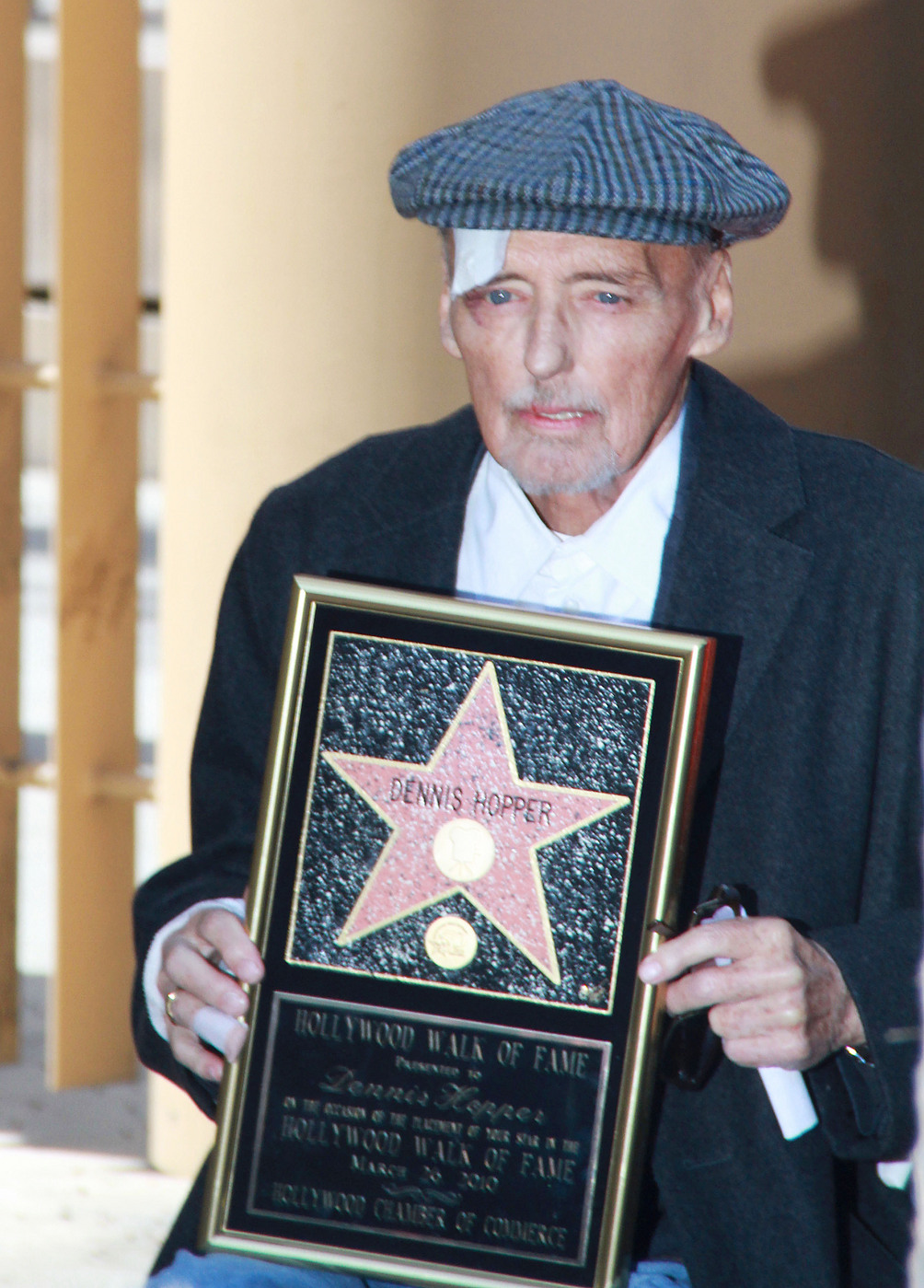 Dennis Hopper lost his battle with prostate cancer early Saturday. He died in his Venice, California home surrounded by family and friends. He was 74 years old. Hopper had announced his cancer battle last fall, after making a few public appearances in which his weight loss and ill health was evident. He had a television, stage and film career that spanned nearly 50 years, and he has more than 200 credits on his IMDB page. He worked with everyone, knew everyone, drank with everyone, did drugs with everyone, and probably slept with everyone too. He knew and worked with Marlon Brando, James Dean, Jack Nicholson, Peter Fonda, Sean Penn (who named his son after his friend) and many, many more. In addition to his career as a writer, director and actor, he was also a painter and photographer, and one of the world's great art collectors (along with his friend Jack Nicholson).
Hopper first became a household name by starring, co-writing and directing 1969's Easy Rider. During that time – and for decades after – Hopper struggled with alcohol and drugs, and his career was often hit or miss. He gave iconic performances in Apocalypse Now, Blue Velvet, Hoosiers, True Romance, Speed and 24. The last two decades were Hopper's most prolific time as an actor, and he worked non-stop. It was perhaps because he found a niche as a character actor, a supporting player rather than as a leading man. He never won an Oscar (although he was nominated twice), but he was widely regarded as one of the most iconic and recognizable actors to come out of the 1960s.
Since the beginning of the year, Hopper has gotten a lot of press in the tabloids, and much of it was probably unwelcome for him. While struggling with cancer, he decided (some say the decision was made for him by his daughter) to divorce his current wife. Stories even appeared about how abusive he was towards her, and how possibly abusive his daughter was to him. We don't know what was really happening there, and as far as I know, Hopper was still married to Victoria, although he had probably changed his will.
All in all, no matter what he was like in his personal life, Hollywood is mourning an icon today. I just happened to be reading about him last night – a publisher sent us an advanced copy of Hollywood Hellraisers: the Wild Lives and Fast Times of Marlon Brando, Dennis Hopper, Warren Beatty and Jack Nicholson by a British journalist Robert Sellers. So far, I'm still in the 1970s, but there are some fascinating details about all of the men so far. One of my favorite stories involved Michelle Phillips, and how in the short span of something like five years, she married and divorced Hopper (first), then dated Jack Nicholson (second) and Warren Beatty (third). All three men got serious about her and Jack and Warren even considered marrying her – and both Jack and Warren checked with Dennis before they began their affairs with her.
In any case, Hopper's death was expected but still sad. Our thoughts and prayers go out to his extended family and friends.
Header: Hopper's last public outing, in March, to receive his star on the Walk of Fame. Credit: PCNphotos.com.