Angelina Jolie, Brad Pitt and some members of the Jolie-Pitt clan emerged from hiding yesterday, Saturday. They appeared in Malibu! Last I heard, they were still in Europe, but it looks like they came home to Malibu for a little sun, surf and alcoholic beverages. These photos are the only ones we have access to – they're mostly of Maddox and Pax playing on the beach, and of Brad looking extremely grizzly – like, hairy than ever. Like I need to check him for ticks, like I do with my dog. The Daily Mail and Us Weekly have photos of Angelina too. There are random children in other photos, so I'm thinking there's some kind of beach party where Brad invited other families, or maybe some of his family? They could be Pitt cousins. Oh… Us Weekly says that they weren't even at their Malibu property, they were at someone else's party. Brad had a margarita! Angelina had wine. According to an eyewitness, they were very "affectionate". Of course they were. Angelina probably needs to get liquored up to touch Brad's insane scruff.
Beach blanket bingo…with Brangelina!

Back in the states after months in Venice, Italy, Brad Pitt and Angelina Jolie kicked off the holiday weekend Saturday at a pal's private beach party in Malibu, Calif. Joining the couple for the shindig were two eldest sons Maddox, 8, and Pax, 6. (Zahara, 5, Shiloh, 4, and twins Vivienne and Knox, 22 months, stayed behind.)

Quaffing a margarita, Pitt, 46, chatted with pals on the beachside deck, with Jolie, 34, drinking white wine beside him.

"Brad was very affectionate," a witness tells UsMagazine.com. "He put his arm on Angie's wrist and was always rubbing her back or resting his hand on her shoulder."

Maddox and Pax, meanwhile, hit the surf on boogie boards. "Brad and Angelina were watching and pointing with big smiles on their faces," the observer says. "At one point, Pax was packing sand between his hands to make a ball and then throwing it as far as he could." The two buddies "liked trying to outdo one another."

And while their famous parents watched their fun from afar, the celeb kids "seemed independent and did their own thing without ever having to check in with their parents."

"Brad and Angelina seemed very trusting of their boys [and] wrapped up with each other," the witness adds. "They were having a good time relaxing and enjoying the great weather."
[From Us Weekly]
Maddox and Pax seem to be playing with boogie boards. I remember the summer I discovered how much fun boogie boards and the ocean were. I got such a crazy tan that summer! I think I was 13 years old. Damn. Now I wish I was sitting by the ocean getting a tan. Motherf-cker!!!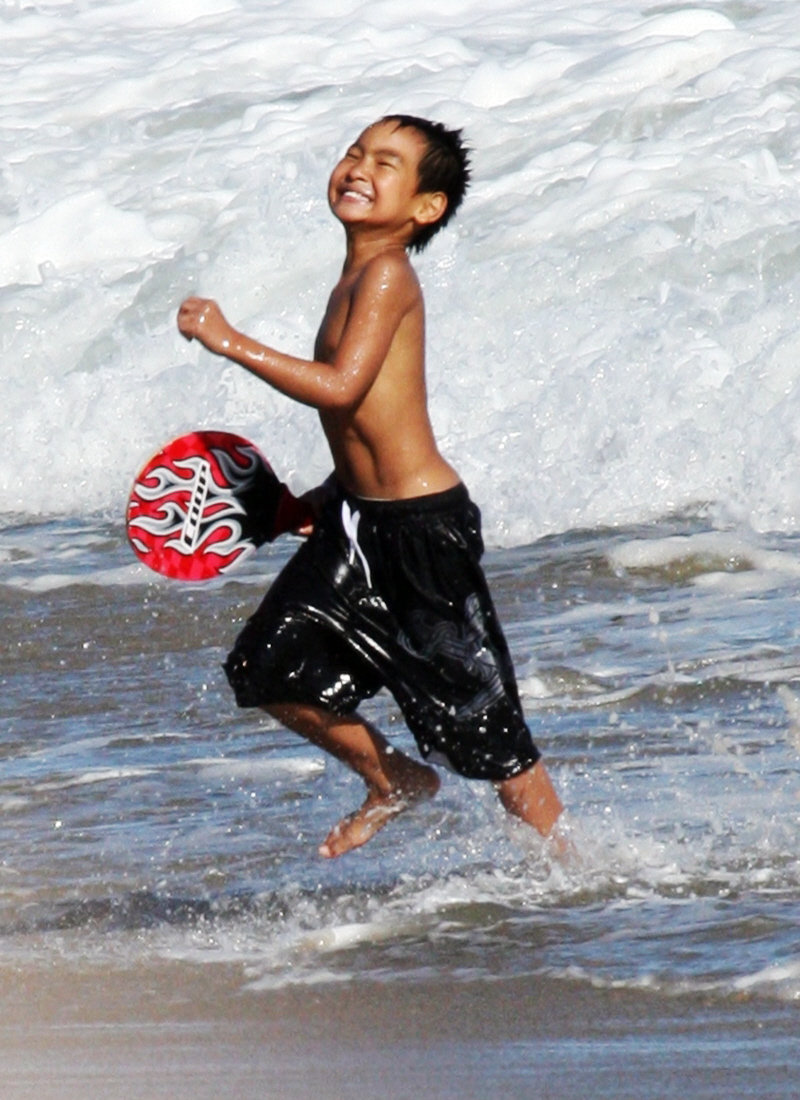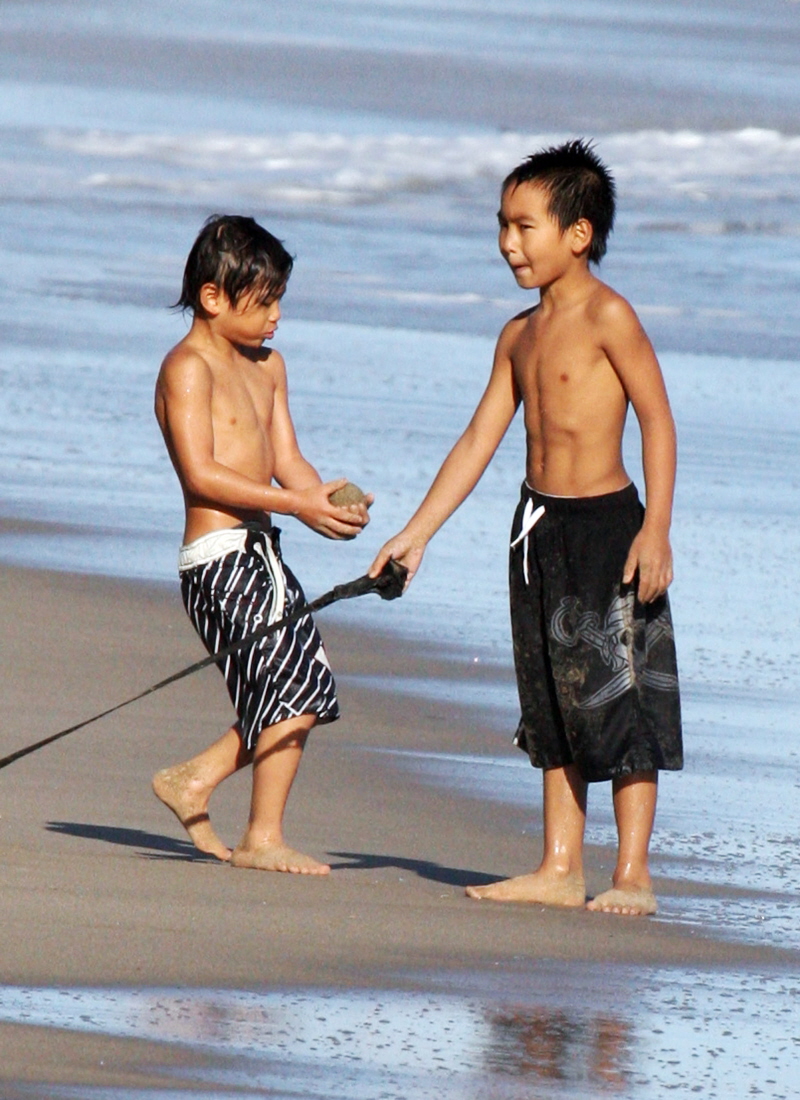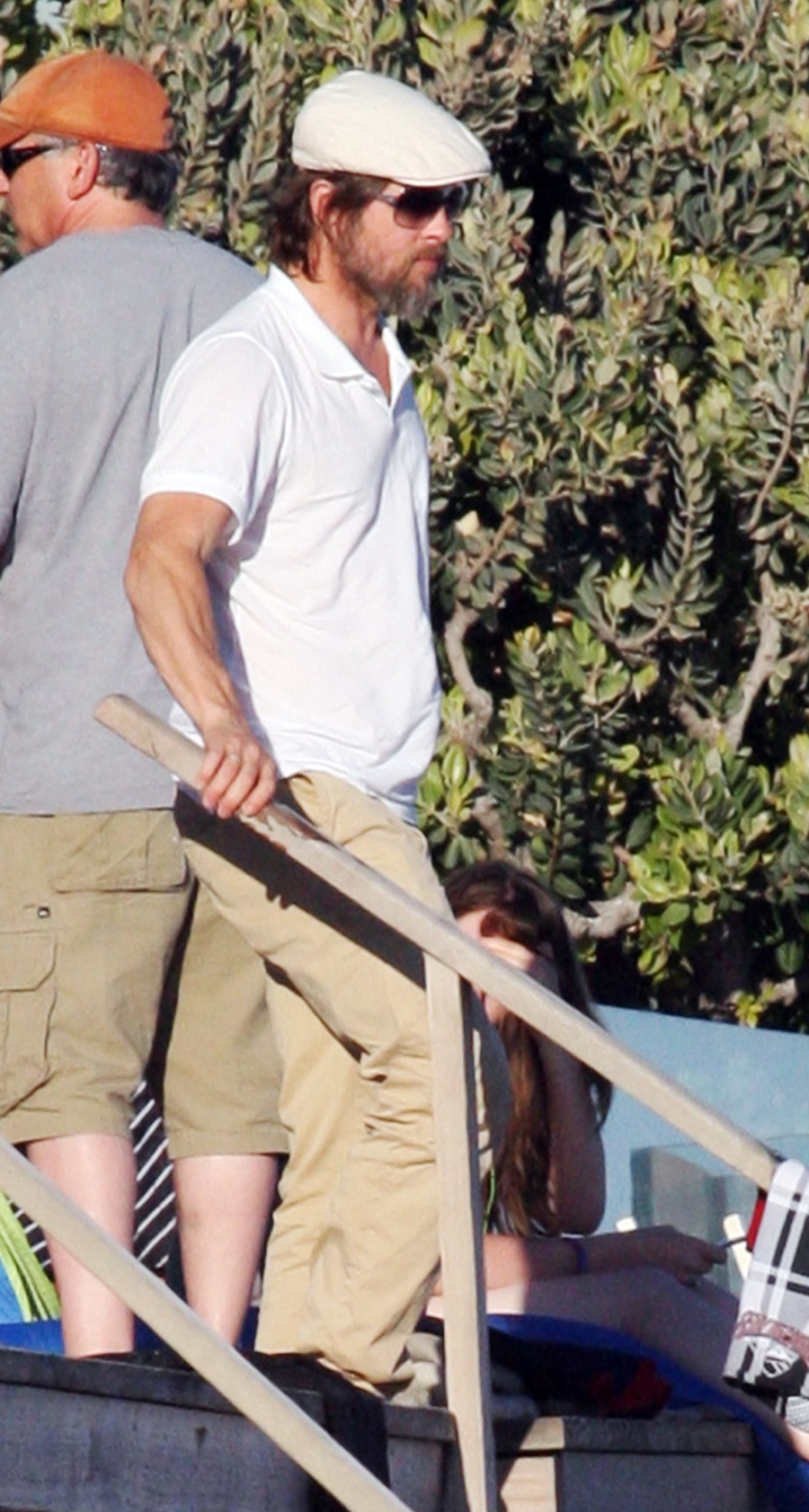 Brad Pitt, Maddox and Pax on May 29, 2010. Credit: Mike/Fame.