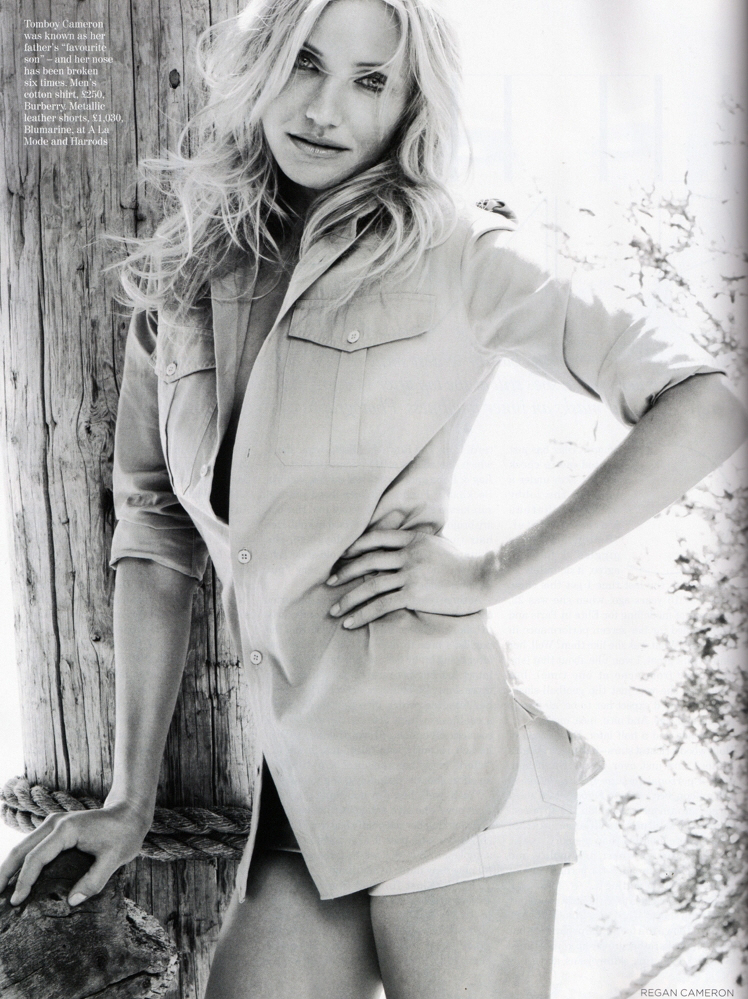 Here are some okay-quality scans for Cameron Diaz's appearance as the cover girl for Vogue UK. I'm not in love with the cover shot or the photo shoot – I think Camy looks airbrushed into oblivion, but that's probably because I know Camy's skin looks nothing like that. Don't get me wrong, I think she's a pretty girl – but on red carpets and in candid photos, you can tell she has skin problems, and it does irritate me that they airbrush her face to look flawless every time. The interview isn't online yet, but I've pulled a few quotes from the scans that I thought were interesting:
Cameron on aging naturally: "Yeah, well, hey, I'm not doing anything right now. But we'll see. So far, so good. But I'll never say never to anything."

On her role in 'Bad Teacher': "The women I play, I usually like to take care of them… make sure they are moral people, even if they're not doing their best. But this one? I don't feel any responsibility for her. She doesn't give a sh-t about anyone by herself. I'm sure we'll offend everyone with it, which is great – because if you offend everyone, you don't have to apologize to anyone, right?"

On working with Justin Timberlake on 'Bad Teacher': "He plays the substitute teacher I, er, set my sights on."

Is she in love right now? "Oh, y'know… these are questions I can either play yes or no, and you know what? Yes, I am, I'm in love with life."

On her father's death in 2008: "There was this period of terrible numbness, and it's impossible for anyone to know what it's like until it happens to you… No one can ever underestimate how devastating it is. But at the same time, what I've learnt about losing someone so close is that my life is full of his presence. I'm not kidding, I really am in love with life at the moment."

On being child-free: "Look, here's what it is. You know how you have those moments of feeling dissatisfied and you think, 'What would make my life better?' Well, I've yet to go, 'Aha, that's it: a child!' I'm not saying I don't want them, but right now I see how torn up parents get when they're away from their kids, how guilty they feel, and I don't want that! I don't want to feel like I ought to be missing someone, I don't want to not do a film at a moment's notice…But don't get me wrong, I'm 100 percent committed when I commit to somebody or something. I'm a full-on nurturer – that's all I do."

On aging: "You've got to be realistic. I mean, I don't want to look 25 again. I might as well enjoy it while I've still got something."

On how she stays in shape: "No… fountain of youth… I guess it's just exercise, healthy diet, lots of water, lots of laughter, lots of sex – yes, sex, we need that as human beings. It's healthy it's natural, it's what we are here to do! I'm 37, I don't need to go out and party anymore. Those years are over for me. There are nights, sure, when you order more bottles of wine than you realize and then the bill comes and you go whoa! But I don't like waking up feeling gross. I don't like to lose my day."
[From Vogue UK, print edition]
I generally like Cameron in print interviews, she comes across pretty well. Like she's a lot smarter than her ditzy persona, and she's professional and focused too. Is she really as much fun as the interviewer seems to think she is? Eh. Personally, I find all of that "live in the moment" and "I have to be having fun all the time" stuff tedious. It's easy to "live in the moment" when you've got millions of dollars and few obligations. To her credit, though, Cameron isn't putting herself out there as the Everywoman. She seems to know she's got a blessed life, and that her enjoyment comes out of being a shrewd businesswoman.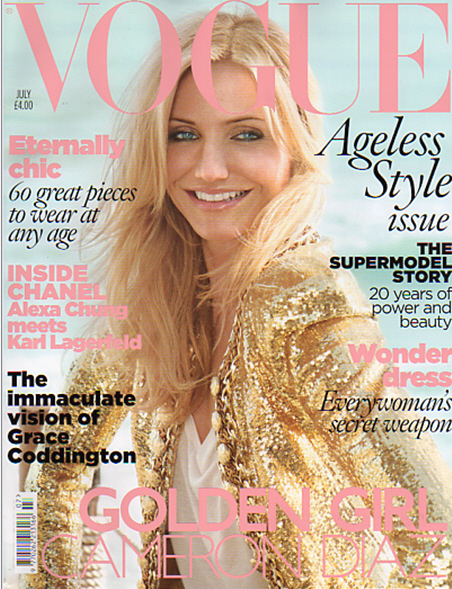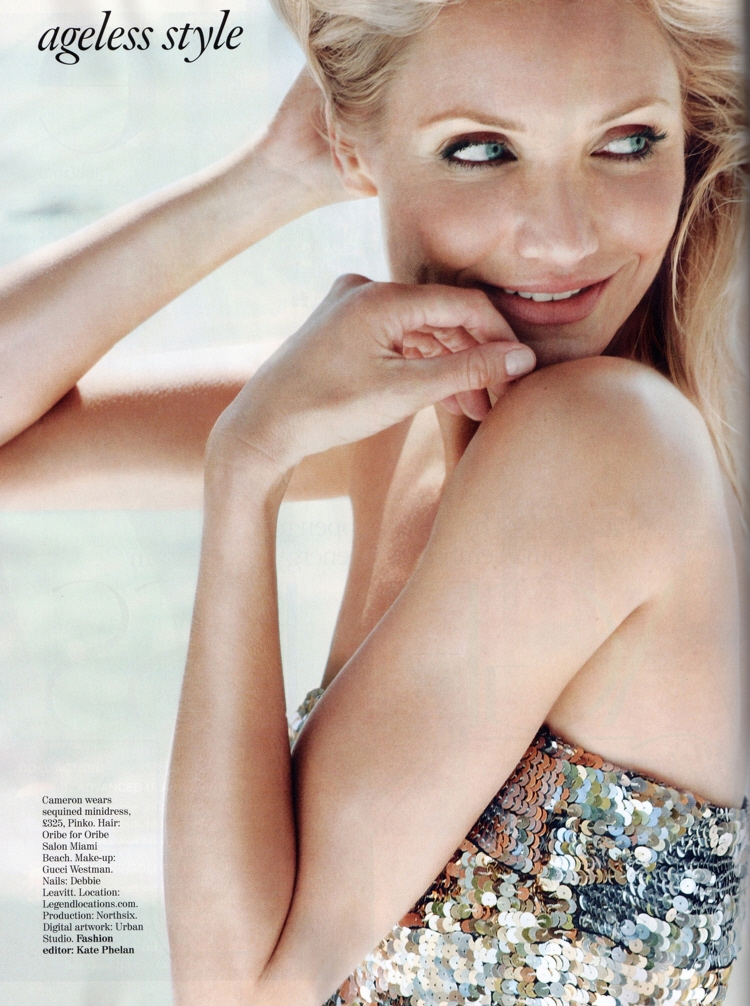 Cameron Diaz on Vogue UK, scans courtesy of The Fashion Spot.