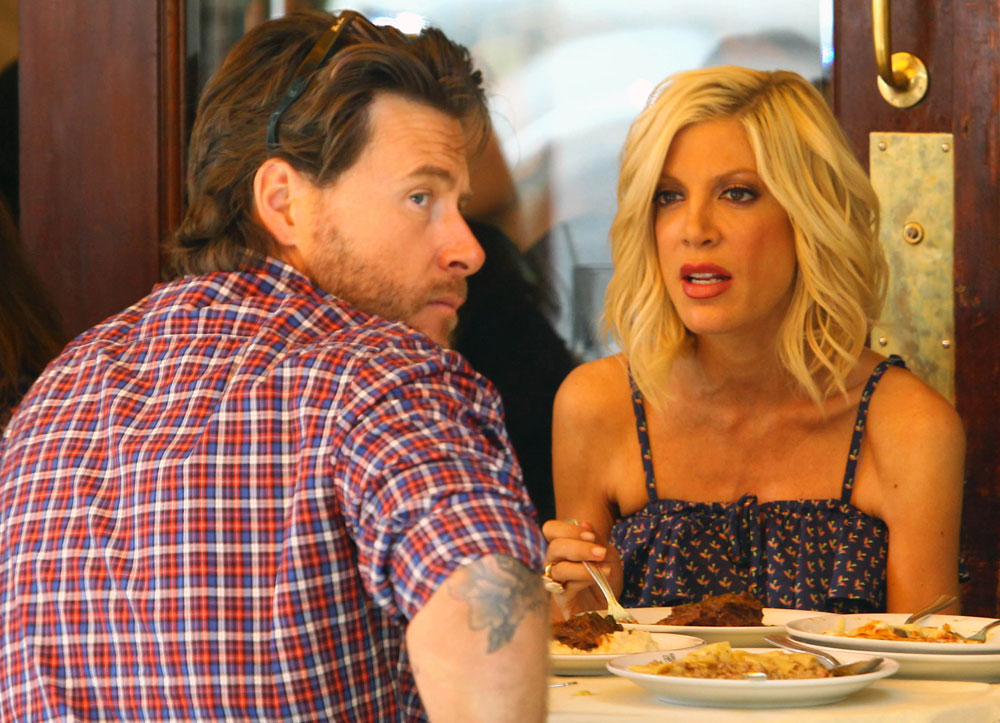 I don't like Tori Spelling, but she has a few fans who take me to task whenever I make fun of her for the dumb sh*t she says and does. Like when Tori and Dean held a recommitment ceremony after a whole four years of marriage, they put out meaningful items to represent their identities and deep abiding love. Tori made a display involving lucite boxes with shoes, along with a book on June Carter and Johnny Cash, calling them "an inspiration – a couple that were both married before and then found each other." I thought that was ridiculous, but there were a couple of people who were like "I love them, leave them alone!"
Yes, Tori and Dean were both married to other people when they "found each other." Tori was married for a year and Dean was in the process of adopting a special needs baby with his wife of 12 years, who wrote candidly about how it made her feel when Dean dumped her after knowing Tori a whole 3 weeks. Now that Tori and Dean are inevitably having trouble, Tori no longer seems to be inspired by infidelity. She admits to People that she's afraid that Dean will end up cheating on her, too. You know what they say, "once a cheater…"
Tori Spelling thinks her husband Dean McDermott will cheat on her! The star of Oxygen's Tori and Dean Home Sweet Hollywood admits to People magazine that things in her marriage have been really rough!

"We're a loving couple, but were human and definitely not perfect," says Tori. "Given our history I often get worried that Dean is going to cheat on me. If the phone rings and it's a girl's voice I have to ask if he's having an affair."

Even though Tori has no proof that Dean is cheating on her she says she can't help but think these horrible thoughts!

"Dean has never been anything but devoted, and he tells me over and over again that he would never do that," says Tori."Deep down I believe him. But I can't stop myself. For some reason I'm compelled to accuse him of cheating."

Tori realizes there have been several rumors saying she was in a "loveless" marriage and she says this is wrong BUT there are definitely problems.

"Last autumn was hard," she says. "We were in an ebb."

The mom of two kids, Liam, 3, and Stella, 2, tells People that Dean doesn't spend much time at home anymore.

"I apologize to Dean constantly and it drives him crazy and rightfully so," says Tori. "Dean isn't around to witness most of my efforts to build my business … he's riding motorcycles … I've become a workaholic and Dean has become a motorcycle-aholic … if Dean has a day off he's off to the race track."

"Better to love and get hurt than to have anger and no love," says Tori.
[From Hollywood Life]
There's an alternative that Tori seems to be missing. She could have chosen a partner with a history of fidelity, then she wouldn't have had to worry so much about whether history would repeat and she would get cheated on, too. Then again, she presumably had that with husband no. 1 and threw it away for true love with Dean. Does she know how it feels now? I doubt it.
Tori and Dean are shown out on 4/6/10. Credit: Fame Pictures