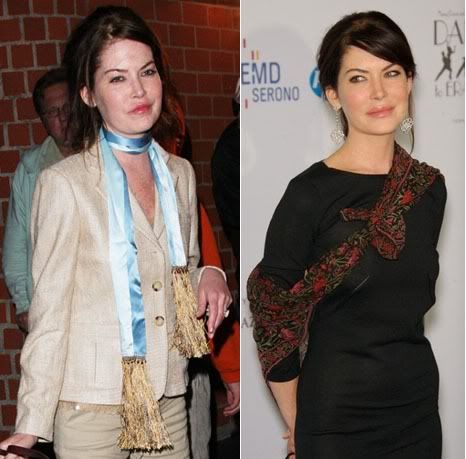 I think it's safe to assume that Lara Flynn Boyle has a medical condition that is causing her face to look puffy. Faded Youth posted other photos of Boyle from Friday night and said that it could be due to some kind of plastic surgery or injections, but it looks to me like she is on prescription steroids and that she might have slight bell's palsy, which is where the muscles sag on one side of your face. She was seen outside of Mr. Chow's restaurant, where she paused for photos and signed autographs.
I checked the photo agencies and it's been nearly a year since Boyle was photographed at an event, so she may have been lying low due to an illness. Hopefully she's ok. She's known for her thin figure and she looks just as skinny, but with some swelling around her face.
According to IMDB, she was on an episode of Law & Order this year and has two movies in the works for 2009. I really think she has some sort of medical condition, maybe an auto-immune disorder, and it's possible that she went to Mr. Chow to let everyone know what's going on with her. She might even talk to the press about it soon. I don't think she owes it to anyone to make it known if she's suffering from an illness, but celebrities don't go to Mr. Chow when they want to hide.
She is also shown on 4/13/07 as a comparison. Thanks to Splash News and PRPhotos for these pictures.