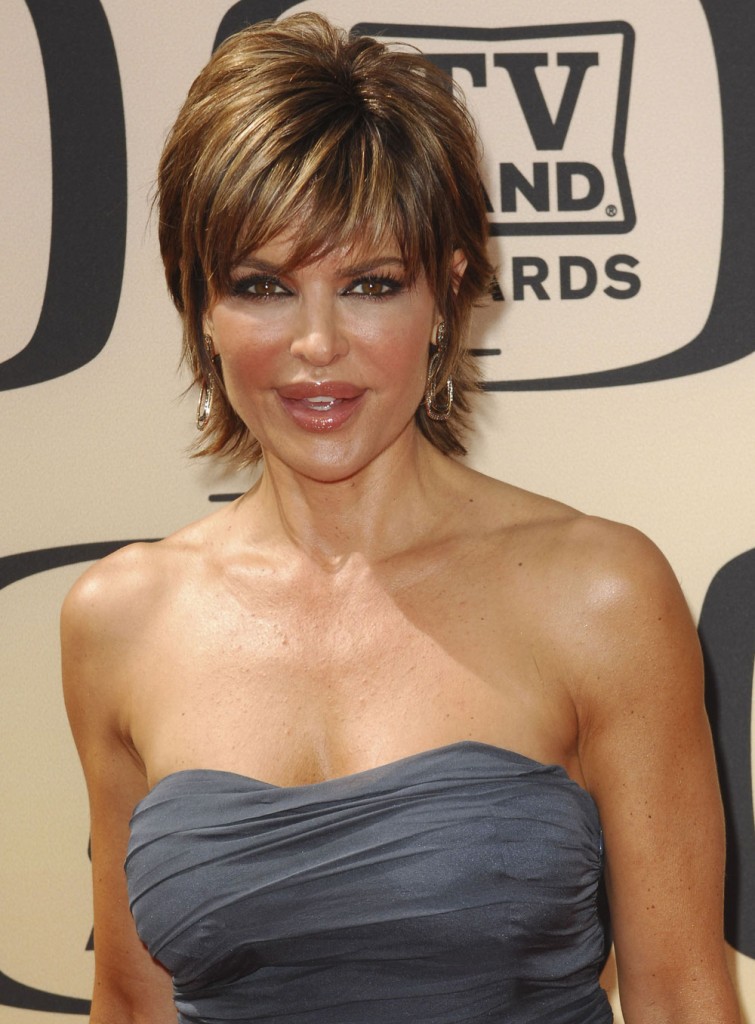 As part of People Magazine's 50 Most Amazing Bodies issue with super buff Zac Efron on the cover, they have a roundtable interview called "The Body Summit: Stars Tell All." It features lesser celebrities you may need help remembering like Lisa Rinna, 46, Nikki Blonsky, 21, Dayna Devon, 40, Garcelle Beauvais, 43, and Whitney Port, 25. They're all talking about body, beauty and weight issues, and Lisa Rinna really dominates the conversation. They discuss dealing with pressure from the media to stay thin and look perfect and it's common stuff that's moderately interesting. The best part is when Lisa Rinna complains that she never should have admitted to having her lips done. Lisa came clean about her painful-looking obvious silicone injection lip job about a year ago after sporting those puppies for 23 years. I don't ever remember seeing her without huge engorged-looking lips. She told People that she wishes she never owned up to the work she had done, though, because people just bashed her for it. (Lisa even got in a Twitter war with someone last month and claimed they were "cyber bullying" her for pointing out that her lips looked bad.)
In the quoted text below I'm also including a statement from Dayna Devon, who I've never heard of but who People notes is a "former Extra correspondent and Juvederm spokeswoman." Her face looks painful but she seems to like it that way and she admits to having a lot of work done. Here's a picture of Dayna to start us off: (Her daughter is so over it.)

What body issues do you face in Hollywood?
Dayna Devon: My issue is that there are so many celebrities who say, "I got in shape because I had salmon and vegetables." I personally have been very open. I do Juvederm, Botox. I had a tummy tuck and my boobs done after my baby [Cole, now 3]. I want people to know it's not necessarily fish and vegetables.

Lisa Rinna: I was open and honest last year. I had something done to my lips 24 years ago. It was like getting a tattoo – spur of the moment. I never spoke about it, but once I called out the pink elephant in the room, I took a tremendous beating.

Whitney Port: Because a lot of people probably think you're shallow, right?

Lisa: They do! I felt so judged. I became somebody who did something bad. I actually wish I hadn't said anything, to be honest.
[From People Magazine, print edition, June 28, 2010]
Good for Dayna Devon for admitting what she had done and earning some money for promoting it, if that's her thing. I think her face looks like it can't move, and her mouth looks like she can't smile properly in the People photo that accompanies this article. That's what Lisa is talking about, though – people nitpicking her looks after she makes herself vulnerable by admitting that she's had surgery. Maybe she shouldn't have told us about it if she didn't want to hear the comments, but she was promoting a memoir at the time. It would have been suspicious if she published a story about her life without acknowledging her most prominent feature.
Lisa Rinna is shown on 3/31/10 with her husband, Harry Hamlin, and on 4/17/10. Credit: WENN.com