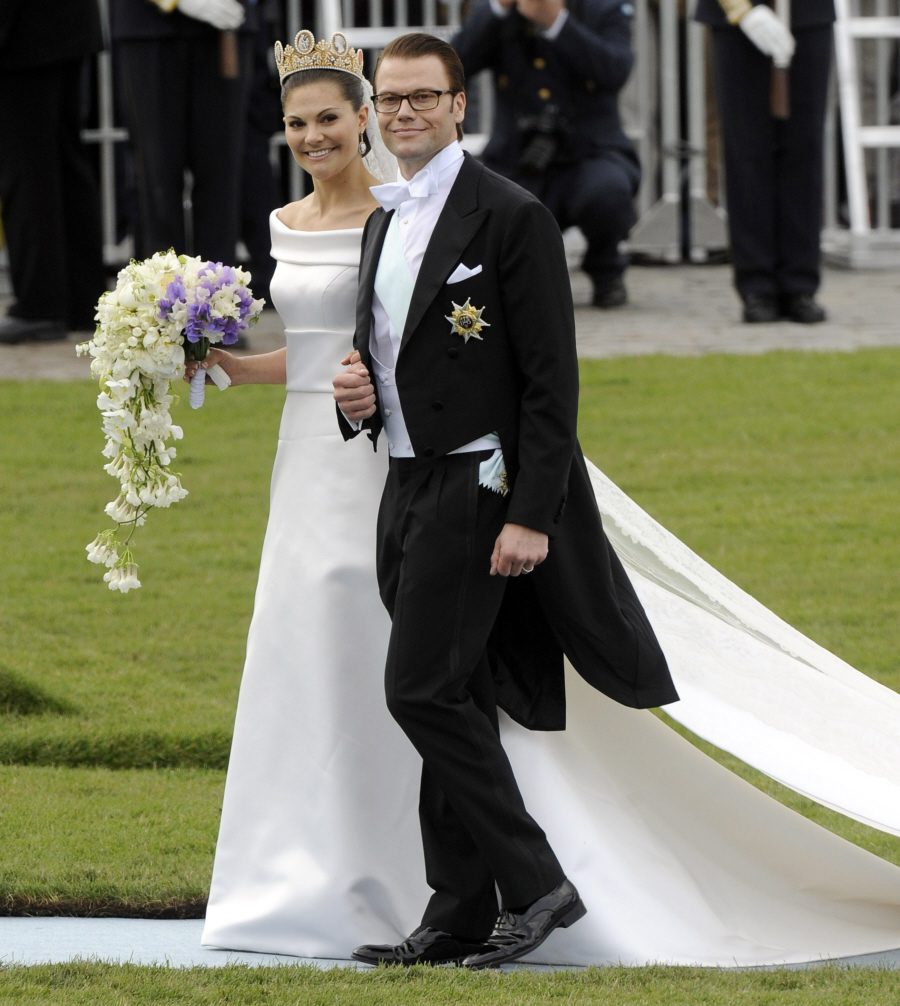 Sweden's Crown Princess Victoria got married on Saturday. What do you think of her dress? I really like it. Clean lines, very pretty, not frumpy or frilly. Very classic and lovely. She and her fiancé-now-husband, Daniel Westling, had been engaged since February of last year, so it was a nice, long engagement and there was plenty of time to plan out a lavish ceremony and reception. Victoria and Daniel been together for something crazy like nine years – and he's a commoner, and a gym owner. But his good heart and noble intentions grew on the Swedish people and Victoria's family, and their wedding seems like one of the big events of Europe's social calendar. Although… maybe Victoria shouldn't have done the thing right in the middle of the World Cup?
In regal and triumphant fanfare, Sweden's next Queen, Crown Princess Victoria tied the knot on June 19 in the largest royal wedding since Charles and Diana. In Stockholm Cathedral, 1,200 royal guests and dignitaries watched the nuptials, along with 500,000 people who lined the streets, and an estimated 500 million TV viewers from around the world. Yet the princess only had eyes for her groom, Daniel Westling – now Prince Daniel, as she calmly spoke her vows, tenderly wiped a tear from his eyes after exchanging rings, and at one point, even winked at him during the service.

The radiant and beaming 32-year old bride walked down the aisle on the arm of her father, the king, in a cream-colored duchess satin gown with short sleeves and an off-the -shoulder, rounded neckline. Designed by Pär Engsheden, the dress has a V-shaped back and a 16.5 foot train fastened from the waist. Topping off the look, as everyone predicted, was the Cameo tiara which the bride's mother, Queen Silvia, also wore to her own wedding on the same day in 1976. Made of gold, pearls and cameos, the tiara's center cameo depicts Cupid and Psyche from Greek mythology. Cameo drop earrings and a cameo and pearl bracelet completed the look.
[From HuffPo]
Daniel looked very cute too – he seems kind of dorky, but authentic. And he seems to adore her too, so good for them. Victoria's younger sister Madeleine (who recently dumped her cheating fiancée) was in attendance (she's the pretty blonde in blue), as was her brother Carl Philip, who, let's just admit it, is a total babe. I heart Carl Philip. He's even cuter than Prince Harry. Look at this gorgeous man:
Here are some more photos of Victoria and Daniel:
Header: Victoria and Daniel on June 19, 2010. Credit: WENN.