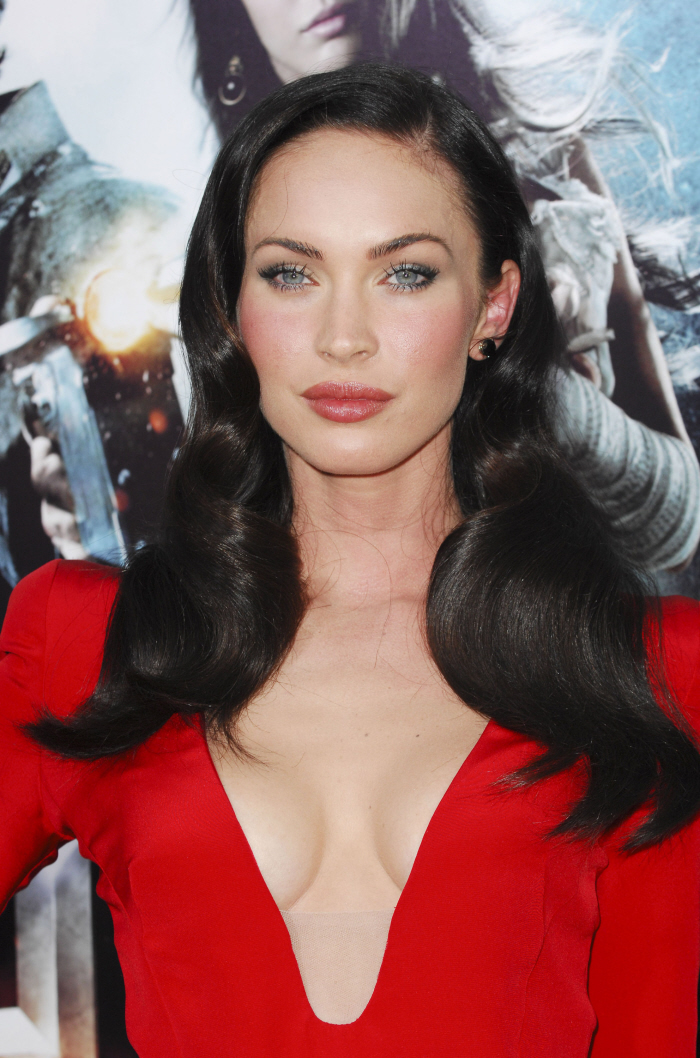 PopEater just put up this interesting editorial about whether or not Megan Fox's career is in the toilet after Jonah Hex bombed big-time this weekend. PopEater's take is kind of unintentionally hilarious, because they're saying that Megan is still a "star" in the same way Paris Hilton is a star – that Megan is a brand now, that her "brand" as Megan Fox is that she's sexy, and that she says dumb sh-t and can't act or open a movie. The full PopEater piece is here, here are some of the highlights:
Pop-Ed: Conventional wisdom has it that Megan Fox's career is toast. Her latest movie, the comic-book western 'Jonah Hex' (in which she co-stars with Josh Brolin), opened last week and underperformed even the already-low expectations placed on it (since its competition was the unstoppable 'Toy Story 3′), roping in just $5.4 million. That failure follows last fall's weak showing for horror tale 'Jennifer's Body,' the only movie Fox has headlined to date, which scared up just $16.2 million at the domestic box office.

The conclusion industry observers have drawn: No one wants to see Fox in a movie unless she's wearing short shorts and being chased by giant robots. And now, she doesn't even get to do that anymore, since she's been dropped from the 'Transformers' franchise in favor of Rosie Huntington-Whitely, a Victoria's Secret model with no acting experience.

If Megan Fox was determined to be a huge movie star or a top box-office draw, her career would be in big trouble. But movie acting is just her day job. Her full-time career is being Megan Fox. Being Megan Fox means establishing herself as a brand, not just an actress. She's one of the new breed of stars for whom every public appearance and interview is part of the performance; the actual credits she accumulates on her IMDb page are just a small portion of her 24/7 workload. It's a career of the sort pioneered by Madonna (who's never been just a musician, but has always been in the Madonna business) and carried on these days by celebrities like Britney Spears, Lindsay Lohan, Paris Hilton and Heidi Montag. As long as personalities like Fox stay in the public eye (say, by being mentioned on sites like ours), they're earning their keep.

What are the specific job requirements for being Megan Fox? She has to keep her 15 minutes of fame going by A) looking hot; B) saying outrageous things in interviews; and C) looking hot.

By those standards, she did exactly what was required of her for 'Jonah Hex.' During the shoot, she did A very well, since about all she was asked to do was show how well she could fill out a corset. And before the movie's release, she promoted it by doing plenty of B and C. Nonetheless, 'Jonah Hex' remained an ill-conceived, watered-down version of an obscure comic book in a tough-sell genre (westerns) with a leading man who has also never successfully opened a picture. That it tanked can't really be blamed on Fox.

Fox performed more or less the same duties for 'Jennifer's Body,' though she was also called upon to actually, you know, act. Critics differed on the quality of her performance, but the movie did earn $31.6 million at the worldwide box office, or about twice its $16 million budget. Certainly, the film did better than it would have if some lesser-known, less-flashy starlet had played the lead. So while it doesn't bode well for a career as a leading lady in mega-budget studio films, 'Jennifer's Body' is also not a career-killing flop. She should continue to be in demand for low-budget indie and horror films, especially as long as she remains a figure of tabloid interest who can generate enough free publicity to cover her modest salary.

True, the B part of her duties — being outspoken in interviews — may cost her gigs in the short run. Her frequent disses of both the 'Transformers' franchise and its director, Michael Bay, may have led to her departure from the forthcoming 'Transformers 3.' The actual circumstances of the split are in dispute; Fox has said she quit, while Bay has said he let her go, not because of her badmouthing him and the movies, but because he simply wanted to take the story in a different direction. Still, that second 'Transformers' movie grossed $402.1 million in North America last year and $836.3 million worldwide, in no small part due to Fox's willingness to promote it tirelessly around the world, despite her misgivings about the movie. The rounds she's made for the three movies she's released in the past 12 months suggest that, for all her blunt candor, she's still a team player, something Hollywood should appreciate.

Last week, Fox said she's still attached to produce and possibly star in an adaptation of the comic book 'Fathom.' She insisted that the movie will happen even if she has to give the lead role to another actress. Of course, if she gives the role to some other twentysomething starlet, who do you think the press will want to interview more, that performer or the movie's famous, hot, quotable producer? One way or another, Megan Fox will continue to capitalize on her notoriety.
[From PopEater]
See, I think the problem is that Megan Fox doesn't just want to be famous, you know? I talk a lot of sh-t about Megan (for good reason, she's a pill), but I've never doubted that in Megan's own mind, she really thinks she is, and very much wants to be the next Angelina Jolie, complete with awards and "real" acting gigs. Megan wants to be an actress, she's not interested in being famous just for saying dumb sh-t, although she knows saying dumb sh-t helps her stay relevant. And since Megan's goal is being a real actress with real box office success and the ability to do parts beyond playing "the girl" – well, she's failed. Hollywood now thinks that she's not only a nasty, trash-talking brat, they think she's not worth her paycheck if she can't open a movie. Say goodbye to Megan.
Header: Megan on June 17, 2010. Credit: WENN.