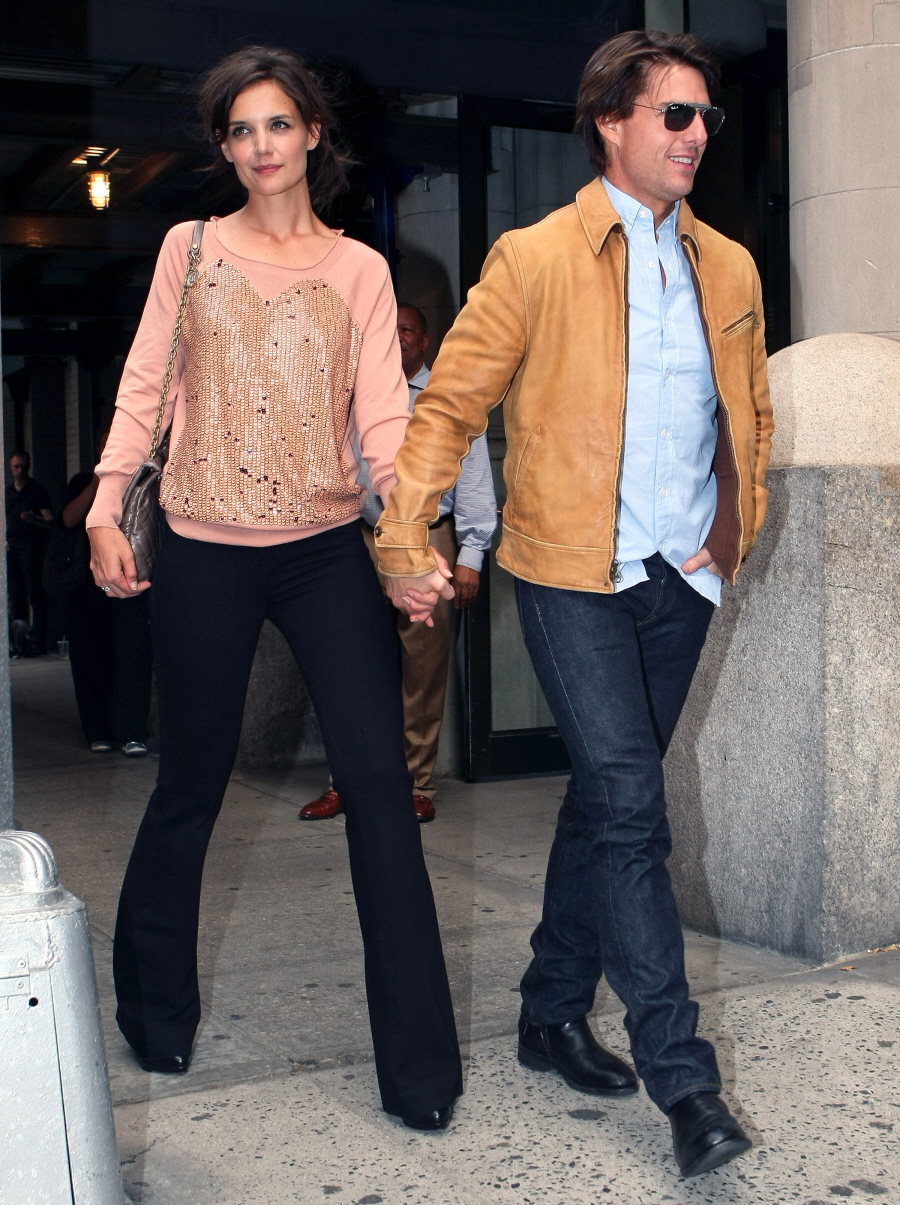 Many of really liked Katie Holmes's Annie Hall-esque appearance in high-waisted jeans – she looked cute and long-legged, although the jeans weren't flattering from every angle. It seemed that many of us thought it was a rare Katie Holmes Fashion Win, especially considering the chick has basically no idea how to dress herself, yet thinks she's God's gift to fashion. Anyway, we could probably set out watches to Katie Holmes' style disasters at this point, and after the rare win, we were due a bad fashion moment. So here are Katie and Tom out and about on a conveniently public "date night" in New York last night. Oh, does Tom have a movie coming out? I HAD NO IDEA.
So… Katie's outfit. Honestly, the pants aren't terrible. I have so many pants that look just like this, that fit in the same way, and those pants look really comfortable. However, the sweatshirt? Is that what we're calling it? A sequined sweatshirt? Pale pink with gold sequins/beading, crewneck with elastic on the sleeves. It looks like a WalMart sweatshirt that Katie bedazzled with Suri while in a Vicodin-and-Xenu haze. "Look at the pretty sparkles, Suri!" And Suri says, "Mom, stop licking the window."
Three more points: why can't Tom and Katie just hold hands like a normal f-cking couple? Why does he always guide her, lead her, present her, pull her, treat her physically that way? Second point: Katie looks stoned in these photos. She's looking up at the sky in half of them, like she's blitzed out of her skull. Third point: Her hair. Jesus.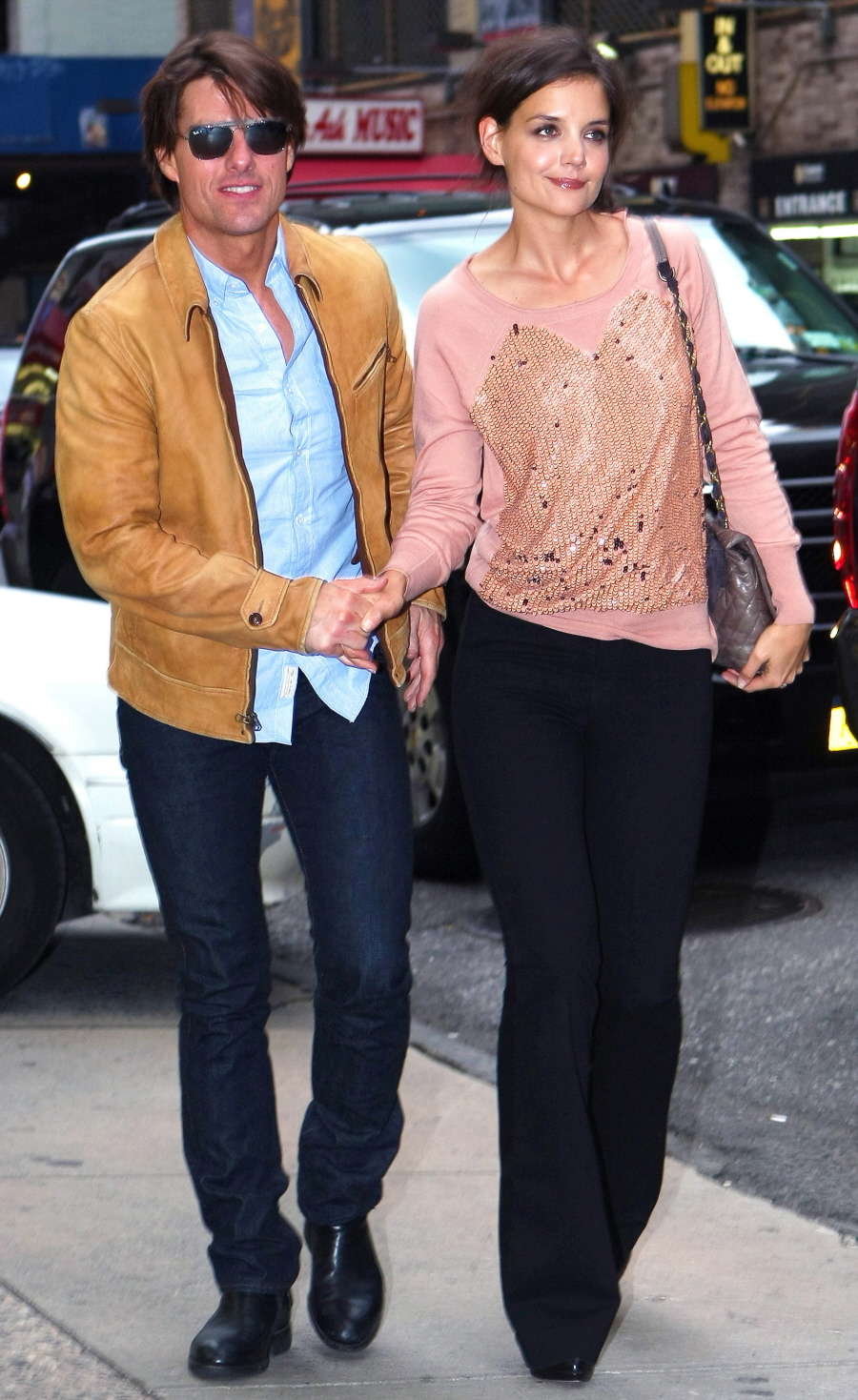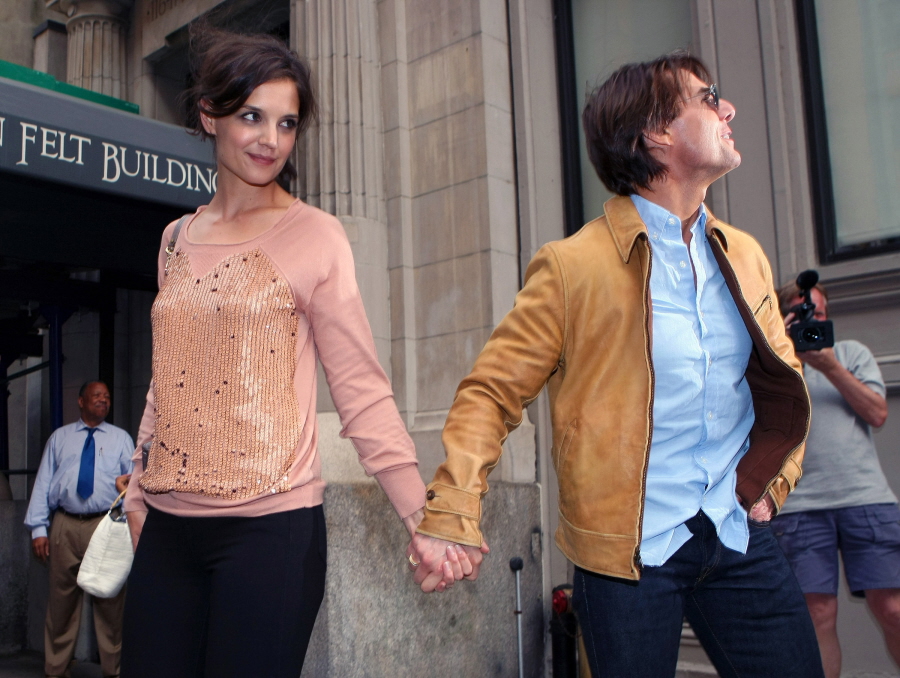 Tom and Katie on June 22, 2010. Credit: CWNY/Fame.