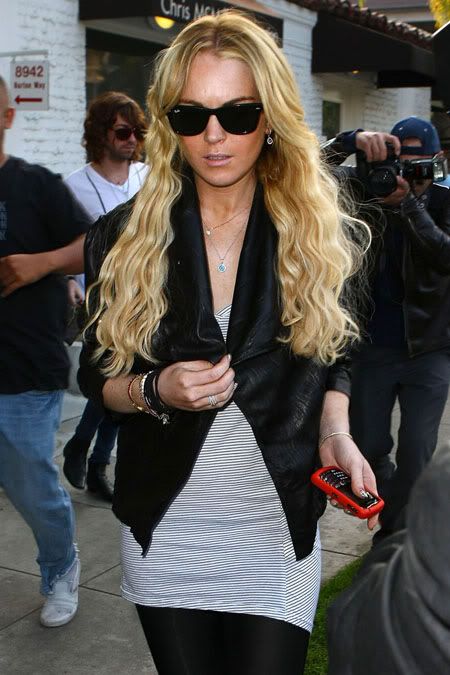 One of Lindsay Lohan's next roles will be a stretch for her: a nymphomaniac waitress. She will command a whopping $75,000, which I would gladly accept for a full year's worth of 40 hours weeks, so I shouldn't make fun. Lohan was rumored to be appearing topless for her multiple Razzie-winning role in I Know Who Killed Me, but she ended up keeping her bra on. In this film she'll be taking off her top, and wanted to be fully nude, but producers nixed that idea.
Star Magazine has learned exclusively that the 21-year-old will get naked again to play a nymphomaniac waitress in the indie film Florence. And she's getting paid only $75,000 for her part – just 1 percent of the whopping $7.5 million she earned for Just My Luck! "Lindsay doesn't care that she's getting paid peanuts," an insider tells Star "She just wants to remind people that she can act and she's worth hiring." The role requires her to take off only her top for a lust sex scene, but the source says Lindsay… volunteered to do more. "She said it would be no problem to go Full Monty."
[From Star Magazine, print edition, April 14, 2008]
I wonder what her holy-rolling dad will have to say about his daughter getting naked for public consumption – again. Star also reports that Lohan has been drinking sick amounts of vodka out at clubs and has been seen popping pills. They even claim she did coke at a party, not like any of that is astonishing news.
As for the future of Lohan's dwindling movie career – it's not all bad, reports E! Online's Answer Bitch. Lohan has that Manson movie coming up in which she plays one of his wide-eyed murdering sycophants, and she's also signed on to work on a renaissance fair comedy with Jack Black called Ye Olde Times. She's also supposedly reporting her third album.
The Answer Bitch quotes a public relations expert as saying ""We'll have to wait another six months to a year to finally see she if she can recover from her past, but she's managed to keep herself out of the press more lately, and that's good for her. That's exactly what she needs."
Lohan hasn't managed to keep out of the press so much as she's kind of reached saturation point. Just wait – she'll do something outlandish to get our attention again soon.
Lohan is shown leaving the salon after she got a new hairdo on Friday. She is also shown out at Dominic's restaurant, where she was seen with Samantha Ronson. A "friend" of Lohan's recently told In Touch that they're just friends and are not gay.
Thanks to WENN for these photos.