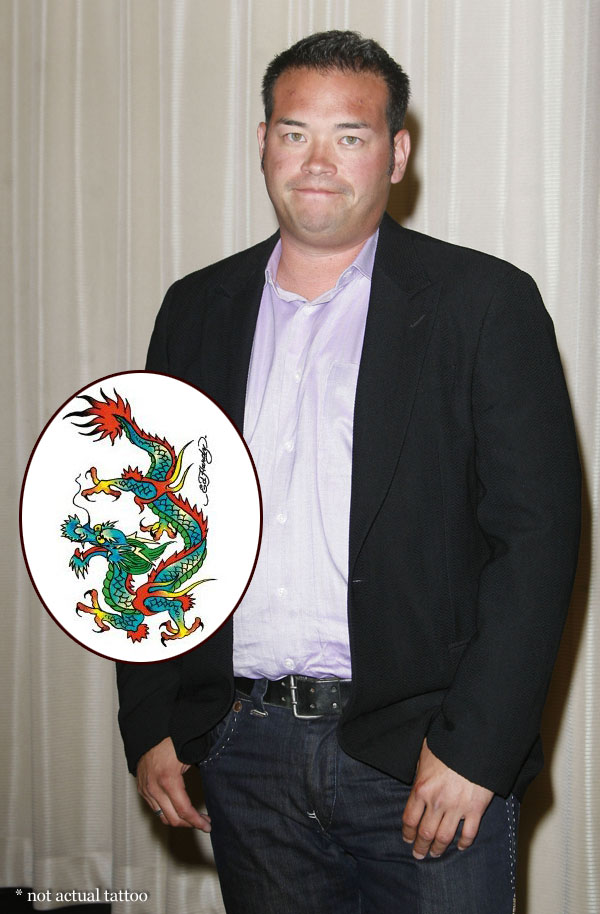 Radar Online has photos of Jon Gosselin's new tattoo, a giant sad but angry-looking dragon that runs nearly the entire length of his back. The dragon is clutching a scroll that has the dates of his children's birth along with their names in Korean. Jon's mother is Korean and was raised in Hawaii, according to reports.
Jon, 33 going on 18, told Radar that he has a life coach and enthused about some personal achievement program he's sinking his tabloid money into. He explained that the dragon is something he's wanted for a while that "resemble[s] a rebirth or a change in me." Jon's ex girlfriend Hailey Glassman gloated to Radar that the dragon resembles the Ed Hardy T-Shirts that Jon forced TLC to blur out before he was cut out of his family's reality show.
"I think congratulations are in order. He has successfully turned his back into an Ed Hardy t-shirt," Glassman giggled to RadarOnline.com on Monday. "It's what he always wanted [to look like Ed Hardy]…so mission accomplished!"

RadarOnline.com was first to publish photos of the former reality star's new body art, which features a gigantic and intricately detailed Korean dragon across his upper back. Gosselin, 33, told RadarOnline.com that he's wanted the tattoo for years.

"I wanted something that represented a rebirth or a change in me," he said. "The dragon is all encompassing. It has all parts of the Zodiac."

The tattoo was designed at Never Say Die Tattoo parlor in Harrisburg, Pennsylvania. Jon's first session was three weeks ago for six hours, the second took place a week ago and it was eight hours long.
[From Radar Online]
14 hours sounds like an awfully long time to sit for a tattoo, but it's not like Jon has a job to go to. He also proved in his last relationship that he's able to passively accept pain for relatively long stretches.
I googled "Ed Hardy Dragon" and the images that came up weren't much different from Jon's tattoo. It also reminded me of an episode of the Simpsons when Homer tried to help Selma adopt a baby from China. He got drunk on the plane coming back and hallucinated about some dragons, who sang a wacky song "The Man Who Broke a Dragon's Heart." (That video is below.) Congratulations, Jon, you've signified your rebirth with a giant indelible Ed Hardy T-Shirt. You're so bad ass.
Update: Jon's manager tells US Weekly that the tattoo also features the name of Jon's new girlfriend, Ellen, in Korean. That's a wise move considering that none of his girlfriends post-split have lasted more than a few months.
Jon Gosselin is shown on 6/16/10. Credit: WENN.com