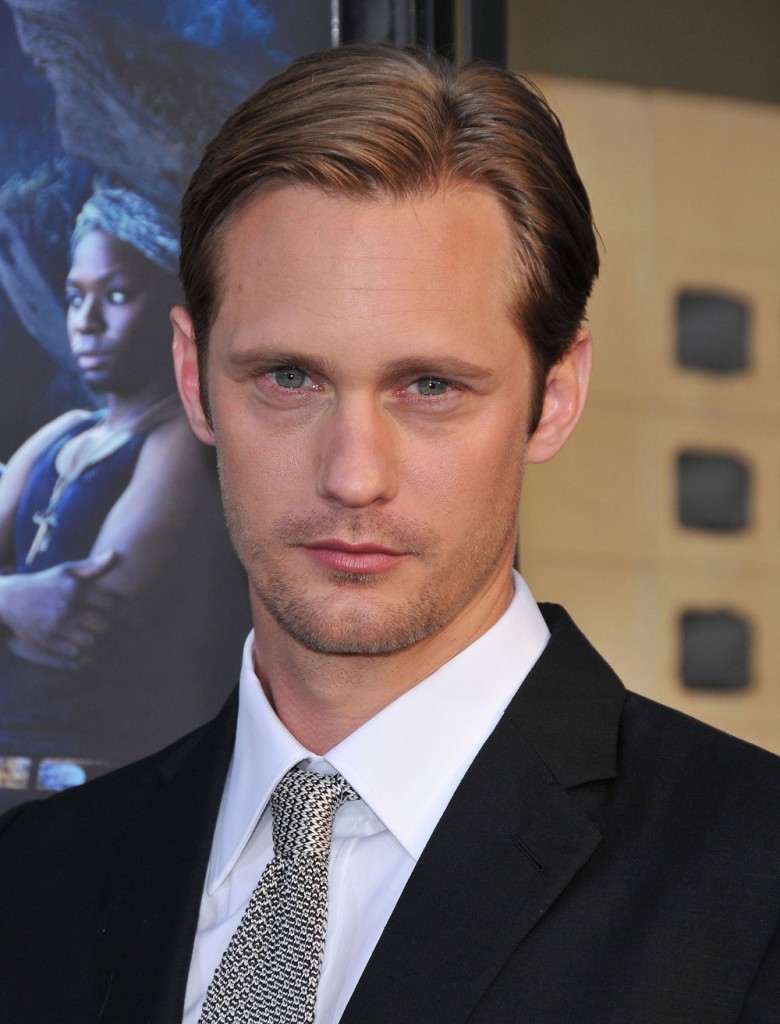 Spoiler for past episode
Popeater has a new interview with hot Swedish star Alex Skarsgard, the arguably most delectable eye candy that True Blood has to offer, although there are plenty of other candidates vying for that title. Before I cover this I have to mention the very controversial, violent, maybe-rape scene between Bill and Lorena at the end of the last episode. I've been traveling and have not had a chance to see the episode yet, but I don't mind spoilers so you're welcome to discuss it if you want. Did it go way too far or is this just par for the course in True Blood? It's not the first borderline rape scene, as Bill once ravished Sookie after crawling out of the ground to wait out the day. He didn't nearly rip her head off, though, and I'm not sure I'll be as neutral about this scene once I actually see it. We were warned that a "water cooler moment" was coming, and did it ever.
Spoiler for future episode
In the new interview, Skarsgard reveals that he doesn't mind getting his kit off on screen, something he's openly discussed before. He admitted in May that he has a "very graphic" scene coming up with another man, and explained that nudity isn't a big deal to him because he's Swedish. "I'm not a prude at all. I shot a very, very graphic scene two days ago with a man. I am from Sweden, and it's different there. If it makes sense, I'll just do it. And to me, so far, it's made sense every single time I've got naked or made out on the show." Bravo, just bravo. It makes sense to use when Eric needs to show the goods for his art too. Are we going to get full frontal on that scene?
Here's what he said to Popeater, which reminds us about this graphic scene and has me wondering who it's with. I would love some Eric on Bill action. Skarsgard also talked about the bands he listens to and I want to just hang out with him and listen to music now. (Here's a link to my favorite Chameleons song.)
What can we expect from Eric in season three?
It's all about vengeance. You find out pretty early on that something happened a thousand years ago, that Eric lost someone, and now he's getting the opportunity to avenge that person's death. So he's going to try to do that, and it's not easy. And I've got a very, very graphic scene coming up that I shot with a man.

What was that like?
I'm not a prude. I'm from Sweden, and it's different there. If it makes sense, I'll do nudity, and it's made sense every single time I'm naked on the show. And I love to be naked. It's kind of liberating.

Eric's always got several partners — but he seems to want Sookie in a different way.
Eric is intrigued by Sookie. You know, he's been around for a thousand years, and he's over humanity in general, but there is something different about Sookie, and he wants to figure out what that is — what she is. And while it's fun to play around with Bill, to tease him, it's not just a game anymore.

Are you attracted to dark characters, dark stories?
I think I have that kind of tendency. I just did this animated film, 'Metropia,' that's such a dark, dystopian sci-fi tale. And I have [Lars von Trier's sci-fi disaster flick] 'Melancholia' coming up. There's got to be something disturbing in the story for me to be interested — it's probably something I need to talk to my shrink about! [Laughs]

What bands do you like? Do you like dark music, as well?
Right now, I'm listening a lot to Beach House. But I'm more into punk rock, a lot of British punk rock — the Buzzcocks, the Adverts, the Chameleons — and Swedish punk rock. There's a band called Ebba Grön, a legendary Swedish punk band from the late '70s. I'm a huge fan. It's all in Swedish, so people won't understand a word, but it's pretty aggressive punk rock. It's frigging amazing. I love it. Of course, there are the Sounds and the Hives, but I think there are a bunch of really good up-and-coming artists like Fever Ray, the Knife, Mattias Alkberg and Miike Snow. Theresa Andersson lives in New Orleans, but she's from Sweden — her self-titled record is a very good album. If you're not into punk rock, I recommend that. It's very mellow, very beautiful.
As for his appearance in the Lady Gaga Paparazzi video, Skarsgard was gracious about it but kind of dismissed it as not a big deal, explaining that he was friends with the director and did it as a favor to him. He didn't even know who Lady Gaga was at the time. "I worked on it for six hours at least, six or seven hours, and I guess a lot of people saw it. The thing is, you can work on a movie for three months, and no one sees it, and then you do something like this for six hours, and that's what people talk about!"
I have such a crush on this guy. He's so smart, well spoken and just dreamy without attitude. If you ignore the snotty waif he's dating he's pretty ideal.
Here's a picture of him from 2005 with shaggy hair and scruff. Oh my God. (Credit: MTI/WENN.com) Other photos are from 6/8/10 and 4/24/10.