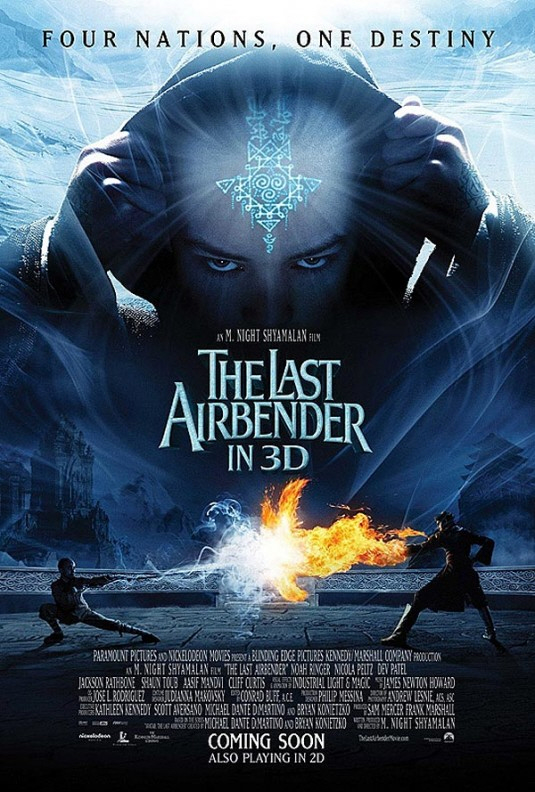 Gawker ran this really great summary of what various critics are saying about M. Night Shyamalan's latest film, The Last Airbender. I haven't been following the controversies surrounding this film whatsoever, and only recently saw the trailer for it. Apparently, what should have been an all-Asian cast is now a hodge-podge of mostly white actors, with a few Asians thrown in. Also, the movie is bad. Like, really horrible. That's what every critic seems to be saying. Since it looks like no one is going to see the movie, why don't we enjoy watching the train wreck for a while?
First of all, I'm not an M. Night hater. I still think The Sixth Sense was a great movie, and I also thought Unbreakable was totally underrated. Signs was… eh. I liked Joaquin Phoenix in it. The Village is when I decided to stop watching M. Night's films – that one was such a steaming turd, it wasn't even funny to laugh at, I just wanted to die. No one liked his next two films either, The Lady In the Water and The Happening. And now he's spent the last two years making The Last Airbender happen. Ugh. Are two good movies enough to have a career coast for the rest of his life? No. He should really go back and make the kinds of movies that people like – quiet little horror/suspense dramas. For real.
Now, according to the synopsis, The Last Airbender is about magical kingdoms and there's a kid who is the Avatar (the original name for the film, ha), and it's all a metaphor for Buddhism, or whatever. It doesn't matter. All that matters are the horrible reviews:
Roger Ebert calls it "an agonizing experience in every category I can think of and others still waiting to be invented. The laws of chance suggest that something should have gone right. Not here. It puts a nail in the coffin of low-rent 3D, but it will need a lot more coffins than that." Ebert claims the budget 3D "looks like it was filmed with a dirty sheet over the lens." Oh, and the "special effects are atrocious" and "the dialogue is couched in unspeakable quasi-medieval formalities; the characters are so portentous they seem to have been trained for grade school historical pageants."
The NYDN's critic bitched: "Unfortunately, its positive attributes are thrown out of balance by its abundant negatives – including chintzy effects, lumbering storytelling and an overstylized, earnest incompetence that evokes "Speed Racer." If you thought it was bad when writer-director M. Night Shyamalan was channeling Rod Serling, wait till you see him try to be George Lucas."
Kenneth Turan from the LAT says: "The Last Airbender retains the Asian feeling of the original shows, including liberal doses of martial arts, tai chi, Buddhist philosophy and Tibetan religion. In fact, if there is anything that is intended to resonate with adults, at least parents of the New Age persuasion, it is the philosophical truisms that dot the dialogue, lines like "water teaches us acceptance," "you must let anger go," "there is no love without sacrifice" and the ever-popular, "is there a spiritual place where I can meditate?"" HA!
Rotten Tomatoes is giving the film a 5% fresh – terrible. So, you know… this is like, epically bad.
But here are some nice photos of Dev Patel (one of the stars) and his girlfriend Freida Pinto at the premiere last night. They're cute! But don't see this film.
Poster courtesy of Filmofilla.