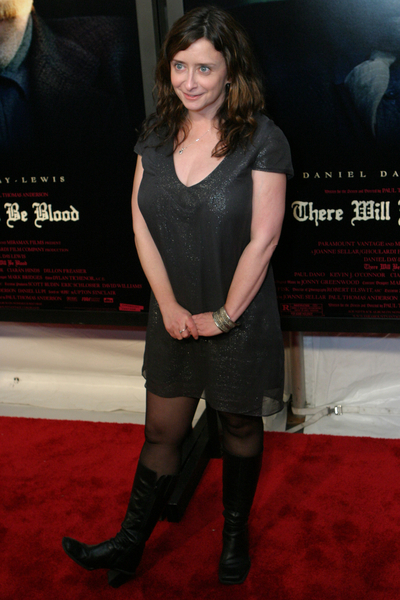 Remember Saturday Night Live's Rachel Dratch- who played Debbie Downer and did a dead-on impersonation of Harry Potter? Dratch left the show two years ago and has had small roles in a few movies and TV shows since then, including the Tina Fey comedy "30 Rock," but she hasn't found the same success as some of the other funny women from SNL. Adding insult to injury, Dratch was saddened by the recent Vanity Fair cover story on the rise of comediennes- the included most of her old co-stars, but not her.
Rachel Dratch is learning it's not funny being an out-of-work comedian. She left Saturday Night Live two years ago and then was replaced on 30 Rock. What's she up to now? "Maybe you can tell me," she said at a Smart People screening on March 31. "I know you're supposed to come up with fake stuff you're doing. But honestly, I'm not doing much." After SNL's hectic pace, isn't downtime nice? "It's starting to get old," she said. "I'm starting to go crazy. I'm ready for a job." The low point came, she said, when last month's Vanity Fair arrived with its cover story on women in comedy, featuring a dozen top comediennes—none of whom was Dratch. "Dude, that was a dark day," she recalled. "I was like, Oh, there's everyone I worked with." She's not picky about her next gig. "I'd work in a black-box theater company at this point," she said. "I'd work with George W."
I admit- I didn't even think of Rachel when that story came out. I was so excited to see Amy Sedaris and Tina Fey on the same magazine cover that she slipped my mind. And I think, in a nutshell, that's Rachel's problem. She's talented and funny, but not very memorable. If her greatest claim to fame is Debbie Downer- which was never all that funny and was done to death on the show- then it's not a huge surprise that her career's in trouble. But I do think she could be very funny in character roles, if given a chance. Hopefully some Hollywood casting director will read this and give Rachel a call. Because the thought of her working for George W. is very sad to me.
Rachel Dratch is shown at the "There Will Be Blood" premiere on 12/10/07, thanks to PRPhotos.