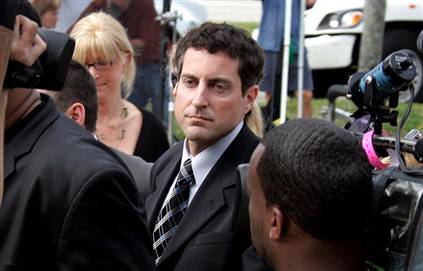 Howard K Stern and his dead eyes were on Scientologist Greta Van Sustern's show on Fox News yesterday. He talked about the night Anna Nicole's son Daniel died in her hospital room four days after she had baby Danielynn, in September, 2006.
Stern recounted the story in his typical flat affect, showing absolutely no emotion and looking straight ahead almost the entire time.
He said that after Daniel died Anna was inconsolable and refused to believe he was dead. Howard said he took the photo of Anna clutching dead Daniel in the hospital bed for her, and that it was stolen and leaked to the media. He said that he couldn't take Daniel home with them, but he could take that last photo for Anna. Sustern acknowledged receiving the photo, but said she chose not to run it. I cannot remember seeing that photo.
Daniel's death was officially ruled an accident earlier this month after an inquest in the Bahamas. He was said to have died of the drug combination of methadone, Zoloft and Lexapro. Coupled with Anna Nicole's death from a drug overdose on Stern's watch, it makes him look guilty as hell, but he's managed to avoid being implicated in either death and it could perhaps be a coincidence.
Lawyer Howard K Stern continues to stay in the mansion in the Bahamas that Anna scammed from an ex boyfriend, developer Ben Thompson. The National Enquirer reported on April 7 that "Stern is living in the place pending the outcome of the ownership battle." Eviction proceedings were started by Thompson over a year ago.