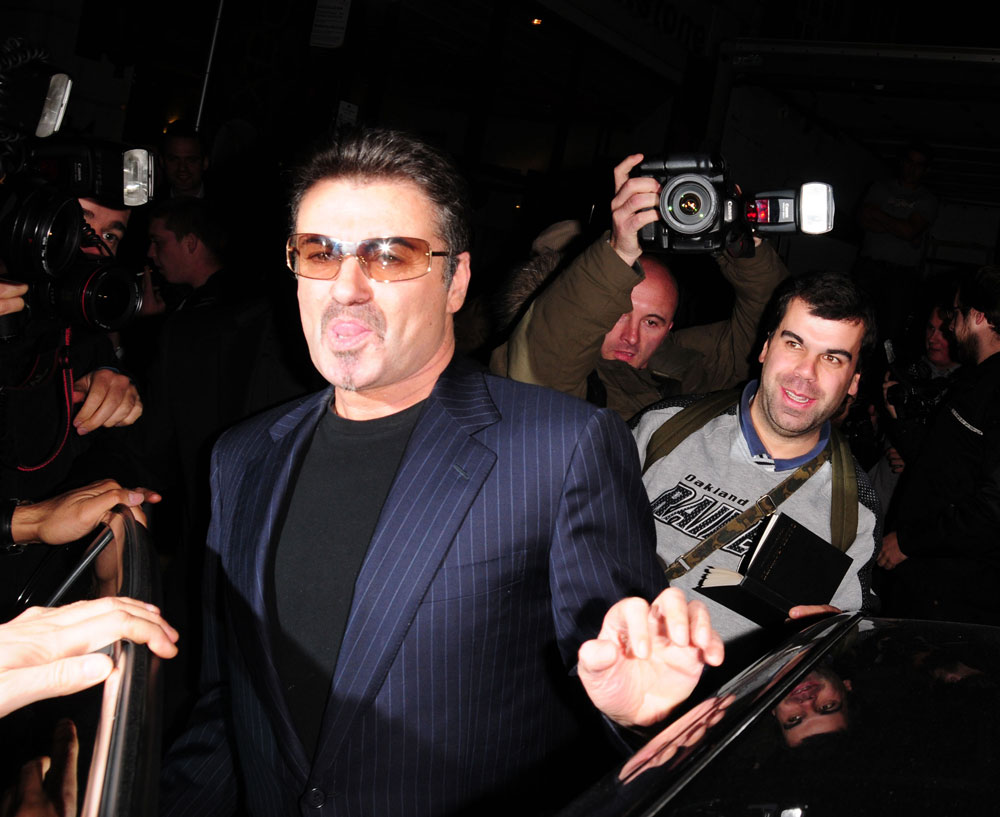 George Michael has been busted causing an accident while drunk driving, ramming his car into three parked cars, passed out in his car with drugs, passed out in his car at a light, and trolling for sex in parks, public restrooms, and the Internet – which he freely admits to. He's also been busted for crack possession, admits to smoking 7-8 joints every day, and finds it humorous that Elton John and Bono want him to go to rehab. All that considered, is it surprising that Michael ran his Range Rover over a curb and into the side of a photo store in London at 3:30 in the morning? (TMZ and The Daily Mail have photos of the aftermath, would could be worse.)
George Michael has been arrested after he crashed his car into a shop front in the early hours of the morning.

The Careless Whisper singer was caught on CCTV mounting the kerb in his Ranger Rover and ploughing into Snappy Snaps in Hampstead, north London.

Following the collision, the shocked former Wham! star climbed out of his 4×4 and waited for police to arrive.

He was not breathalysed, insisting to officers he had not been drinking.

But he is thought to have been tested for drugs at a north London police station, the Daily Mirror reported.

No drugs were recovered and the 47-year-old star was released on bail until August.

A Metropolitan Police spokesman confirmed: 'Police were called at approximately 3.30am on Sunday to reports of a vehicle in collision with a building.

'Officers attended and a man in his 40s was arrested on suspicion of being unfit to drive.

'He was taken to a north London police station and later bailed to return on August 13 pending inquiries.'

The incident is the seventh time George, who openly admits to being a cannabis user, has been at the centre of a police investigation into his driving.

Last year, he was arrested on suspicion of driving under the influence when his Land Rover hit a lorry on the A34 in Berkshire.

He had just completed a two-year driving ban at the time and was subsequently released without charge.

Yesterday, the front of the photo shop still showed signs of damage, with the door frame window shattered and wooden panelling cracked.

The shop is close to Hampstead Heath, where George was caught having sex three years ago.

It is also near to his Highgate home.
[From The Daily Mail]
Is it just me or does anyone else get "Careless Whisper" stuck in a loop in their head once it's mentioned? I just can't stop singing it to myself, damnit. That's why this guy is so rich. Quick – don't think of "Last Christmas."
Why didn't cops give him a Breathalyzer and when is Michael going to get his license revoked for good? He had it taken away in 2007 for two years after pleading guilty to DUI. This is his seventh driving offense. They should rip up his license before he kills someone. He'll have to hire a driver to help him troll the parks for sex with strangers. There comes a point when this kind of sh*t is no longer funny and in George's case that was several years ago.
George Michael is shown out in October, 2009 (credit: Zibi/WENN.com) and performing in Australia on 2/26/10. (credit: Robert Wallace/WENN.com