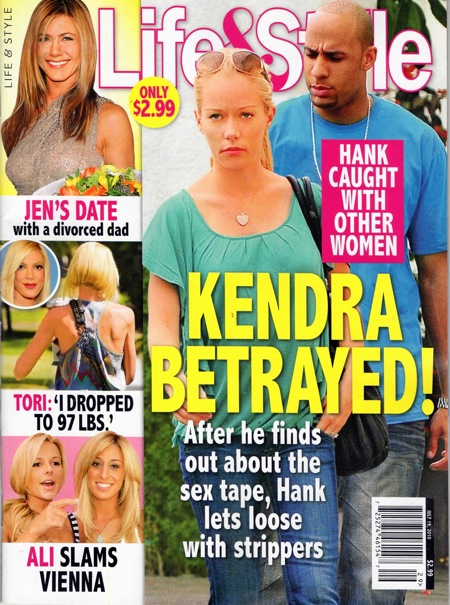 Kendra Wilkinson and her husband Hank are on the cover of Life & Style this week with a supposed story about how he got up close and personal with some professionals at a strip club. I question this report in light of the fact that Kendra's book is out this week. It's way too convenient for her to get a cover with a mild cheating scandal. This story normally wouldn't even rate a sidebar on a cover, but Life & Style is running it front and center. The teaser article they sent us seems to reveal that there's not much to this other than innuendo and the fact that Hank went to strip clubs twice while he was married.
Life & Style reveals exclusive details of Hank's multiple nights out at strip clubs – once while Kendra was eight months pregnant

Life & Style can exclusively reveal that since learning about the existence of Kendra Wilkinson's sex tape, her husband Hank Baskett has visited at least two strip clubs — once while his wife was eight months pregnant. An acquaintance of Hank's, Carl Miller, tells Life & Style he accompanied Hank to Rick's Cabaret in Houston on Nov. 28 and then to the King of Diamonds Gentleman's Club in Miami in early February. Their first raunchy night out came on the eve of the Indianapolis Colts' 35-27 victory against the Houston Texans.

"Hank went to the private VIP room with two girls," Carl, Hank's acquaintance, tells Life & Style. "Everyone knows what goes on in those rooms — I don't need to spell out what happened."

Kendra was at home and ready to pop during Hank's first indiscretion, but his second dalliance happened right under her nose while in Miami for the Super Bowl in February. While Kendra was busy hosting a bash at Passion nightclub in the Hard Rock Hotel and doing a bikini photo shoot, Life & Style has learned that Hank went to a Diddy-sponsored party at the King of Diamonds Gentleman's Club that weekend. While his rep denies that Hank attended the strip-club soiree, others insist he was there. One King of Diamonds dancer, Dolce, says Hank didn't mind the amenities (including more than 40 VIP rooms) at what's touted as the "world's biggest strip club."

"It was real insane," Dolce, King of Diamonds dancer, tells Life & Style. "There were like 400 girls up in here. And Hank was here for sure."

"We had girls here from out of town who came specifically for that weekend because they knew they'd make bank," a second King of Diamonds performer tells Life & Style. "You put some of these girls in that situation, and what do you think is going to happen? It's not supposed to happen up in here — if they catch you, they'll kick you out — but that's what private VIP rooms are for."

"Hank loves strippers and strip clubs," Carl Miller tells Life & Style. "And he doesn't see anything wrong with it."
[From Life & Style, received via e-mail]
I would not want my husband going to strip clubs or getting lap dances, and if I found out about it we would have a problem. It's flirting with danger, but it's not as bad as cheating and some guys see it as blowing off steam. We don't know what happened in the VIP room with the two strippers although it looks bad for Hank. I don't watch Kendra's reality show, but these two seem solid and they've weathered the whole "sex tape" storm (that Kendra cashed in on and then tried to act embarrassed about). Two visits to strip clubs when one is a big party potentially isn't that big of a deal. Hank is a professional athlete and his buddies are probably bugging him to go to strip clubs all the time. Kendra worked as a stripper, though and she knows what goes on. She'll probably talk to Hank and he'll say it was nothing and they'll work it out.
Kendra is busily promoting her book, Sliding into Home. She explained on The Today Show yesterday (video below) that she used the baseball metaphor because she finally felt like she was "home" after her rough past. MSNBC has an excerpt from the book in which Kendra explains that she fell for Hugh Hefner because he made her feel good about herself and gave her opportunities. That excerpt doesn't include the part where she describes her first sex session with Hef and a line of other willing bunnies, as covered in Star Magazine last week. Kathy Lee mentioned on the Today Show that the book includes "graphic detail" of life at the mansion, and I'll pick it up and cover it here if there are any more salacious scenes.
Visit msnbc.com for breaking news, world news, and news about the economy