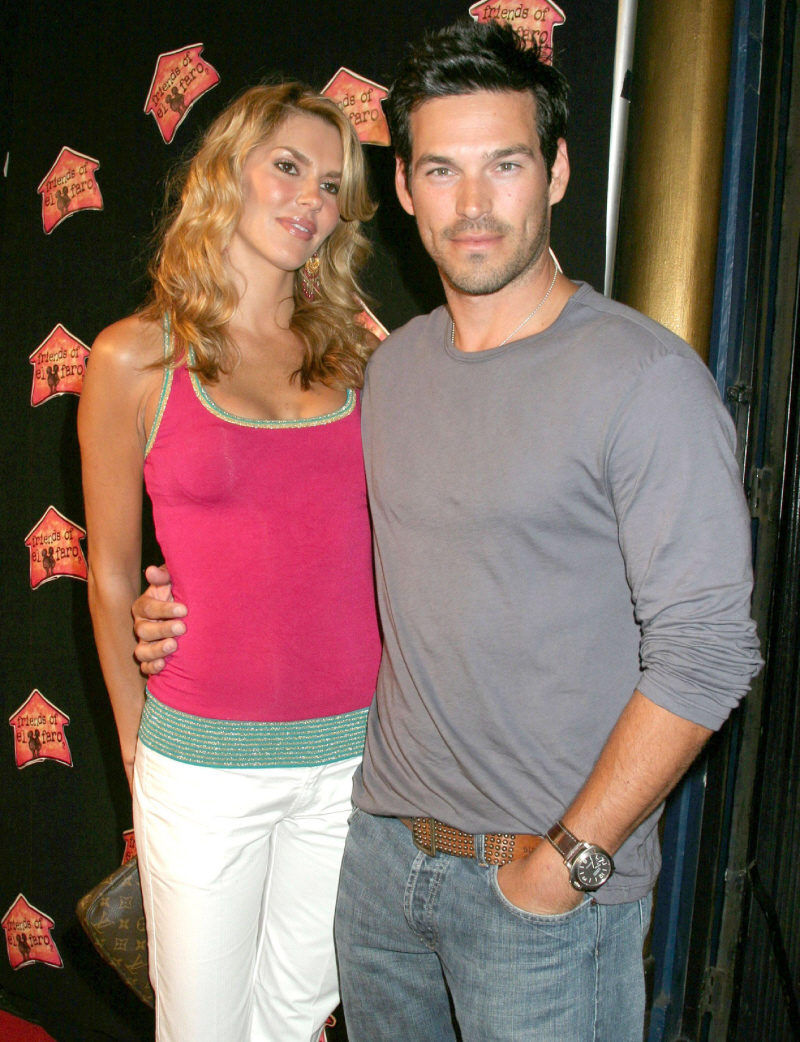 Eddie Cibrian's soon-to-be ex-wife Brandi Glanville has given yet another "exclusive" interview, this time to In Touch Weekly. Brandi's last interview was to E! News several weeks ago, right after LeAnn Rimes' lawyers issued a cease-and-desist order for Brandi to shut the hell up. True, Brandi have given many interviews over the past year. She has an axe to grind, and she seems to have no qualms about grinding it publicly, even though there are kids involved, even though Eddie blames his CSI firing on Brandi's interviews, and even though some have described her as petty and immature for her continuing media tour.
So Brandi knows the stakes whenever she opens her mouth. But she's still going to do it, bless her heart. I do think she's petty and immature, but I also enjoy the public axe grinding because Brandi is pretty funny, and she knows all of the sweet spots to hit when she's bitching at Eddie and LeAnn. Take this interview – she's coming across as nice and "over it" but she's still digging the knife in LeAnn. Wait for it:
"They're both cheaters," Eddie Cibrian's soon-to-be-ex, Brandi Glanville, tells In Touch exclusively. "I hope he gets help, but if he's a cheater, he's going to cheat forever."

When Eddie Cibrian left his wife, Brandi Glanville, for singer LeAnn Rimes, it took her a long time to forgive. But she'll never forget what he did to her — and thinks LeAnn shouldn't, either.

"I don't know how she deals with it, that he was lying to both of us," Brandi, 36, tells In Touch in an exclusive interview. Brandi, who still lived with her husband for three months after his affair was exposed, adds that until the scandal broke, "there was no lull in our sex life."

She thinks that trust will be the biggest issue in his romance with LeAnn.

"They're both cheaters," she says. "I hope he gets help, but if he's a cheater, he's going to cheat forever. The great thing is, it doesn't affect me anymore. I'm done."

And though she says their equal custody is "really like 60/40" with Eddie so often away, her sons, Mason, 7, and Jake 3, have grown close to their dad's new girlfriend.

"They talk about her all the time," admits Brandi. "Initially, it was difficult, but she seems to be a positive influence in their life."

Indeed, though Brandi has definitely moved on and has a new boyfriend, she's confident that she and her ex can have a civil relationship.

"I know Eddie loves me — I'm the mother of his children. But it's a different kind of love now," she says. "I do have resentment toward him, but I still wish him well. I hope we can all be friends one day, to be honest."
[From In Touch Weekly]
I love that at first she claims sisterhood with LeAnn because they were both victims of Eddie's lying, cheating heart, but then one second later she's talking about how great their sex life was when LeAnn was trying to get Eddie. And Brandi "knows" that Eddie still loves her – which is true, she's the mother of his children, and he does still love her. But it wouldn't surprise me in the least if Brandi and Eddie still had a sexual relationship even when he first got with LeAnn, and I think Brandi is totally leaving the door open to still having sex with Eddie now. Probably just to f-ck with LeAnn.
Header: Brandi & Eddie on May 13, 2005. Credit: WENN.