Defends profane manicure
There are so many updates to the "ZOMG Lindsay Lohan is going to jail!" story that it's hard to know where to begin. I'll start with the hoopla over her "F*ck U" manicure as that's the most amusing. Lindsay gave a weak defense to sporting a swear word on her middle finger in court. She tweeted to a "friend" that the manicure was a joke and was somehow conspiratorial but not meant to be offensive. "@liana_levi didn't we do our nails as a joke with our friend dc? it had nothing to do w/court.. it's an airbrush design from a stencil xx" Who is Lindsay kidding, that was a direct message to the judge. I don't know if it was visible to Judge Revel from the bench, but experts say that Lindsay could be charged for contempt for it and receive even more jail time.

Tweets about "cruel and inhuman" punishment
Lindsay tweeted a couple of quotes on human rights and the inequities of the justice system as if she were headed to Guantanamo indefinitely without trial. She's basically making herself out to be a victim and conveniently forgetting the fact that she was busted for DUI twice and failed to meet her probation requirements. Here are the tweets, which Kaiser encouraged me to screencap for sheer comic value. The URL she tweeted is to a story about an Iranian woman who faces the death penalty for adultery. As Gawker asks, "Did Lindsay Lohan Just Compare Herself to an Iranian Woman Being Stoned to Death?"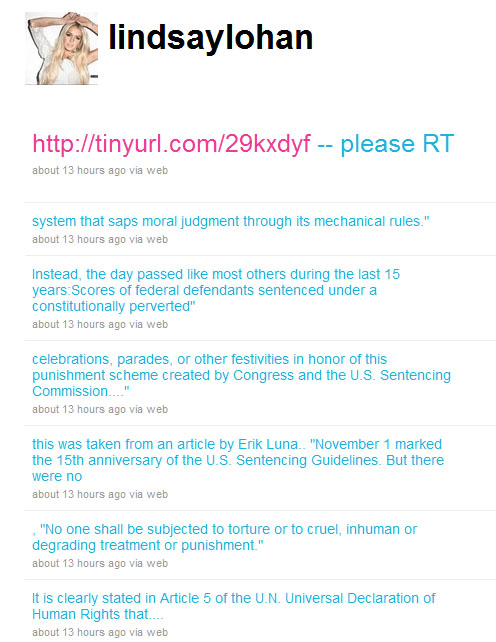 Was her sentence too harsh?
Like Lindsay, her lawyer is complaining that her sentence was too harsh and uncalled for. TMZ also quotes lawyers who claim that the sentence is not customary for that type of probation violation. In retaliation, sources say Lindsay called Judge Revel a "F*cking Bitch." I guess that message on her nails served a purpose after all.
Her accommodations in jail
The NY Daily News has photos inside the jail where Lindsay is facing hard time. It's bare and tough, and she's going to be bored and bouncing off the walls, with just one hour a day outside of her cell. She will be placed in solitary confinement for her own protection but former inmates say that may not work out for her. Without someone to talk to she may go even more batty. The food is said to be awful and inedible.
How much time she'll serve
Non violent offenders serve an average of 25% of their sentences in LA County, and some experts say that Lindsay may serve a week or less out of her 90 day sentence. Judge Revel probably took this into account during sentencing. The Deputy District Attorney told People that "I'm always disappointed when inmates are released early… but the jails are not my jurisdiction." There are rumors that Lindsay's people are trying to get her into rehab instead or before she heads to jail. Good luck with that.

Confirmation on the drugs Lindsay is taking
Radar Online and TMZ have copies of Lindsay's probation report. It confirms earlier stories that she's taking the way too powerful opiate painkiller Dilaudid for "dental pain" along with Zoloft, Adderall, Trazadone and Nexium. She tested positive for both opiates and amphetamines (as found in painkiller Dilaudid and ADD medication Adderall) but was given a pass due to her prescriptions. Lindsay will get random drug testing until August, 2011 under the terms of her sentencing. It's unknown whether she will be allowed to continue taking powerful, probably uncalled for prescriptions and it's not known whether she'll have to wear the SCRAM during that time. Kaiser let me know that the judge said the prescriptions could possibly be discontinue if a doctor determines them unnecessary. I'm hoping that the Dilaudid is nixed for Lindsay's sake.
Messed with her SCRAM device
TMZ reports that Lindsay (allegedly) tried to impede her SCRAM device on two different occasions, once before it registered a positive reading after the MTV Movie Awards and again a few days later. Her lawyer of course has an excuse for that and says the device is faulty.
Her pre-jail visitors
Lindsay was visited at home by Kim Kardashian last night, and her mother also flew in to commiserate with her on how unjust the world is for celebrities that deserve to get their will at all times. People were wondering why Dina didn't show up at the sentencing. My theory is that she never expected her little baby to get more than a warning and a slap on the wrist. It's all that mean old judge's fault that Lindsay is finally facing some consequences.
Oh – and on a final note, her daddy spoke to E! Online about how Lindsay needs help for her addictions and not jail. I guess we know now why he didn't talk to any reporters outside the courtroom – he wanted to sell an exclusive.