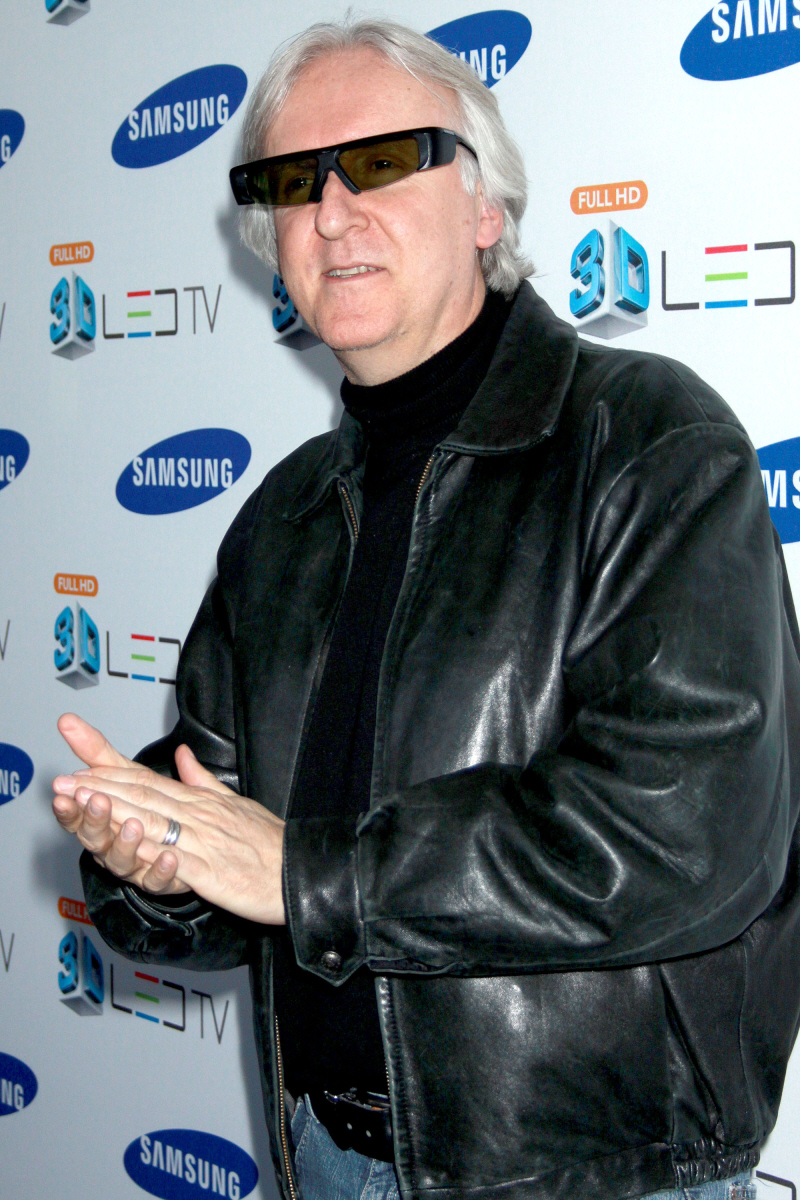 Jesus. Deadline Hollywood is reporting that Avatar director James Cameron is set to make a $350 million (MILLION) payday off of the $2.7 billion success of the film. Can you believe that? Apparently, Cameron has some kind of sweetheart deal with the studio where he gets a percentage of the theatrical gross, plus an even bigger cut of the DVD sales. Considering Avatar did make $2.7 billion, Cameron's payday is about 13% of the total gross. And how much did it cost to make and promote Avatar? A lot. Like $500 million or more. But that's still more than a billion dollars of pure profit for the studio. So everybody wins!
I'm told this will be the biggest financial haul ever for a movie director from a single pic because James Cameron had a significant gross percentage of the Twentieth Century Fox megahit as helmer, writer, and producer. Though Hollywood pay experts tell me that the $350M all-in figure is largely attributable to his directing deal structured as "first dollar" gross or more likely "at cash break" gross. It's certainly bigger than either he or the studio — or anyone — thought he'd make from Avatar which, after its December 2009 release date, has grossed a best-ever $2.7 billion worldwide at the box office.

"But Cameron is making $350 million because the DVD did beyond expectation," an insider tells me. Indeed, its 2D DVD and Blu-Ray worldwide sales smashed records in all categories. And still to come is the release of its 3D DVD in November. Meanwhile, yesterday, Twentieth Century Fox and Cameron announced that a "Special Edition" Avatar will be released in theaters August 27th as a limited engagement and exclusively in Digital 3D and IMAX 3D. This version will include more than 8 minutes of new footage. "With Cameron making $350 million, can you imagine what Fox and Dune Entertainment and Ingenious Media are making?" one of my insiders wondered, referring to the three companies that together bankrolled Avatar. And let's not forget there'll be an Avatar sequel… and maybe a threequel as part of what Cameron has been calling a "trilogy-scaled arc of story". And the production costs on the subsequent films should be far less because they've honed the 3D filmmaking technology process.

Forbes magazine about a week ago placed Cameron only #2 on its Celebrity 100 money ranking this year of the richest and most powerful actors, actresses, musicians and other well known showbiz figures. In fact, based on my insiders, Cameron should have been #1 because his $350M far exceeds the $315M which the magazine said top-ranked Oprah Winfrey earned. Forbes underestimated the director's pay at only $210M.

My sources tell me that Cameron's $350M take from Avatar also eclipses his reported $97M haul from the previous #1 biggest movie worldwide, Titanic. But that figure will go higher, too. Earlier this year, Cameron revealed that Titanic will be re-released in 3D in April 2012, in order to coincide with the 100th anniversary of the sinking of the actual ship. In total, Cameron's directorial efforts have grossed approximately $5.75 billion worldwide.

It's now the stuff of Hollywood legend that Cameron wrote the script for Avatar back in the mid-1990s when he and Stan Winston co-founded Digital Domain. He took the screenplay to their special effects lab only to be told it was just not possible to make the film with the current technology. So he sat on the project for more than a decade. To make Avatar, Cameron created the Fusion Camera System technology for photo-realistic computer-generated characters through motion capture animation. So the director has an ever brighter financial future because he now can sell that technology to 3D filmmakers all over the world. And he'll get top dollar for it, to be sure.
[From Deadline]
You know what I was thinking about? How attractive James Cameron is right at this moment. He's just lovely and sexy and not at all reminiscent of a middle-aged lesbian with bad hair. I wonder if his wife Suzy Amis is as turned on right now as I am? Do you think she decided to splurge and eat a cookie? If I was married to a man who just made $350 million, I would eat a cookie. A cookie made of diamonds and James Cameron's wang.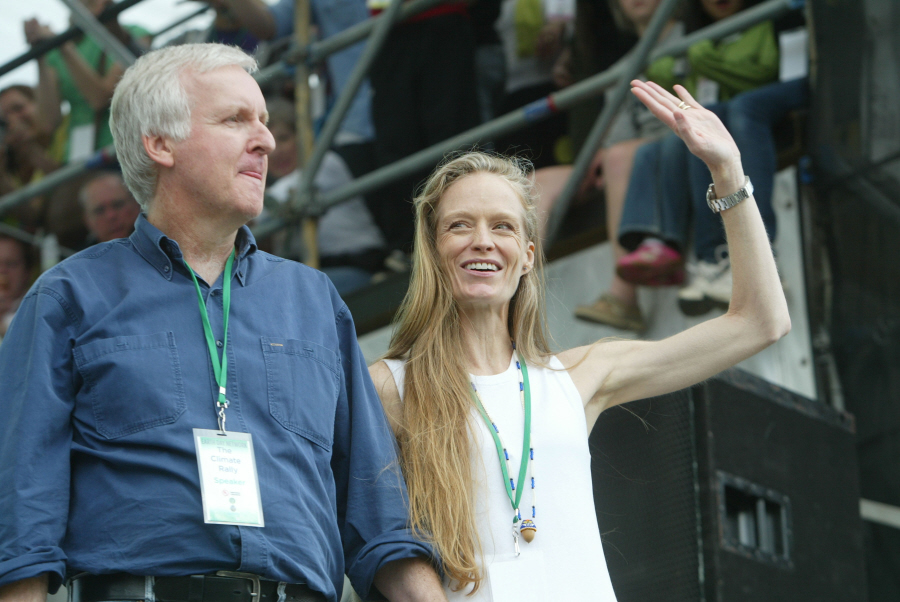 Ooh, look at my lover. Tell me you don't want to lick him.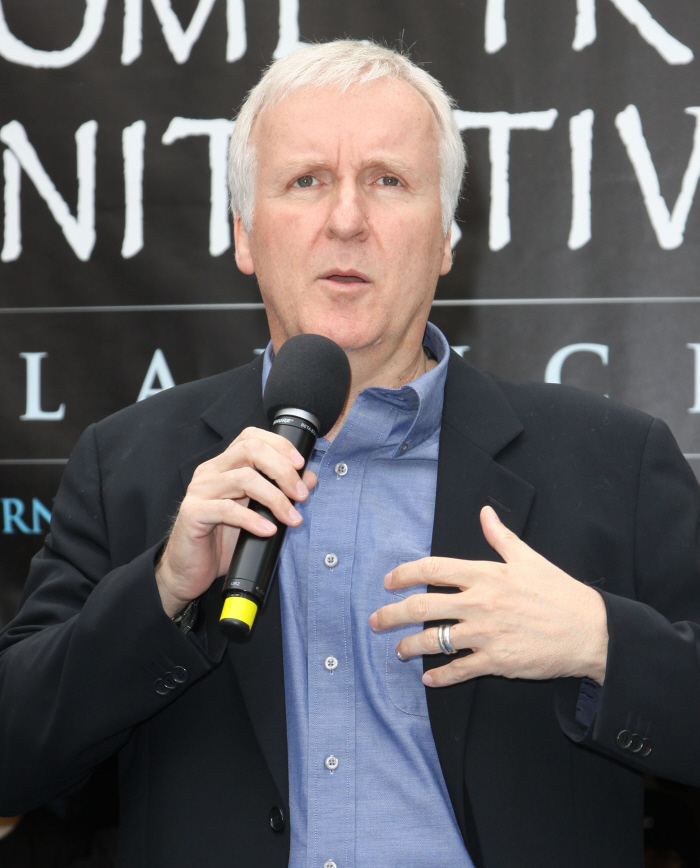 James & Suzy on April 22 & 25, 2010. James on March 10, 2010. Credit: WENN.