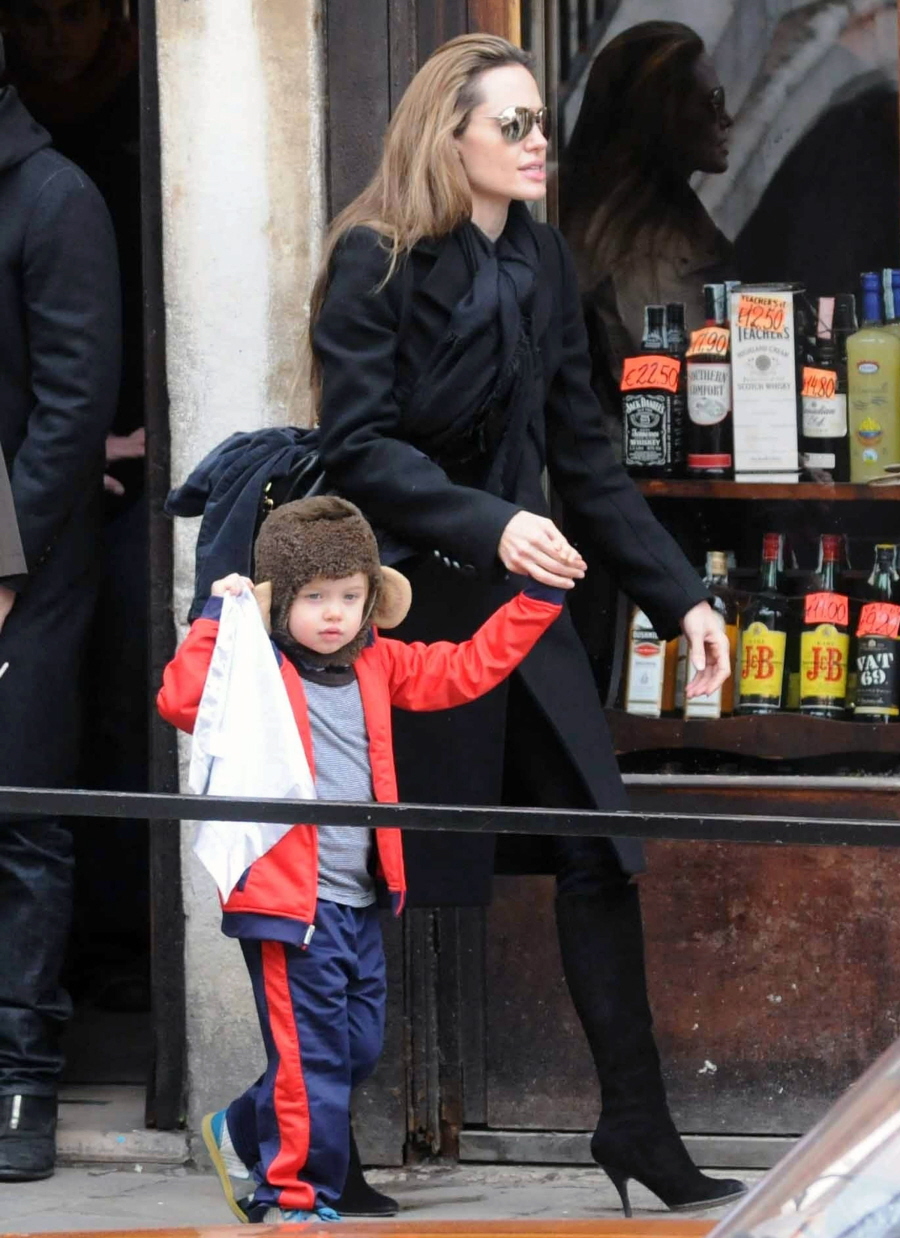 More Angelina Jolie interviews! Hurray. Angelina spoke to Reuters over the weekend, and she got some more "Why is Shiloh dressing like a boy?" questions. Angelina basically said that Shiloh is just a kid and Shi's Montenegro style is the bomb. But since this is the new, haughty Angelina, she couches her response with a side of judgment. Angelina says: "I think she is fascinating, the choices she is making. And I would never be the kind of parent to force somebody to be something they are not. I think that is just bad parenting." Hear that, all of you "Shiloh should dress like a princess all the time" moms? Let a tomboy be a tomboy.
It's never easy being a style trendsetter, opening yourself up for criticism from the world's fashionista. But for a four year-old, it might seem especially hard — unless your mother is Angelina Jolie.

Jolie, who is currently promoting her upcoming film "Salt," defended her daughter Shiloh's style choices over the weekend, calling them "fascinating" and saying she would not force any of her six children to be something they are not.

In recent months Shiloh, 4, has been pictured wearing boys' neckties, jackets, hats and other clothing that sparked headlines about the youngster being a bit of a tomboy.

"I think she (Shiloh) is fascinating, the choices she is making. And I would never be the kind of parent to force somebody to be something they are not. I think that is just bad parenting," she told Reuters on Saturday.

Jolie, who is raising her kids with partner Brad Pitt, said encouraging the kids' sense of self-expression was an important part of their upbringing.

"Children should be allowed to express themselves in whatever way they wish without anybody judging them because it is an important part of their growth," she said, before adding: "Society always has something to learn when it comes to the way we judge each other, label each other. We have far to go."

Indeed, Jolie said the crew grew uncomfortable on the set of "Salt" when she dressed in men's clothes for her role as a gung-ho CIA officer wrongly accused of being a Russian spy. To hide, she must disguise herself as a man.

"It was fascinating," she said. "The stunt guys I usually hung out talking to, didn't want to hang out with me. The girls didn't know how to respond…there was something about him that kind of freaked the whole crew out.
[From Yahoo News]
I cosign what Angelina says about Shiloh and letting kids express themselves. Most likely, whatever tomboy style Shiloh wants to rock is just some phase. And if it's not? Who gives a f-ck? What's the worst case scenario? That Shiloh has a lifelong aversion to dresses? That she grows up to be a tomboyish woman? That she's – gasp – a pantsuit-wearing lesbian? Whatever.
Meanwhile, Angelina also has a new interview with Nightline, and ABC News just put some clips and excerpts online (ABC News piece here). Here are some highlights:
Angelina on the real-life Russian spy drama: "It's bizarre, isn't it? It's been so bizarre for us. … I have two halves. You know, a part of me feels, as a citizen of a country, you think, 'I don't want anything to affect our new positive relationship with Russia.' And the other part of me is somebody who's in a film, thinks, 'My god, what timing.' And this is so strange, because all through making the film, there was a question of, 'Is it possible? Does it still exist today? Is it poignant? Is it relevant?'"

Has Angelina ever punched someone? "I have," Jolie said. She was a teenager. "I did punch," Jolie said. "I think because I was so — it was my first fight, you know? And you — and you don't know what else to do. But you just want it to be, I don't know. You figure you better do it right the first time or they're gonna come back at you!" But she added, "real fighting is so awkward and not cool at all."

On her dangerous stunt-work: "Because I have six kids, I would never do something that could kill me," Jolie said. "But there were things that were — I could have broken my arm or broken my leg, or that kind of thing."

The tough-girl persona: "In some way," she said, "I suppose. Or I wouldn't be able to do the film. … As I said, if it came down to something I had to do, I'm fine to get dirty and tough with the best of 'em, you know? Because I would believe in what I'm fighting for. And I'm not afraid. But I'm also just Mommy, and goofy Mommy."

Her kids? "They're in the hotel room," Jolie said "…I'm sure they've made a fort out of every possible thing in that room."

Plans for more kids? "There's no plans at the moment for more," Jolie said. "But always talk about it. We're always open. You know? We kind of joke about it, 'cause in the morning we're so tired. 'Cause there — nobody spends the night. We wake up and we have breakfast. … And so, we always have this thing kind of first thing in the morning where we're really, really tired. And we always look at each other and wonder like, Are we ever gonna get sleep?' And then we joke about sleep. … But yet, we still love the idea of having more children."

Food, and a Knox story: "We take turns. He's better at making eggs and bacon than I am. I try. But I think everybody prefers Dad's eggs and bacon. They always want pancakes. Knox is very into pancakes right now. And gets really upset if he can't have pancakes. You know, we just try to– we try to corral them. We've had to put new gates up, because the twins are kind of going everywhere, while we were trying to make breakfast and get the other others out the door for camp. So, we've had to put like extra gates on the kitchen. And– we have drawers in the kitchen full of toys. And we've got– you know, just stations kind of for somebody's getting ready. So, the twins have their own little section. … We pride ourselves on the fact that we got it. We got this… We got it. You get the juice, you get the thing. We're like bartenders. We're like– we're like waiters. You know?"

Who is the Bad Cop with the kids? "I think I'm better at disciplining the girls. And he's better at disciplining the boys," she said. "But we — we kind of made a plan early on that we believe that you can't be good cop / bad cop. That you have to back each other no matter what! We are working together. You cannot break us."
[From ABC News]
She also says she "really does root for women" when asked about the research she did with female CIA officers. It sounds like a good interview, doesn't it? The full Nightline interview comes on tonight, after your 11 pm local news. I might have to stay up for that. My favorite part was when Angelina talked about how weird the real-life Russian spy drama is. CB and I were talking about this last week, and I theorized that perhaps the whole thing was some kind of unconventional promotional campaign for Salt, just because the story seemed to fit so perfectly.
Oh, and Us Weekly has a new interview with Angelina where she's talking about how much she loves speaking in Russian, the "sensual" language. She and Johnny Weir should really get together. Us Weekly's piece is here.
Here's a clip of Angelina's Nightline interview: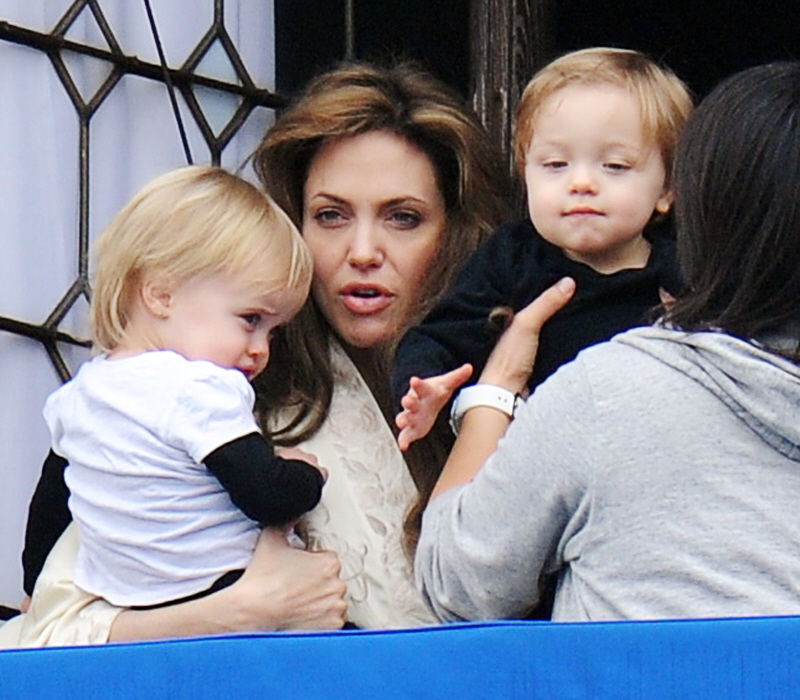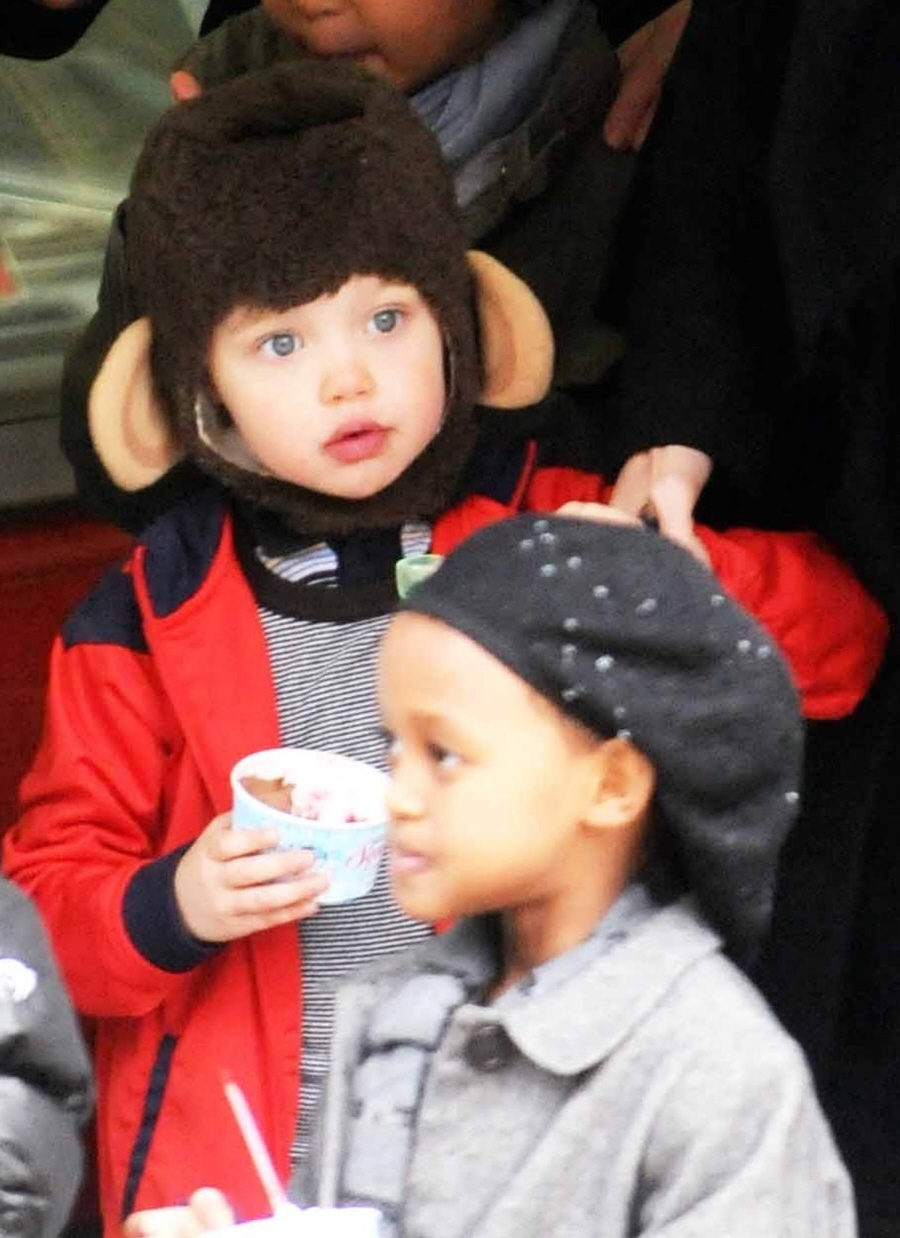 Angelina & Shiloh on February 16, 2010. Also, Angelina & the twins on March 26, 2010. Credit: Fame.