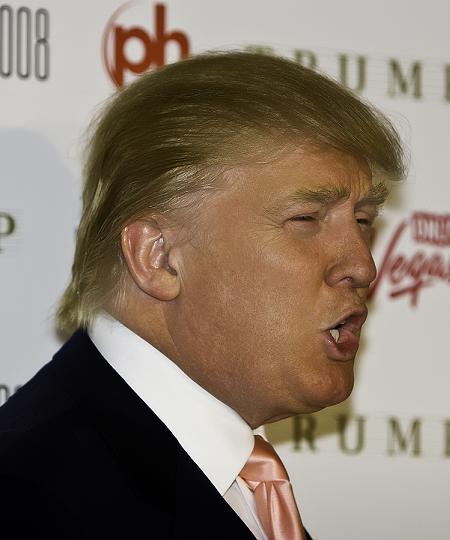 Donald Trump must really be bored as crap right now. He hasn't been in the gossip pages – or any pages, really – in quite some time. So what do you do when all you've got to entertain yourself is watch your comb over bat around in the breeze? Attack Rosie O'Donnell again! Donald seems absolutely intent on resurrecting the old feud – really, when else has he gotten so much attention?
Last week the Globe published a story accusing O'Donnell of being abusive towards her 13-year-old son. She's shown grabbing his arm in a photo. Not exactly the beat-down you'd expect, given the nature of the article. But of course Donald Trump saw an opportunity to get some attention for himself, and jumped on the horn to blab about it to anyone who'd listen.
"Well I think Rosie is a very abusive person," he told Access Hollywood on the Miss USA pageant red carpet. "She's a slob and I'm not surprised to see it." Rosie was pictured in the accompanying article to the headline, in an apparent argument with the tall pre-teen and in one photograph she is seen grabbing his left arm. "I would imagine that being her son is not fun. I know Rosie very well… She's a very bad person," Trump added.

Yesterday, Rosie herself lashed out at the tabloid story with the help of her wife, Kelli Carpenter. "Kelli, come say 'Hi' to the bloggers. Honey, come say hi! Are you scared of my abusive parenting ways honey?" Rosie asked, referring to the story. "Um, no," Kelli responded to Rosie's question. "I would assume that any mother [out] there that has a 12 or 13-year-old boy has grabbed him by the arm."
[From Access Hollywood]
I love the "I know Rosie very well." Something tells me that to know Rosie very well, you'd either have to be her friend, a family member, or her coworker. Donald is none of those things. Having an angry obsession with someone is not the same as knowing them very well. I imagine that he has a whole little library stocked with Rosie O'Donnell paraphernalia that he angrily studies every night before he goes to bed.
There really is nothing that man won't say. What is the logic behind "she's a very abusive person… she's a slob and I'm not surprised to see it." Let's ignore the fact that he's attacking her appearance again (Donald, look in a mirror) – how is being a slob indicative of someone being abusive? "She doesn't comb her hair often enough, and her house has magazines strewn about. Of course she's an abusive person." I really will relish the day someone finds something criminal on this man.
Here's Rosie signing copies of her book "Crafty U: 100 Easy Projects the Whole Family Can Enjoy All Year Long" at Barnes & Noble in New York on Tuesday. Images thanks to PR Photos. Header of Donald last night at the The 57th Annual Miss USA Competion held at Planet Hollywood in Las Vegas. Images thanks to WENN.