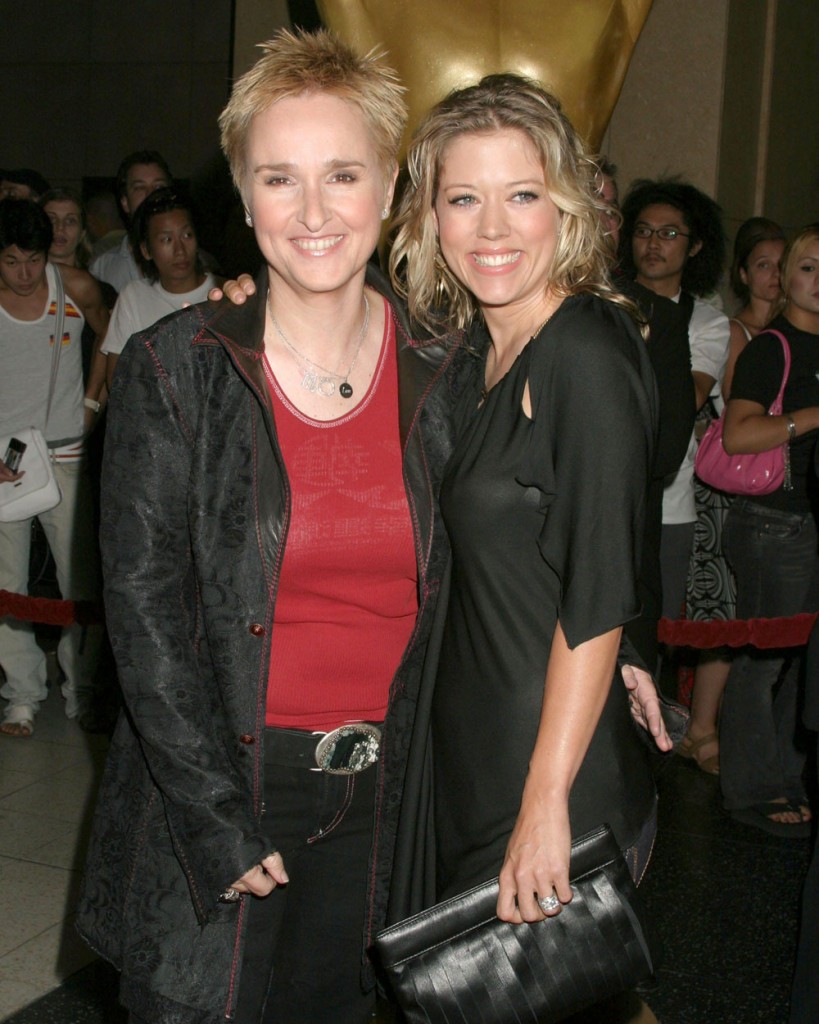 People Magazine has an interesting back and forth between Melissa Etheridge and Tammy Lynn Michael's lawyers commenting on the state of Tammy Lynn's finances. As you might remember, Melissa and Tammy Lynn split up recently after nine years and two kids together. Melissa told the press that the split was mutual while Tammy Lynn blogged that she was blindsided by both the breakup and by Etheridge filing to legally end their partnership. (They were not legally married during the time when it was possible in California.) She also described how she gave up a lucrative acting career in order to raise their twins while Etheridge worked on her music.
After filing for full legal custody, Tammy Lynn's lawyer noted to TMZ that his client was completely broke and had just $4 to her name. Melissa's lawyer countered at the time that "Melissa is paying all of Tammy's expenses, which totals tens of thousands of dollars per month." Tammy Lynn is seeking spousal support while Melissa's filing for joint custody requests that she get none.
In a court hearing on Monday, Tammy Lynn requested $25,000 immediately to pay for expenses along with an additional $25,000 for lawyers fees. The initial $25,000 was denied based on Melissa's claim that she pays for all of Tammy's household expenses. (TMZ has that story, and it sounds like the issue of lawyer's fees was deferred, although they don't specify.)
According to Melissa's lawyer, his client pays Tammy Lynn $2,000 a month in addition to covering all of the other expenses. If that's true why is Tammy claiming that she has to borrow money from friends for gas, then? Here's People's story on what Melissa allegedly pays for:
Has Melissa Etheridge left her ex and their twins broke?

That's what Tammy Etheridge's attorney claimed in an L.A. courtroom on Monday – but Melissa's lawyer says that's not the case.

"[Tammy] is being completely supported by Melissa and has been since they separated," Melissa's attorney Neal Hersh told PEOPLE after appearing at a hearing. "She's being well-provided for and then some, as are the children, which are Melissa's first priority."

The singer has been giving the former Tammy Lynn Michaels $2,000 a month and pays household bills including utilities and a car lease, the lawyer says.

Tammy's attorney Steven Knowles acknowledges, "Melissa is paying various sundry expenses," but says that Tammy, 35, and their 3-year-old twins, Johnnie and Miller, are "destitute." Knowles adds, "It doesn't put money in her wallet. Literally she has no cash."

Knowles also claims Tammy's credit card has been declined when she's tried to purchase groceries and clothing for their children, something Hersh says is, if true, "a one-off situation."

Melissa, 49, and Tammy, 35, split late last year after nearly nine years together. Melissa is seeking joint custody of their twins, while Tammy is seeking full custody.
[From People]
Tammy Lynn hasn't blogged in about a week and a half. Her last entry was on how shocked she was that Etheridge had filed paperwork to make their split official, having promised that she would wait to file until the fall. I would say that I'm team Tammy Lynn, but only if it's true that Melissa isn't providing for her living expenses beyond the mortgage, utilities and other bills. It does sound incredibly cheap and petty of Melissa to deny Tammy Lynn $25,000 to live on for the next few months. (That may be a lot of money to you or me, but Melissa is a millionaire.) Tammy Lynn has been raising their twins and has dedicated her life to being there for them. Melissa Etheridge is currently touring to promote her new album. It's not like she can't afford $25,000 for the mother of her youngest children. This really speaks to how contentious their split must be.
Melissa Etheridge and Tammy Lynn Michaels are shown in 2005 and 2006. Credit: WENN.com