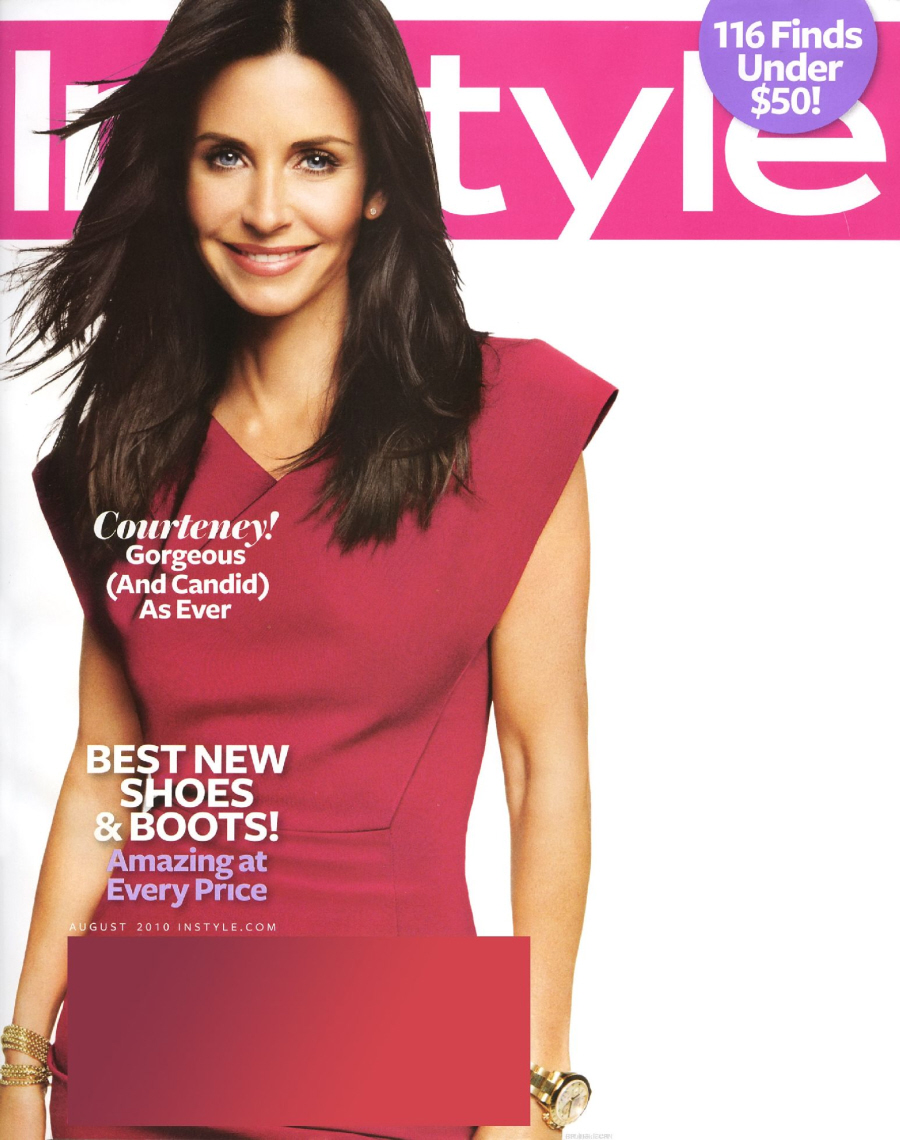 In my opinion, Courteney Cox and David Arquette are having some very real marriage problems. The gossip about Courteney's alleged affair with her Cougar Town costar Brian Van Holt probably hasn't helped – and the last time we checked in on David, he was allegedly acting very sad and strange (like, mid-life crisis strange) and defending his marriage cryptically. Now it's Courteney's turn. She's the cover girl for the August issue of InStyle Magazine, and she gave a pretty good interview:
Public attention is usually focused on the love life of her BFF Jennifer Aniston, but Courteney Cox is now opening up about her own marriage.

In a remarkably candid InStyle interview – to which the Cougar Town star, 46, arrived minus her wedding ring – Cox admits that her 11-year union with David Arquette has had its ups and downs.

"We've done couples therapy in the past. We're not lazy about our marriage," Cox says in the magazine's August issue, on newsstands Friday. "We have the same arguments we've had for years."

Disagreements are something that exist in every marriage, and Cox says she doesn't expect them to ever be fully resolved. "Some things just never change, and you should realize that the intriguing things you fall in love with will probably become the things that you don't like," she says, "and the very things that you'll be talking about for the rest of your relationship."

Luckily, their domestic issues don't sound all that dramatic, and they have made some changes to suit their lives as a couple. "If we didn't live together, David wouldn't even notice if a lightbulb had burned out!" Cox says. "He collects things; I don't. When we first lived together, I lived with [his] clown paintings, bobbleheads … I couldn't do that now."

The actress does cop to some fantasy world crushes on Zac Efron and Robert Pattinson, whom she calls "cute." "How old is he? I saw one picture of him and he looked dangerous; I like it," she says of the Twilight star, 24. "That's a really pretty face. I might feel insecure around him."

But her real-life love for Arquette – father of their 6-year-old daughter Coco – goes deeper. "One thing is, I let David be himself and he lets me be myself," Cox says. "You have to make an effort to stay connected, and that's something we work at."

Courteney also talks about aging and Botox: "Aging gracefully is one thing, but trying to slow it down is another. Sometimes I use Botox. Compared to most, I use it very sparingly. One time I did too much, though. I feel weird if I can't move my face, and that one time I overdid it, I felt trapped in my own skin."

Courteney would never stop acting: "No—although there was a time when my dad thought I should get out. It was right before I got Friends, and I probably had a month to go before I was completely broke. At one point my dad called me and said, 'You have always been a great salesman. I think it's time you come home and sell swimming pools.' I don't think I would ever quit acting, but there are other things I am interested in. I wanted to be an architect, and I wish I knew more about landscaping. I think I'd be a good therapist too."
[InStyle Magazine excerpts, courtesy of InStyle and People Magazine]
I've said it before privately to CB, and publicly on this site – I don't think Courteney and David are going to make it very much longer, and I think Courteney is the one driving many of the problems. She sounds like the one who is fed up, annoyed, looking around for something better.
Oh, and the Botox stuff – well, at least she's admitting it. But she's delusional if she thinks her face is still moving. Whenever I catch a few minutes of Cougar Town, I wince every time Courteney tries to talk or move her face to form any kind of human emotion. She looks so f-cking jacked.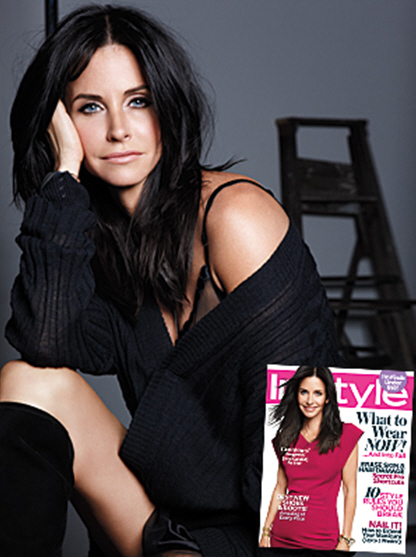 InStyle photos courtesy of InStyle online, cover courtesy of Courteney's fansite.