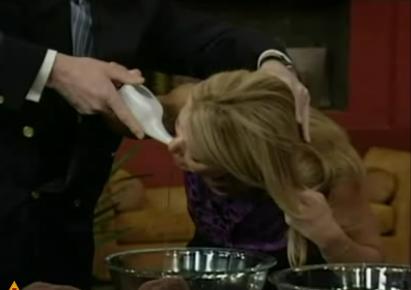 Dignity really is taking a serious hit on television today. Either that or the nose is finally having it's shining moment of glory. This morning on Live with Regis and Kelly, the pair did a segment on sinuses and what you can do to manage them during allergy season. They had sinus expert Dr. Jordan S. Josephson, author of "Sinus Relief Now," on the show to teach them how to irrigate their nasal passages. Both Regis and Kelly tried to neti (which I long ago made a verb) their noses, flushing out their sinuses for the entire audience to see. It really was a thing of beauty.
I'm a huge fan of the neti, and do it when I brush my teeth… and about 4 other times a day. Though I've moved up in the world, and now have that fancy, Waterpik-looking device you see at the beginning of the segment. It has a really loud motor that my roommates just love.
In keeping with today's nose them, Regis and Kelly also decided to blow up balloons with their nostrils. At first I was confused, as I thought this was somehow related to sinuses. Turns out, Andrew Dahl I, a 13-year-old boy from Blaine, Washington , blew up 213 balloons in an hour this past Friday in the Blaine's public library. I guess he wasn't aware that most people go there to read. Dahl is claiming the world record, and is waiting to hear back from Guinness. I guess Regis and Kelly were trying to honor him – though Kelly clearly did a better job.