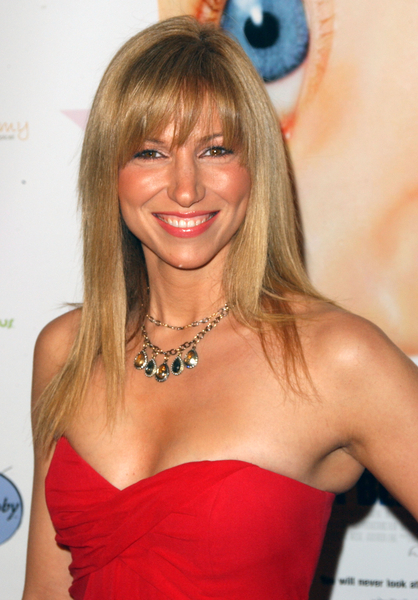 I can't imagine how much it must suck to have a stalker. You must constantly be worried, wondering if that crazy person has followed you, if they're outside your house lurking in the shadows. It must be even worse if you're a lesser-known celebrity or a normal person who can't afford much security. Maybe you have one security guy who works part time and costs you a fortune, and your stalker will soon figure out when he's off duty anyway.
80s pop star Debbie Gibson, who now prefers to be called Deborah, is still touring and singing. She has an act called "Pop Goes Broadway," in which she sings hits like "Out of the Blue" and reprises some of her starring Broadway roles, including Cabaret and Chicago. She's probably not making enough coin to hire an around the clock bodyguard. She has a Spanish stalker, Jorge Puigdollers, 44, who works as a cab driver and runs a fan club for her. He's traveled to the US multiple times to pursue her, and has been to every concert she's given since 2002.
Puigdollers has tried to get backstage at Gibson's concerts, he's followed her many times, and he's tried to get into her hotel room. He left a note on Thursday for her under her door asking to meet her in El Paso, and on Sunday he showed up at the door of her house in LA. Gibson called the police and filed for an emergency restraining order that's effective until Friday. She is seeking a longer term protective order and will have a hearing on May 28 for this case. Gibson says she's in fear of her life.
Puigdollers is back in Spain, driving a cab and probably saving up for another trip to the states to stalk poor Gibson. He told the AP that he's sorry and "I don't want problems and I don't want to bother her so much."
Spring time must be stalker time, because John Cusack's longterm stalker also showed up at his house a couple of weeks ago, throwing stuff over his bushes in a desperate attempt to contact him.
Deborah Gibson is shown at the premiere of Ricky Lake's documentary "The Business of Being Born" on 1/14/08. She looks great. Thanks to PRPhotos for these pictures. Details from AP Article found on Huffingtonpost.