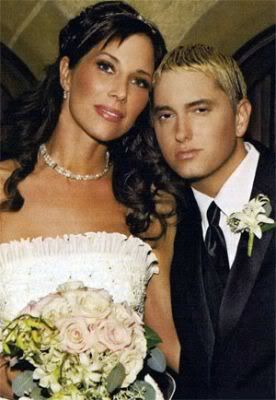 Kim Mathers, Eminem's soon to be ex-wife, is planning to get as much as she can in the settlement from their upcoming divorce:
The rapper only re-married ex-wife Kim three months ago but the couple broke up, prompting Mrs. Mathers to accuse Eminem of drug addiction.
A friend of Kim told The Star: "She is going for gold. He is worth [tons] and she wants a big chunk. This will be one of the biggest, nastiest, costliest divorces the music industry has ever seen."
Eminem and Mathers were married for the first time in 1999 and split up in 2001. Eminem received two years probation for pistol whipping a man he saw kissing Mathers outside a club after their first breakup in 2001.
Eminem filed for divorce from Mathers the second time after a mere there months of marriage, six weeks of which they did not speak. Mathers said she was surprised to receive the divorce papers and that Eminem remains addicted to sleeping pills. Eminem has denied the allegations.
Mathers should try to get as much as she can out of the settlement, and it was foolish of Enimen not to insist on a prenup.