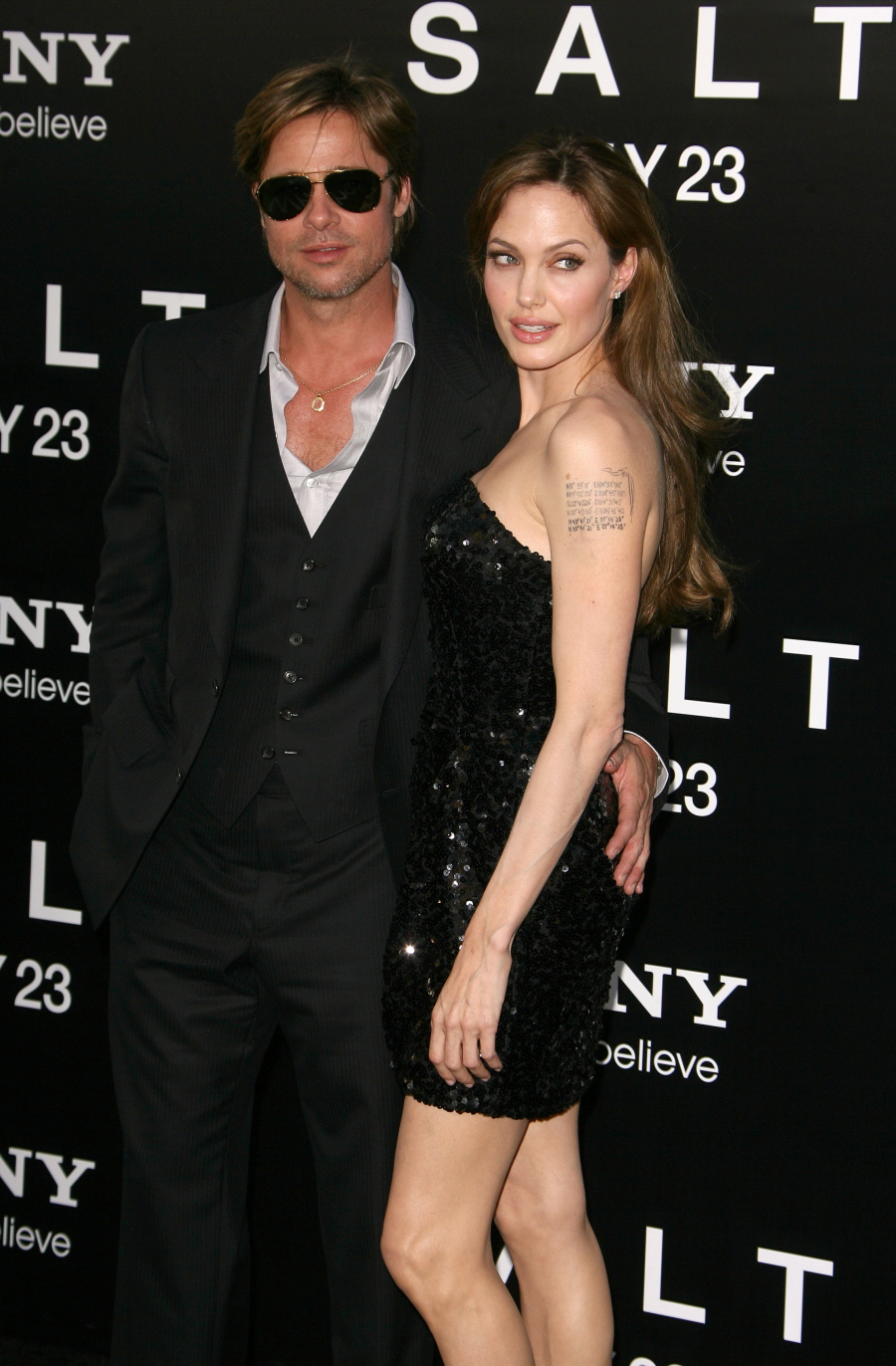 Angelina is predictably the cover girl for this week's People Magazine – she gave the mag an interview about her family life, all to promote the opening of Salt. Incidentally, Us Weekly is running a Jolie cover story this week too, but they're doing an old-school "How Angelina Stole Brad From Jen" story, because Us Weekly thinks it's 2005, apparently. Anyway, People's online excerpts are pretty basic, so I'm including some more excerpts from Angelina's Parade interview, courtesy of Celebrity Baby Scoop: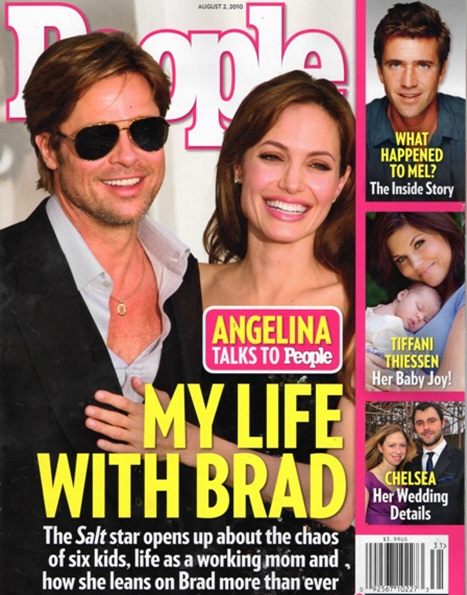 Yes, Angelina Jolie and Brad Pitt can work a red carpet like no other star couple. But at home with six kids all under the age of 9, the pair are content just to be Mom and Dad.

"Brad's an extraordinary father," Jolie, 35, tells PEOPLE in this week's issue. "We have each other's backs."

The teamwork of the actress and Pitt, 46, comes in handy when it comes to settling differences between kids Maddox, 8, Pax, 6, Zahara, 5, Shiloh, 4, and 2-year-old twins Knox and Vivienne, says Jolie.

"They can't go behind one [parent] to the other," she says. "Not one of us is softer than the other."

The actress, whose new political thriller Salt opens Friday, also talks about tackling her own stunts in the film. "I happen to like heights, so we found moments where I can use that," she says.

One thing that does scare her: the idea of her kids becoming teenagers: "I break out into a sweat at just the thought."

Whether enjoying their luxurious Los Angeles home or traveling to third world countries with their parents, Angelina Jolie and Brad Pitt's children — Maddox, 8½, Pax, 6½, Zahara, 5½, Shiloh, 4, and fraternal twins Knox and Vivienne, 2 — have learned to love it all.

"They like this house [in Los Angeles] because it has this pool. But they also love Cambodia because it's got the fun places to throw rocks and cut coconuts and ride on elephants," Jolie, 35, tells PARADE.

"They love Africa because the kids are really fun to play with and the nature is beautiful."

Noting that she and Pitt "try not to spoil our children," Jolie insists the family's jet-setting ways have taught their brood to treasure what they do have — and sympathize with those who don't.

"They spend time in Cambodia in a teeny hut and hang out with local children. They help me visit distressed areas. They have friends with no money. They also appreciate nice things," the Salt actress reveals.

"We're hoping that, organically, it will be in them to feel for people who do not have as much. They'll be inspired to give and help people out because they'll have close friends who don't have as much. They won't whine about things they want. And they won't want more."

And although strong friendships have been formed as a result of their travels, the proud mama raves the sibling bond — and general unity as a family — is what keeps them close.

"We're a very close, very connected, very big family. The children talk to each other, and they look out for each other, and they have each other," she says. "Yes, they have friends, but they also are very, very closely connected to each other."
[From People & Celebrity Baby Scoop]
Yeah, that's basically it. I know some people are already sick of Angelina's press tour for Salt (the same people who are sick of her, always), but I'm genuinely surprised by how low-key her press has been. I expected at least one other monthly magazine cover and some major television interviews beyond Nightline. Maybe she's trying not to over-saturate. Maybe when the international September issues come out, we'll see that she's other interviews. We'll see.
Also, here are some nice photos of Brad filming Moneyball yesterday: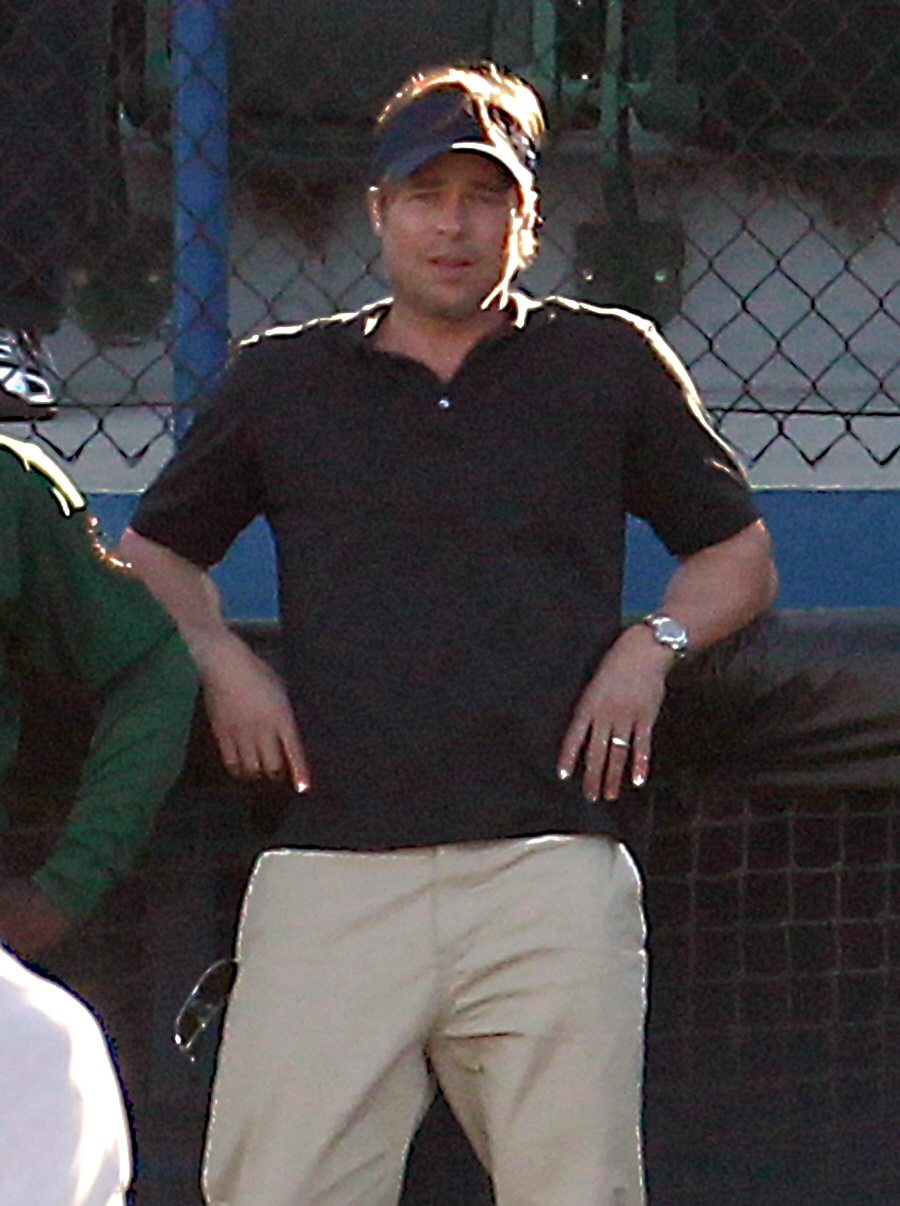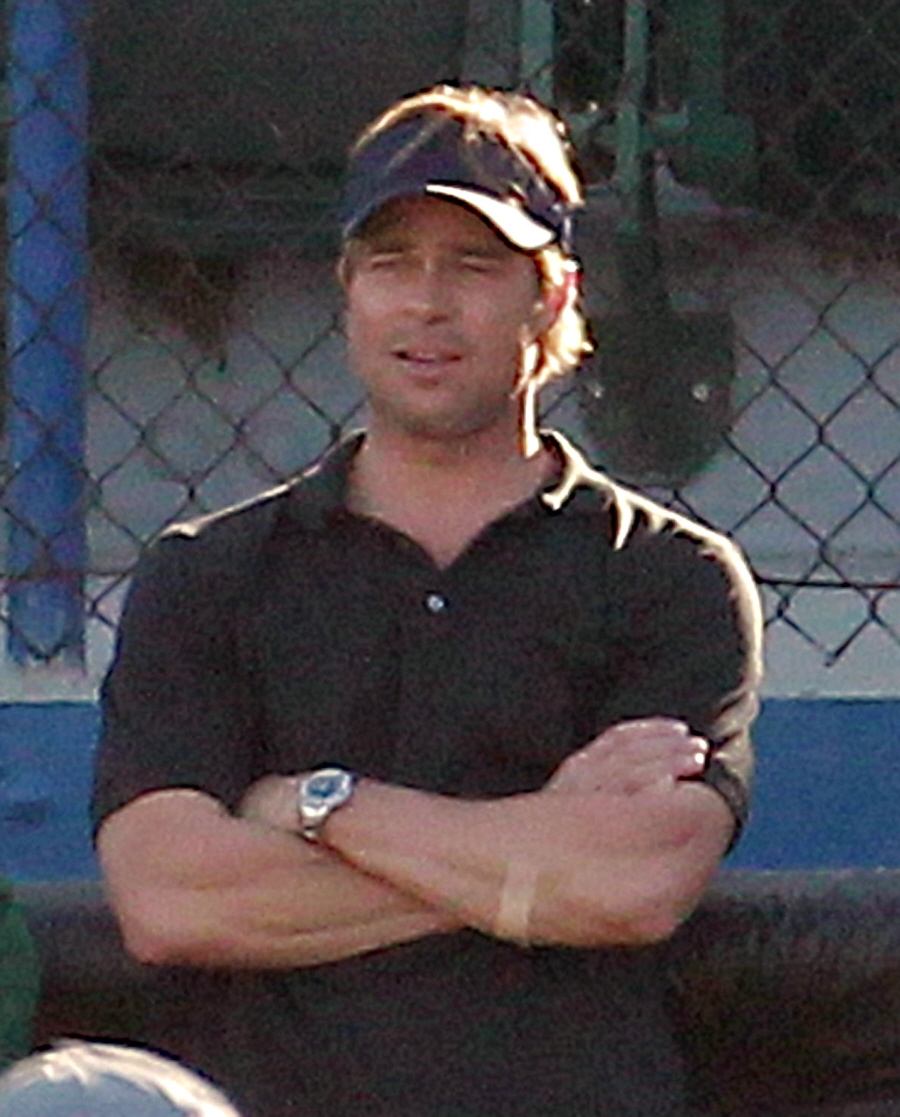 People Magazine cover courtesy of CoverAwards. Brad on July 20, on the set of Moneyball, and with Angelina on July 19, 2010. Credit: FAME.