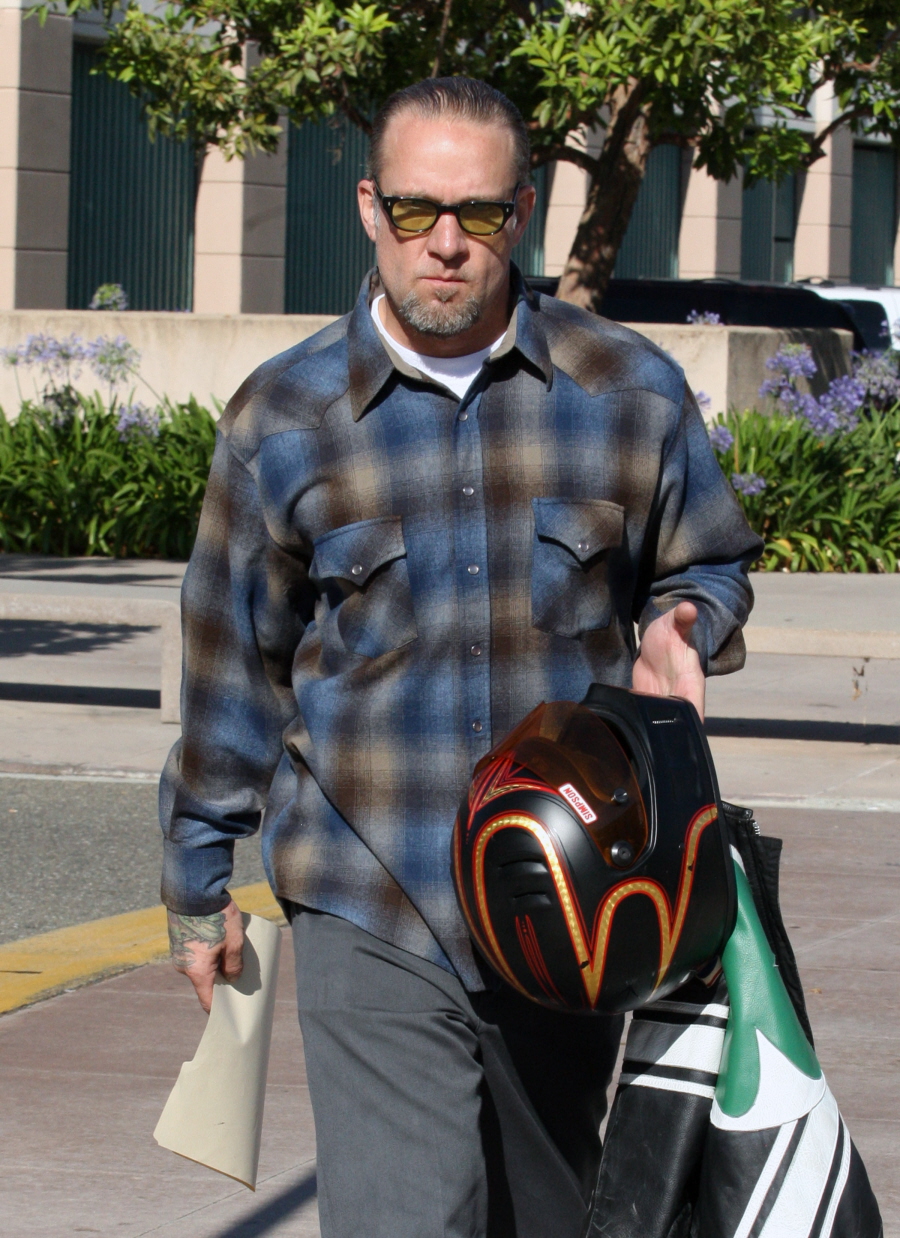 Jesse James has concluded the latest saga of his custody battle with his second ex wife, Janine Lindemulder. A judge ruled that James will be able to take their six year-old daughter, Sunny, with him when he moves to Austin, Texas. James' first ex wife and the mother of his two older children will also be accompanying him and is thought to be buying a home nearby. He is reportedly moving to be closer to this third ex wife, movie star Sandra Bullock. This guy sure has a string of exes to go along with all the women he had on the side.
Sunny's mother was devastated by the ruling and made some desperate statements in court about how she's going to move and would "live in a tent to be beside Sunny." Lindemulder told reporters prior to the hearing that Sunny was surrounded by people who loved her and that's what matters but added that "I don't want to be thrown crumbs. I want to be a parent… I'm a damn good parent and I want to give that to her. If it doesn't go my way I'm not going to pretend that it's not going to kill me." After the hearing, Lindemulder was crying and upset but maintained that "[Sunny] will be fine. She'll be loved. It hurts, I want her, but there's a different plan. They'll be good to her." She said she's not going to take Sunny for the summer as was ruled as it "would create a bond [and] be harder to let her go."
Here's more on the ruling from Radar Online:
Jesse James won a dramatic custody victory on Tuesday when a court ruled he is allowed to move his daughter to Texas. His ex wife Janine Lindemulder spent more than a week fighting Jesse's planned move with their daughter Sunny.

Commissioner Thomas Schulte ruled that both parents will have joint legal custody of the six-year-old but that it was in the child's best interest for her to go with her dad to live in Austin.

As Schulte read his ruling to the Orange County Family Court, Lindemulder burst out crying and screamed, "I'll move, I'll move." The former porn star vowed earlier in the proceedings that she would "live in a tent to be beside Sunny."

Under the terms of the agreement, the distraught mom will be allowed to have Sunny for the rest of the summer beginning on Thursday, until school starts in Texas in August.

Thereafter, she will be allowed to visit her daughter, including at least one weekend per month with Sunny in California, plus the majority of the holidays.

The judge ruled that Sunny had a great bond with her older siblings, Chandler and Jesse James Junior, and was thriving living with her father.

As James left the court, he remained tight lipped but smiling about the decision. He is expected to move to Texas at the end of the month, where he has bought a $2 million mansion just miles away from ex-wife Sandra Bullock.

In the closing statements on Friday, James' lawyer John Schilling said that there was no comparison between James and Lindemulder.

He said, "She is an admitted drug addict, stripper, criminal and porn actress, who has moved nine times in the past five years. The only stability she has had was when she was in prison for six months."
[From Radar Online]
I think the most damaging evidence against Lindemulder were some e-mails she sent James' sister prior to her incarceration for tax evasion. She admitted sleeping all day and neglecting Sunny and begged for prescription painkillers and sleeping medication to help her cope. Her former sister-in-law told her that she was worried about Sunny and that she needed to stop doing drugs and be a better parent to her daughter.
In response to criticism of her parenting, Lindemulder said outside of court that "People doubt my parenting because of my past. They can all kiss my a** because I'm a good parent. I've made mistakes, but I've learned a lot." As much as she'll miss Sunny, she sounds positive about the girl's future, and praised Sandra Bullock as a good stepmother. "[Sandra] will be good to her. I'd like a little communication from her would be nice. I would just like communication just mom to mom… Let me know what's going on, keep me in the loop… We didn't have that for the past year, I'd like it now."
Of course Jesse pulled his sob story act in court, and testified that he "was a victim of childhood abuse and trauma" and "pretty much raised myself." Whether that influenced the judge to rule in his favor or not is up to question. He was Sunny's primary caregiver for the last year and a half and she's definitely better off with him and his other two ex wives. It's sad, though, that this little girl won't be able to have more of a relationship with her mother. As messed up as she is, Lindemulder does love Sunny. Given her past, she should have supervised visits though and not full custody.
Header: Jesse James on July 13, 2010. Credit: Fame.