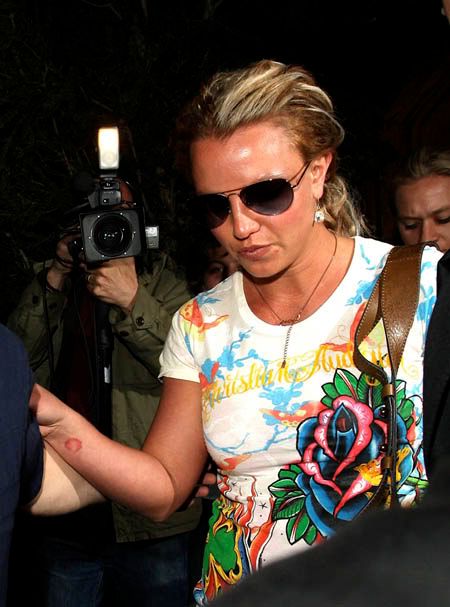 The restraining order against Sam Lutfi, the svengali-like guy who controlled and verbally abused Britney Spears, bragging to her mother that he would mash up psychiatric drugs and mix them with her food, has been extended until July 31. People Magazine notes that it's possible that the restraining order can be extended for years, essentially keeping Lutfi out of Britney's life for the foreseeable future.
Last month one of Britney's former assistants told In Touch a chilling tale of being contacted by Lutfi in early 2007 before he had made contact with the pop star. He grilled Britney's assistant for a half hour, trying to figure out how to insert himself into Britney's life. The woman got the creeps and left. She says that a few months after she stopped working for Britney she saw a picture online of Sam with Britney she "got a chill down [her] spine" because she found him "stalkerish" and did her best to keep him away from her employer.
It's clear that Lutfi planned to gain access to Britney and her fortune, and took extreme advantage of under the guise of helping. Thank goodness her father is looking out for her now.
Britney has rehired her old manager Larry Rudolph and was seen at the recording studio and the gym yesterday. It might be a little soon for Britney to jump back into her career, but she has to keep busy and it could help her if she has her music to focus on now.
Britney's father's conservatorship lasts until July 31, and People Magazine reports that it is likely to be extended beyond that. The tabloids were ran stories last week about how Britney was drinking again, but it was wine with dinner and the tales seemed a bit overblown so I kind of shrugged and didn't cover it. She deserves a little break whether she wants one or not.
Britney is shown outside a recording studio and Bally's gym yesterday, where she had a private personal training session. Thanks to WENN.