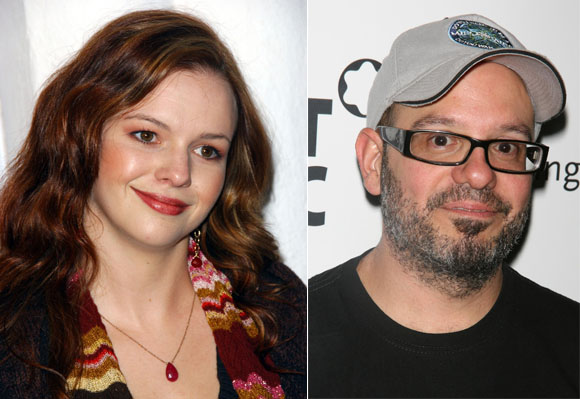 Young Joan of Arcadia star Amber Tamblyn, 24, was swapping spit with a guy old enough to be her dad at the after party for the new documentary Where is in the World is Osama Bin Laden. Amber was apparently on a date with David Cross from Arrested Development, and although the titillating article about their public makeout session says that he's 43, he actually turned 44 earlier this month:
ODD couple alert! "Arrested Development" star David Cross, 43, arrived at the after-party for Morgan Spurlock's new documentary, "Where in the World Is Osama bin Laden?," at Pink Elephant Tuesday night with "Joan of Arcadia" star Amber Tamblyn, 24. The two "were definitely together, making out and barely came up for air the whole night," our spy said. At least they made it in the door. Security was tight after Spurlock received threats and hate mail over his new movie.
[From Page Six]
When I first saw this guy's picture as his character from Arrested Development, Tobias Fünke I didn't realize who he was – it's Ian from Alvin and The Chipmunks! I've seen that movie 10 or more times, and it just gets better with each viewing my kids begs out of me. That's somewhat creepy that he would get with a 24 year-old, but I have to say I find him oddly attractive. I'd be all over that too.
David Cross is shown on 10/22/07 at the 24 Hour Plays, thanks to WENN. Amber Tamblyn is shown on 1/15/08 at the premiere of The Business of Being Born, thanks to PRPhotos.