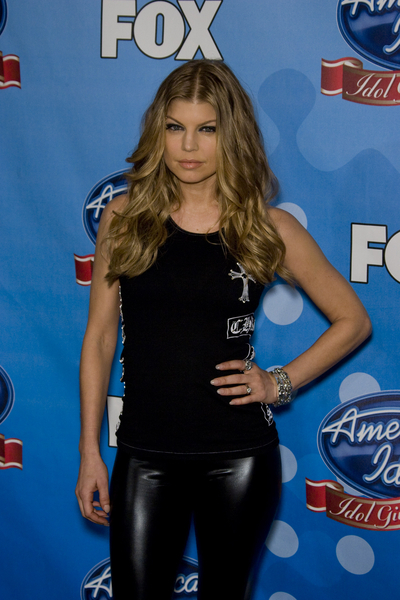 Singer Fergie was on the Regis & Kelly show this morning and they brought up the pregnancy rumors that dogged the engaged singer late last month when she was photographed out with a billowing dress. I really thought she was pregnant because it had been a few weeks since we'd seen her out, and she did have what looked like a small bump at the Grammy Awards in early February.
On the pregnancy rumors
Kelly told Fergie "You're in such phenomenal shape. When they say that you're pregnant, do you go 'What does that mean?'"
Fergie said "It actually motivated me to start working out more. It just means I need to get back to the gym basically. It's just kind of my little reminder now. 'Oh I'm pregnant again? Time to cut out the lasagna'"
On first meeting Josh
In the first part of the interview, Fergie explained how she read an interview before she met her now-fiance, Josh Duhamel, in which he revealed that he had a crush on her. She said her friends told her to get in touch with him, but said that she's old fashioned and thought the guy should make the first move. Then she learned that she was going to make an appearance on Josh's show "Las Vegas" with the Black Eyed Peas, and she said she flirted with him and they went from there.
Fergie said that to break the ice she said to him "I heard you had a dream about me. Was it a good dream?" and he said 'Yes'"
Fergie talked about her new purse line with Kipling, and said the designs are based on West Coast styles around when she was in high school, like bandanna and tie dye patterns.
Overall she comes across as good natured and laid back, and although she's not my favorite person she kind of grows on you the more interviews you watch with her. She handled that whole pregnancy rumor very well.
Here's the first part of the interview. She talks about how she first talked with Josh Duhamel after reading he had a crush on her.

Here's the second part where she talks about the pregnancy rumors:

And Fergie performing "Finally," the latest single off her first solo album "The Dutchess." The CD has been out since September, 2006, but it will be re-released as a Deluxe Edition on May 27 with five new tracks.

Fergie is shown in the header at "Idol Gives Back" on 4/6/08