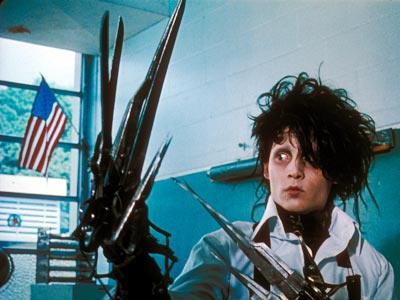 Johnny Depp almost got edged out of his seminal role in Edward Scissorhands by none other than Tom Cruise. Prior to starring in fantasy suburban tale Edward Scissorhands, which came out in late 1990, Depp was primarily known as a hot detective on Fox's 21 Jump Street and had a few small film roles along with his lead performance in Cry Baby, which came out in the Spring of 1990. Producers went back and forth between Cruise and Depp, and almost gave the role to Cruise, but ultimately realized that Depp was more suited to the quirky role:
Depp shot to fame when he landed the title role in Tim Burton's 1991 fantasy epic, but insists producers were determined to cast A-list actor Cruise in the role.

The 44-year-old was a relative unknown at the time and admits he desperately wanted the job – but he was only hired after the team began to question Cruise's suitability for such an edgy project.

He says, "They (movie bosses) were interested in me for the part, but had someone else in mind too. A few days later, they called me to say the studio preferred the other actor.

"(It was) Tom Cruise. I was really disappointed. From the moment I read the script, I knew I had to be in it. But I understood that the studio wanted a box office superstar.

"Then a miracle happened. My agent called to say they wanted me instead.
[From WENN via Hollywood.tv]
I thought Tom Cruise could only play jocks and jerks who reach a turning point and then find themselves, and maybe the producers realized that and took a chance on a newcomer who would go on to greatness. It's hard to know whether Edward Scissorhands would have been the hit that it was with Cruise in the role, but it's a good thing Depp got the role and built a friendship with director Tim Burton. Can you imagine if he remained on television instead?