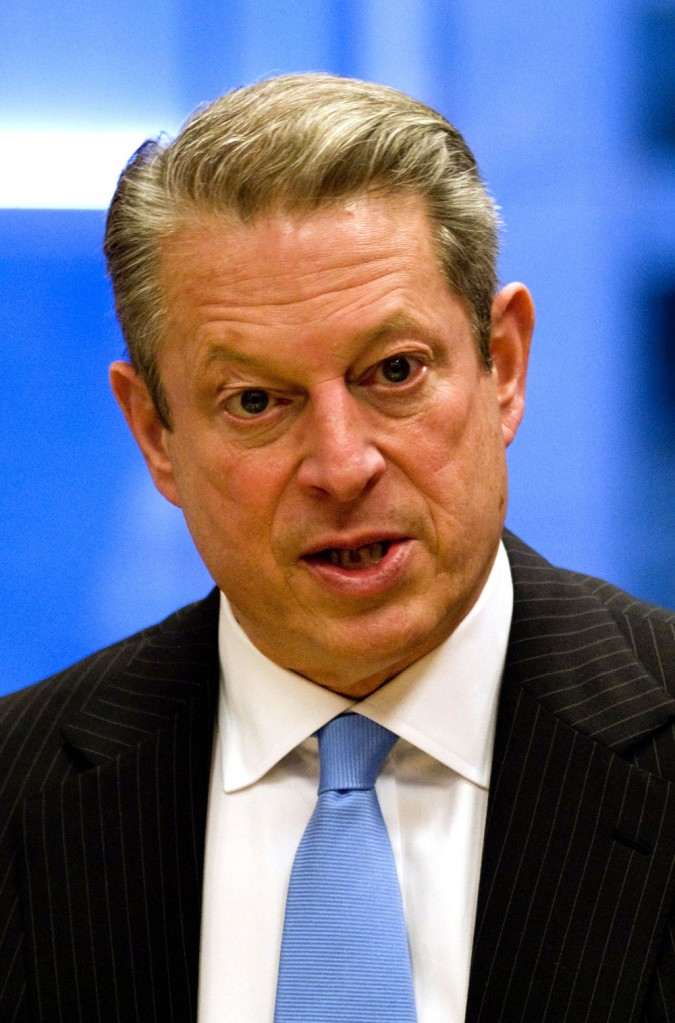 When I first heard about the masseuse accusing former Vice President Al Gore of sexually attacking her, I was skeptical. The incident supposedly occurred at a hotel in Portland in 2006. The alleged victim did report the incident to police after it occurred, but then canceled several follow-up interviews, eventually granting an interview to police in early 2009. I listened to the tapes available online of her statements to police and she goes into exhausting detail about everything except for the alleged attack. (You can read more on my thoughts on that case here.) Reports had her asking $1 million to sell her story to a tabloid. She eventually came forward to The National Enquirer, which claims it never paid her.
Anyway police in Portland have re-opened the case now that it's received media attention and are said to have questioned Gore. It's a good thing because The National Enquirer claimed this week to have evidence that two more massage therapists were accosted for sex by Gore during what should have been legitimate non-sexual massages in 2007 and 2008. (Their details convinced me and I'll include them in a moment.) If that's true, I hope that other women come forward to help with the case. Here's more from People.com:
Al Gore was reportedly questioned last week by Portland police about a massage therapist's claims he sexually abused her in 2006.

The former vice president, 62, who has emphatically denied the allegations, sat down Thursday with detectives in San Francisco, Portland TV station KATU reports.

A spokesperson for Gore declined to comment.

Therapist Molly Hagerty alleges Gore demanded sexual favors and made "unwanted sexual contact" with her during a massage in his Portland, Ore., hotel room four years ago.

Officials said they were reopening the investigation after detectives looking into the alleged incident this past year failed to notify high-ranking officials that they were dropping the case.

Gore and his wife Tipper, 61, split in June after 40 years of marriage. Tipper does not believe Haggerty's allegations, says a friend, who adds that "they played no role whatsoever in their decision to separate."
[From People]
As for those other claims, the Enquirer laid out how they'd tried to verify the reports and I was persuaded. (Remember, we have to give them props for exposing John Edwards, although that doesn't mean that this story is necessarily true or that there aren't political motivations behind it.) Here's part of the report from their print edition:
Police have investigated charges from two more women who claimed they were abused by the former vice president, The Enquirer has learned exclusively…

The first incident allegedly took place at a Beverly Hills luxury hotel when Gore, 62, was in Hollywood to attend the Oscars… in 2007…

The second reportedly occurred a year later at a hotel in Tokyo.

In the first incident, a source at the hotel told the Enquirer: "Al Gore booked a massage with a female therapist at the rooftop spa of the hotel.

"The therapist claimed that when they were alone, Gore shrugged off a towel and stood naked in front of her. He pointed at his erect penis and ordered her, 'Take care of this.'

"The shocked woman ran out of the room and reported Gore's behavior to the spa manager. He was ordered to leave the spa and not come back.

"Hotel management hushed up the incident. Staff were ordered not to talk about it."

Contacted by The Enquirer, a former executive at the hotel confirmed "Yes, something happened between Al Gore and a massage therapist at the hotel.

"The woman claimed he exposed himself to her and demanded sex. Everyone was warned that if they talked about it, they'd be fired."

The Enquirer tracked the masseuse, who is in her 30s, to San Francisco, where she now lives.

When asked about the purported incident, the woman – who still works as a licensed massage therapist – did not deny the allegations and instead wanted to know "who told" the Enquirer…

In a second sensational incident, Gore has been accused of sexually abusing a masseuse in Japan on Nov. 18, 2008, The Enquirer has learned…

"According to the woman, Gore had been 'sexually inappropriate' with her when she began to massage him.

"She complained to the hotel staff and told them she was going to the police. However, hotel staff managed to convince her not to.

"The alleged incident soon became known among some Tokyo journalists."

The Enquirer has confirmed that Gore did speak at Keio University on the date in question.
[From The National Enquirer, print edition, August 2, 2010]
It sounds like The Enquirer got much more confirmation on the first alleged incident than on the one in Japan. Either way, this is looking like much more of a pattern of abuse from Gore and less like a money grab by a single masseuse. Unless there's a "blue dress" and more women willing to speak on the record, this case may not be able to move forward. Gore has not yet been charged with anything, although that could change.
Al Gore is shown on 11/24/09. Credit: WENN.com