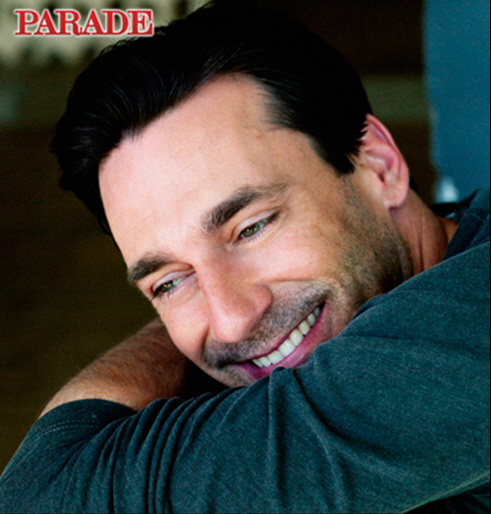 Hello, Lover. Do you need to be slapped? Here, let me help you. Do you need to be spanked? I could definitely help with that too. Anyway… Jon Hamm is the cover boy for this week's Parade Magazine. The photo shoot… well, I'm never going to complain about photos of My Hamm. But Parade was aiming for "accessible" in these photos. They were trying to make him look like Mr. All-American Next-Door-Neighbor, when in truth, if The Hamm was your neighbor, I think you and I would be sitting vigil by his bathroom window, waiting for a just-out-of-shower Hamm to appear. *crosses legs*
Anyway, The Hamm interview. It's good! The Hamm talks about his parents, the early Hamm Years, and, unfortunately for all of us, his girlfriend and how they're probably never going to get married but he considers her "the love of his life" – WWAAAHHHH!
Parade: He's nothing like the character he plays.
"[I'm] able to leave Don Draper at work. I'm quite dissimilar from him in real life."

You won't find him in Don's usual buttoned-up ensemble.
"I realize how talented our hair and wardrobe people are every time I have to get dressed on my own."

Hamm spent much of the 1990s driving to auditions that went nowhere and waiting tables to pay rent.
"I drove around in a Volkswagen Rabbit I shared with one of my roommates, and it didn't have a roof. It doesn't rain much in L.A., but when it did, it was utterly miserable."

It took his breakthrough role as creative director of Mad Men's fictional ad agency for his success to go supernova.
"I loved the original script, but I thought, 'Who's going to watch this kind of show on some random cable channel?'"

People now recognize Hamm in the darnedest places.
"Jen and I were in Italy this year and we were looking at Michelangelo's sculpture of David when we noticed people staring at us and talking about Mad Men. I thought, 'People, there's a great work of art here, and it's the other way.'"

Hamm is grounded like that.
"Jon doesn't have an ounce of attitude you sometimes hear about with actors," says Mad Men creator and executive producer Matthew Weiner. "He is grateful for everything he's got. He's got a great personal life. Plus, he's just fun to be around."

Why co-star January Jones, who plays his TV wife, Betty Draper, relies on Jon.
"What we do on the show is so emotionally draining, we look to Jon to keep us all laughing."

We're still laughing at his Saturday Night Live appearances and recurring role on 30 Rock, where he plays Tina Fey's impossibly handsome doctor neighbor.
Fey notes that "people were surprised to see how skilled he was at comedy. But, in fact, he's a huge comedy nerd who loves to quote the movie Anchorman as much as we normal-looking people do."

His late father, Dan, the owner of a trucking company, inspired his portrayal of Don.
"[His] smoking, drinking, and hard-living ways are pretty much my model for Don Draper."

Dealing with the loss of his parents.
"Losing both parents at a young age gave me a sense that you can't really control life–so you'd better live it while it's here. I stopped believing in a storybook existence a long time ago. All you can do is push in a direction and see what comes of it."

Or you can be pushed.
"I got into acting because my teachers kept nudging me into it. The power a teacher has to influence someone is so great. I can't think of a profession I have more respect for."

After moving to L.A. in 1995, Hamm went years without finding a solid acting job.
"I'd try out for parts on shows like Dawson's Creek and people would say, 'You should go up for the dad part,' and I'd say, 'But I'm the same age as the kid!'"

At a party in 1997, he met Westfeldt, best known for co-writing and starring in the 2001 comedy Kissing Jessica Stein. Later he helped her rehearse lines for an audition.
"She didn't get the part, which may be my fault, but she got the guy."

Why they're not in a hurry to get married.
"I don't have the marriage chip, and neither of us have the greatest examples of marriages in our families. But Jen is the love of my life, and we've already been together four times longer than my parents were married."

Nor is he rushing to have children.
"I like kids but I also like the option to close the door. Becoming a parent is a whole other life, and it doesn't stop."

How he and Westfeldt deal with the attention he gets as a sex symbol.
"That kind of stuff is only present if you give it attention. If it's not reflected back, it goes away. It's not like I'm Justin Bieber or anything."

He appreciates being able to stretch beyond his Mad Men part with films like The Town and Howl.
"I feel so fortunate to be able to play Don Draper, but I do it 13 hours a year on television. That's plenty."
[From Parade]
Thirteen hours a year is not "plenty". I WANT MORE HAMM. I want more hooker slaps, I want more Don Draper Casuals (like in the Kennedy assassination story line last year), I want more shirtless Draper, I want more Don & Peggy. And Roger too. And Joan. I would like another 13 hours of television devoted to Don, Joan, Peggy and Roger. Send them on vacation. Film them in Hawaii.
As for Jennifer Westfeldt and her being the love of Jon's life… Jesus. This man. I would pretty much do anything to live as Westfeldt for a week. Also: I loved the line about The Bieb. F-ck me, The Hamm is funny.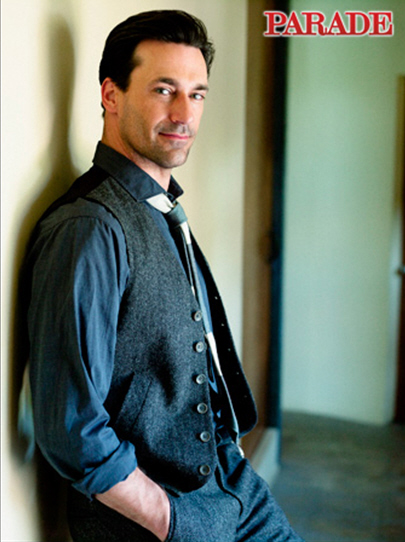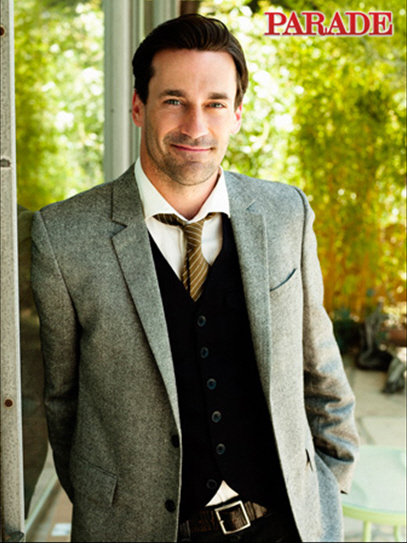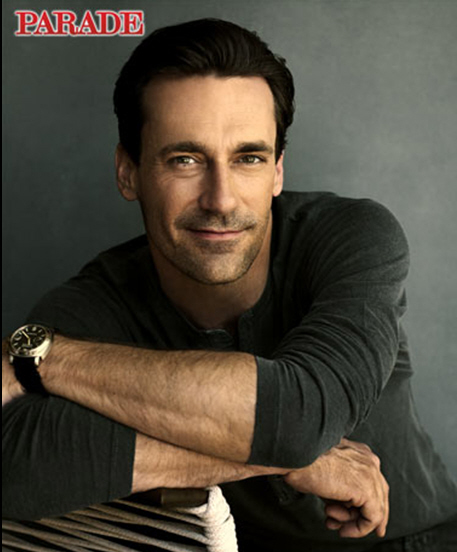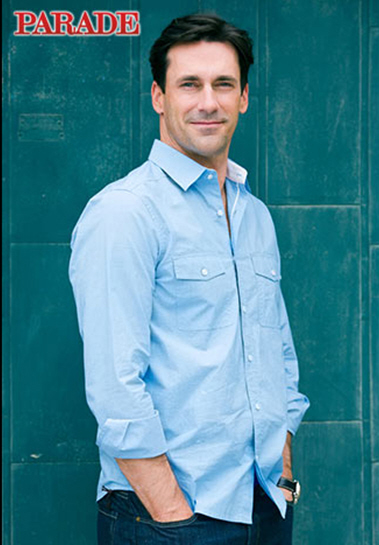 Parade photos courtesy of Parade online.