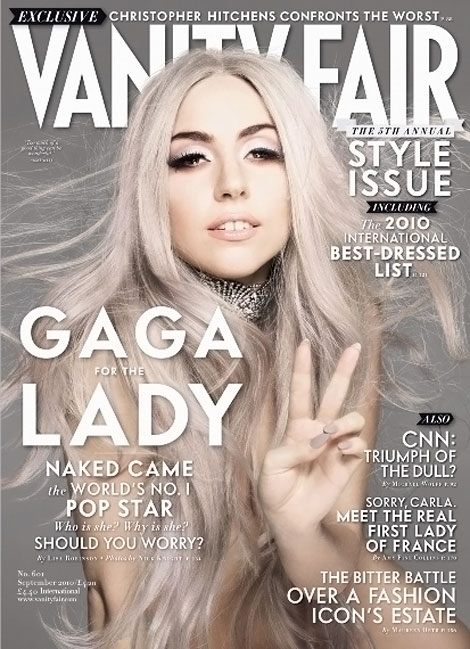 Don't kill me, people, but I love love LOVE Lady Gaga's Vanity Fair UK cover. This wig is awesome! And she looks so… pretty. Is it 'Shopped? Of course. But it's still lovely, and I like Gaga with longer hair and this kind of ethereal styling. She looks like an angelic drag queen. And she would probably take that as a compliment.
I believe Gaga is going to be on the American cover of the Septemeber Vanity Fair too. No idea if VF will be using the same shot for the cover – I hope not. I want to see more from this Nick Knight photo shoot.
Also: according to many sources, Gaga is back with her ex, a dude named Luc. He just dumped his girlfriend to get back with Gaga:
Lady Gaga is officially back on with the ex that helped her become famous. Gaga and Luc Carl are giving their relationship another try after he dumped his girlfriend to get back together with Gaga.

New York based barman Luc has been close to Gaga for four years, and they reportedly rekindled their romance while she was in NYC last month.

A friend of Gaga's said: "Luc was like the cat that got the cream. He had the most famous woman in the world vying for his attention and a hot young blonde waiting in the wings. It could have ended really badly, but the other girl melted into the background. She knows what Luc's like – he has women all over the place… Gaga has convinced herself that this time she's got Luc back for good. She says it's serious and that, after a few false starts, she thinks they are back on for good."

Gaga had a very nasty break-up the last time they were back on, so hopefully there won't be any drama this time around. She could definitely use a social life–all she does is work work work!
[From Hollyscoop]
Aw… that sounds kind of… sweet. Will this be a new era in Gaga's transformation? She's now ethereal, and getting laid. Take notes!
Vanity Fair UK cover courtesy of Style Frizz.