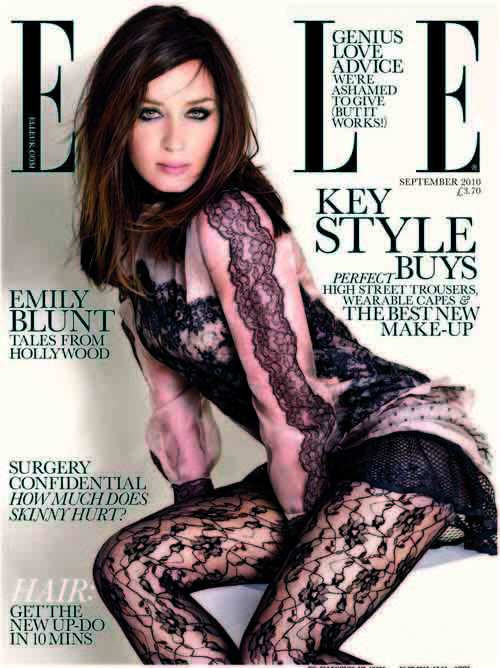 I really, really love Emily Blunt. I think she's a terrific actress, a great interview, and I think she's funny as hell. But why is it that magazines never know how to style her? She's not that difficult! She's pale, with dark hair. Style her like Demi Moore, and you'll be fine. Instead, the September issue of Elle UK features Emily either looking completely washed out in pales pastels, or looking like a trashy goth princess in black lace overload. UGH. Anyway, HuffPo has some highlights from the interview:
On her new film 'The Adjustment Bureau' with Matt Damon:
Probably her most high-profile role to date, Blunt plays a dancer opposite Matt Damon. 'I had to learn to do ballet for the role, which was terrifying – you can't really get away with half-assing it,' she says. 'There's something very exposing about dancing in front of people. It's like asking someone to look you in the eye and sing without any sense of irony. It's that embarrassing. She takes a long, indulgent drag of her ('dangerously delicious') Dr Funk. 'This is my weekend of revenge on the diet I've had to be on for the re-shoots,' she says. 'Last night I had steamed pork buns that made me want to weep. I feel like I'm just emerging from a food coma.' Damon, she adds, derived immense glee from not being the one having to do all of the rigorous bodywork for a film. 'After Bourne and Invictus, he was like, "Just for once, I don't have to go to the gym, so I'm going to eat burgers in front of you and you're going to have to deal with it.'"

On her childhood stutter:
Growing up in the smart London suburb of Roehampton (her father an accomplished barrister; her mother a former actress), Blunt developed a stutter at the age of seven, which was 'awful, absolutely awful', she remembers. 'You feel like there's an imposter living inside of you who is misrepresenting who you really are. You don't want to be accepted for being that person but at the same time you do, and you don't want people to finish your sentences, yet you breathe a sigh of relief when someone does.' She overcame it after a teacher suggested she try speaking in different accents for a drama class ('I spoke fluidly for the first time in my life in some northern English accent, probably the hokiest you've ever heard') – though she says she still gets caught out occasionally when making phone calls. 'It's very common for stutterers to not be able to say their own name, and when someone asks who's calling, I'll be like, "F***!"'

On her wedding to "The Office" star John Krasinski:
She insists, however, that she did not spend the time planning her wedding to Krasinski, though the rumour mill maintains there will be confetti flying within the next few weeks. 'Ha!' she snorts at the question. 'It's not my style to be much of a planner, so I don't even know really when it's happening. I'm sure it's going to be small, easy-going and last minute.' She flashes a grin as bright as the platinum-and-gigantic-diamond ring on her left hand. 'But you'll see… soon!'

On airbrushing and dressing for the red carpet:
Blunt, it seems, does strive to keep it real. She's not keen on too much airbrushing ('I don't like it when they stretch you out and make you all long and skinny. It makes you look like a Barbie. Who the hell looks like that?') and though she likes fashion, remains somewhat wary. 'I think I tend to dress quite hard. I'm definitely not a frilly girl and I don't wear dresses that much,' she says. She does employ a stylist, but insists that she makes the final decision: 'When it's a red carpet thing, I think it's good to just go for it. Who cares if someone hates it? If I love something – if I think it's edgy and cool – I don't care what anyone else thinks.'
[From HuffPo]
Okay, I actually feel for her on the stuttering thing – I had to have some speech therapy when I was a kid for my faint lisp (lithp). But I'm finding it hilarious how she describes talking on the phone. Can you imagine asking, "Who's calling please?" And just hearing a string of stuttering curse words, and you're like, "Oh, hi Emily!" As far the wedding, that already took place, and it seemed really lovely. I think George Clooney was the wedding planner, honestly, because he seemed to be the one in charge of tents, food and boats as they had their ceremony at Lake Como, Italy. Lovely!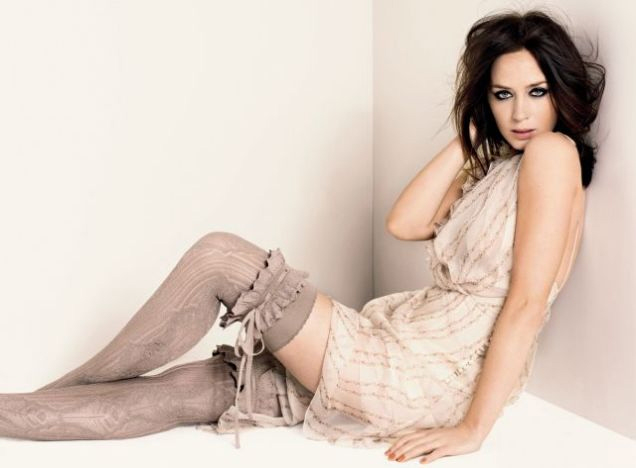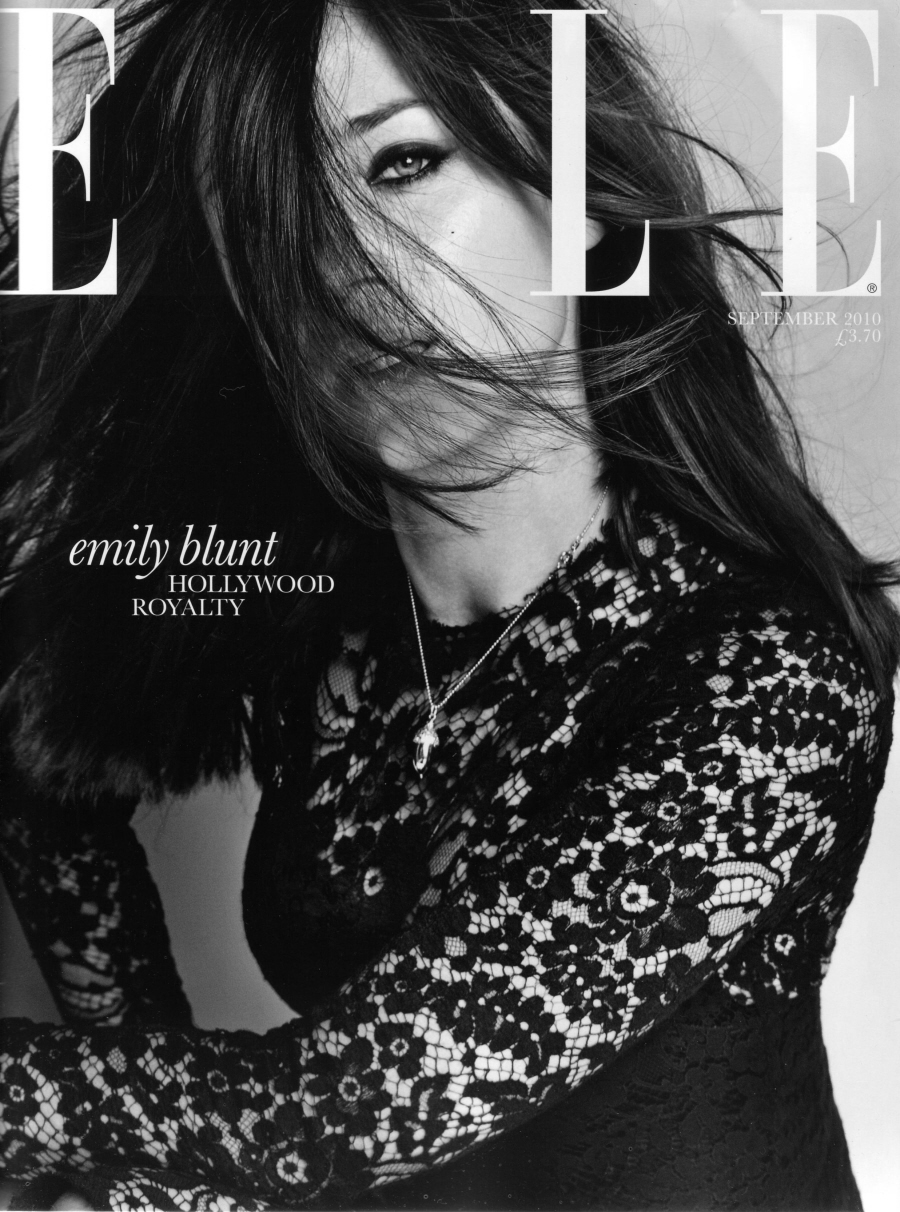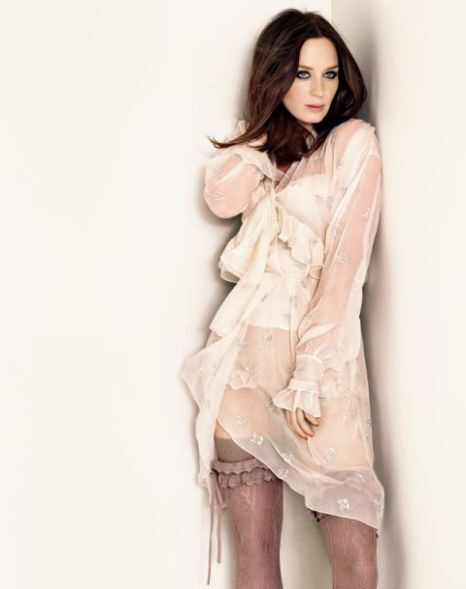 Photos courtesy of The Fashion Spot and Metro.