The Switch (formerly The Baster) doesn't come out for another three weeks, but it's never too early to begin promoting the latest trainwreck-concept romantic comedy. Thus, Jennifer Aniston appeared on The Tonight Show last night, and… well, ugh. Most of that "ugh" is directed at Jay Leno, by the way. I haven't watched him in months and months, and I always forget what a terrible interviewer he is. He nonsensically repeats whatever Aniston just said, and he makes their conversation extremely stilted. A word about Aniston's styling: simple, loose black dress, short, with toned legs flashing. Hair was slightly bedhead-y and she seems to be wearing a lot of makeup? I like her necklace. Here's the video:
Conversational highlights: Jennifer says that one of her summer jobs was as a bike messenger in New York City when she was 18 years old. She confirms that she was either fired, or "they mutually agreed for her to resign." She also talks about vacations ("I love vacations!") and how she doesn't "feel guilty" about taking vacations. Aniston jokes about her old fear of flying and does make a funny joke about drinking on planes: "I just Judy Garlanded my way through the whole flight!"
She also talked about how her perfume Lolavie became Jennifer Aniston: The Scent or whatever. She says: "I sort of knew what I wanted the name to be, and then… something… I don't know how or what or who, we're not going to blame anybody, but something happened and you know, they had to take the name that I was going to use."
Then she asks if they just had an earthquake, which makes me wonder if she's a bit toasted? I thought for a moment at the beginning of the interview that she seemed slightly drunk – not completely Lohan-ed, mind you, just pleasantly buzzed. Of course, I thought she looked pretty drunk for her big perfume launch in London too, so maybe I've just discovered the next big tabloid story: "Brad Pitt Tells Jennifer Aniston: I Can't Be With You If You Have A Drinking Problem!"
Okay, part II:I don't know why, but it's difficult to embed the entire interview, but here are some more highlights:
When asked about getting pregnant through artificial insemination, Aniston says: "I'd wanna know the guy." When asked if she would do it and how, she played the ditz, saying: "Jeez, that question's never been asked to me. You go to the bank and you have a card…I honestly don't know exactly!" Ugh. It's going to be a full month of Aniston being asked about sperm banks and semen and artificial insemination and having babies. I would pity her, but nobody forced her to do this horrid-concept film.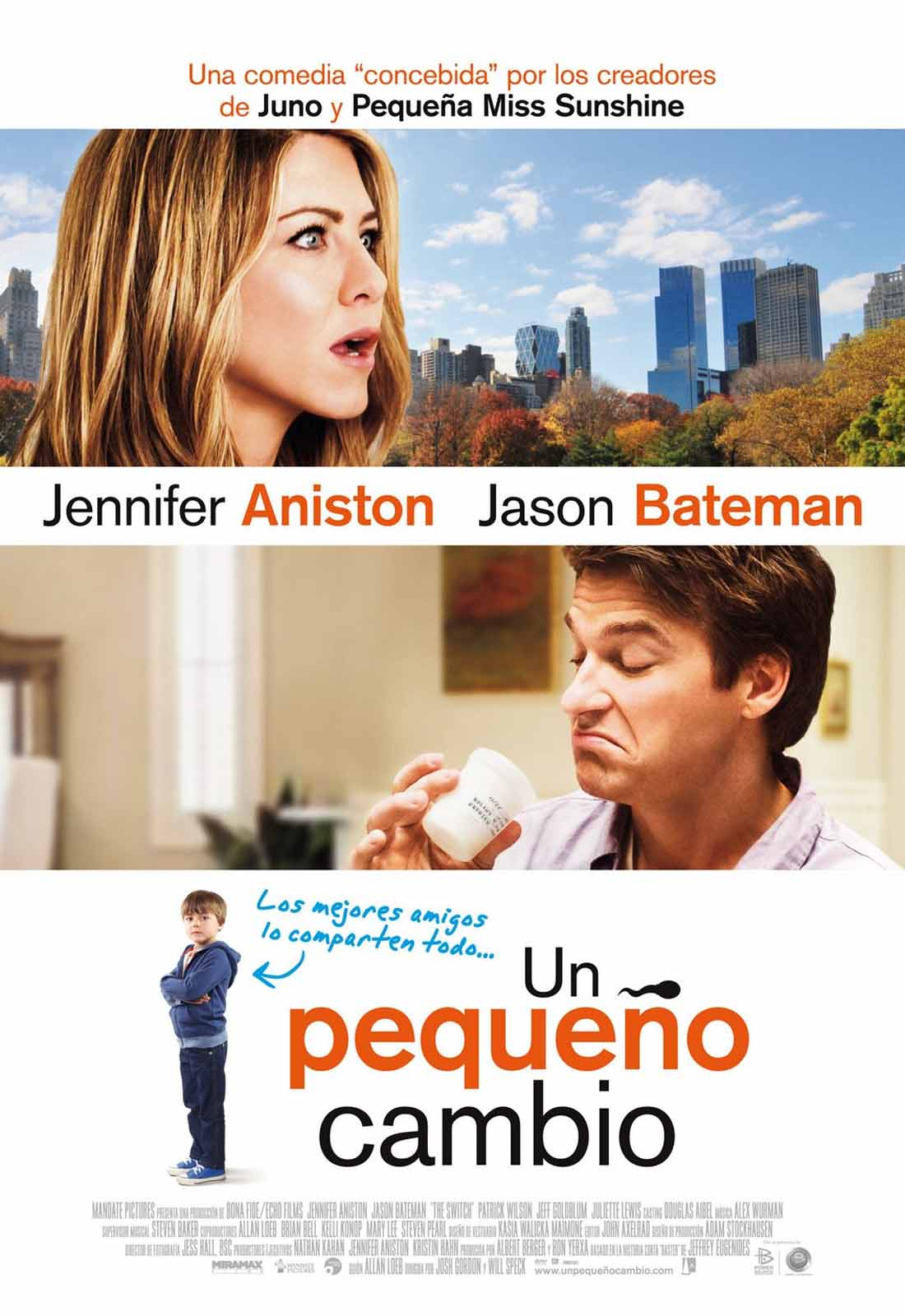 The Switch movie poster courtesy of Google.