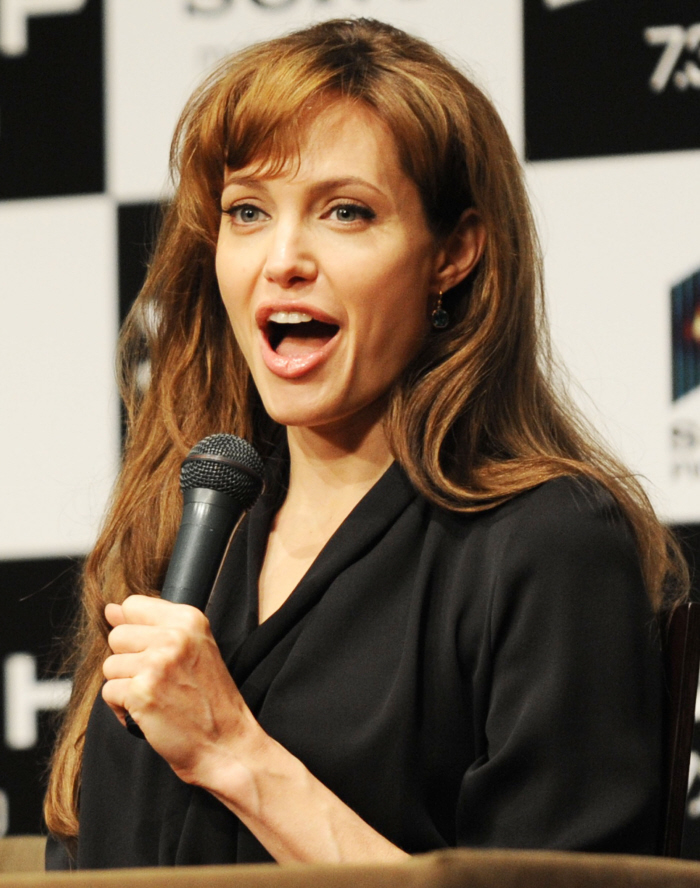 Angelina Jolie gave an extensive interview to The Mail on Sunday, probably to promote the UK release of Salt. The full piece is here – Angelina sounding… interesting. I've been a little disappointed with the quality of Angelina's interviews for Salt's promotion, just because she does seem to be pushing the mom stuff really hard. I get that she's got six kids and all, and I totally respect that, and hey, I'm one of Empress Z's minions, just like everybody else. But I just want Angelina to still be a little crazy in interviews, just for the fun of it. Anyway, this interview really isn't any different, although she does go in more detail about her stunt work and training for Salt and a couple of interesting little pieces about Brad – he bought her a motorbike. Here are the highlights from the extensive interview:
On not playing a Bond girl: 'They wanted me to play a Bond girl in Casino Royale,' says Angelina Jolie. 'I said, "Actually, I'd prefer to play him; I'd rather be Bond." It was a joke – kind of. It was an interesting conversation.'

On Salt not being like James Bond: 'Salt is nothing like Bond,' says Jolie. 'In so many spy films women are femme fatales and we wanted to avoid that. My character doesn't use her sexuality to get anything. It's the roughest I've looked. When we fight, it gets ugly. Somebody breaks my nose in the film. It's not pretty.'

On being a woman in an action film: 'I think when people write things for women – at least with the films I've done in the past, such as Tomb Raider – they're not serious. They're not raw. They're not hard. So when we wanted a real female action hero, we looked towards something that wasn't written for a woman.'

On doing research with real CIA agents: 'The two women I met were sweet-looking, smallish framed, blue-eyed, blonde-haired and looked like they would be running the little store in the high street or teaching in Ohio,' she says. 'But once you started talking to them you could see how they steered through this demanding world and how dangerous it was. And they are tough women. They told me that as women they had real difficulty dealing with relationships. They said the hardest thing is to be in a job where you can't talk with your husband about anything that's happening. You go on a trip and you can't tell your partner where you're going. You come back and you can't tell them anything about what happened. They said that keeping track of the lies was very hard and made them feel distant from people outside the CIA. And as women, I think it was extra hard because they are nurturing by nature, and emotional, and it's hard not to want to share and talk.'

On changing the script: 'In the original script the character was Edwin Salt so our first joke was to call her Edwina but it didn't suit me,' she laughs. 'So we settled on Evelyn. And I didn't feel that a woman would have a child in that position and so they changed the script. If a woman had a child, I think it would be very hard for us not to imagine her holding on to that child through the entire film. Which is strange because I think audiences would allow a man to have a child who is with his wife back at home. But it would be very difficult to see a woman not be 100 per cent focused on her child.'

On playing Evelyn Salt right after giving birth to the twins: 'There's mum – and then there's the side that likes to get down and dirty,' she says. When the Salt script was couriered round to the Jolie residence, she was 'at home in my nightgown feeling very maternal with my new babies. I remember I was with them in my bedroom and I flipped through the script. It was all about getting out there and attacking and being very physical and I did feel really funny, thinking, "If I can do this it would be a nice balance: the being soft at home and then going to work and filming this hard, physical role." It seemed like a real challenge. And I like a challenge.'

On the stunt work: Jolie, along with stunt co-ordinator Simon Crane and her stunt double Eunice Huthart, helped to develop the spectacular action sequences seen in the film. 'We talked a lot about the way Evelyn fights,' she says. 'Bourne has a wonderful way of fighting, Bond has a great way of fighting, and all of the other action-movie characters have their styles. So we thought, "What should be right for Salt?" And the thing that was maybe the least obvious for a woman became the thing that we relied on, which is that she's mean. Really mean. Not flashy, not gymnastic, not inventive, she's just mean when it comes down to it. She kicks, she uses her elbows, she fights to survive and it's not pretty. So that was a diff erent thing as a woman. Fights I've had in the past have been more elegant. I have punched in real life back when I was a teenager and I know real fighting is awkward and not cool at all.'

Brad bought her a "flame red MV Augusta" motorbike: 'I'm not sure what cc it is,' she giggles. 'But I can tell you it's a proper bike and it's powerful. I used to have a bike years ago, but I hadn't owned one for a long time. Brad's a really good teacher – he's really patient. I'm very impatient so I can wreck a bike if I'm not careful. Sometimes we'll go on the track together and there you can go really fast and let your hair down.'

On doing the stunt work: 'Luckily I'm not scared of heights. It was really high and, while I had a safety wire on, if I had fallen I would have dangled like a pendulum and whacked into the side of the building and it would have hurt. With the motorway sequence I did a lot of jumping on to the cars. But there were a few things that I couldn't do that my double Eunice did. One jump was from one moving truck to another. I would have liked to have tried it but it would have been insane to do so. She could have died doing it and the producers didn't want me to have a go – for one thing I'd have needed a wire and it wouldn't have looked as good. Doing a few stunts is a great part of the job; it's wonderful therapy. I wasn't scared. I get a kick out of it. I love that kind of thing. But I am fearless to the point of stupidity sometimes. Maybe I should have a little more fear.'

On getting injured on the film and being hospitalized: 'It was first thing in the morning and I thought, "This is a piece of cake,'" she recalls. 'So I jumped inside, rolled over and smashed into a ledge and it knocked me right between the eyes and cut me open. I didn't get knocked out but I was swearing. I had this gash right between my eyebrows, just under an inch long. They helped me up and the nurse came and put some gauze on it. But I was pretty dizzy and everyone was getting paranoid about it. I was feeling nauseous too and I had trouble walking for a few seconds. I had all these weird signs of concussion. So they sent me for an MRI scan just to be extra cautious and that was all clear so they put some of those tiny stitches over it and bandaged me up and I was fine. I went back to work later that same day. It's funny because towards the end of the film my character has so much blood and cuts on her, it blended in. It was just one more thing on my face. And it's left a tiny scar. You pick up scars on your body over the years and I don't mind them. It's character and it's part of life.'

On self-defense and getting into shape post-pregnancy: 'I can handle myself. And learning self-defence is a good thing, for a man or a woman. It's empowering. I started getting fit when the babies were still small; a few hours each day, gym work, working on the fight routines, and I got back into the rhythm. And then I'm filming and suddenly I'm running down the street with a gun, being chased and jumping off  a bridge and thinking, "What am I doing? How did I get here? I'm not an action star, I'm somebody's mum.'"

On Brad: 'We're great,' she laughs. 'And we can laugh about most of the things written about us because we're OK.' In fact, she reveals that they take great pains to keep their relationship fresh, planning 'date nights'. 'We actually schedule them. We just had one the other night and we went next door so we didn't have to worry about the paparazzi and the kids didn't know where we were. We have a house that has two sections so we go to the part that's normally the studio and the office and just have dinner as a couple. If you can hold it together – which is hard these days and a lot of people separate – then you have to work at it, and you have to make that time when you are not Mum and Dad once in a while.'

More on Brad: 'He's strong, intelligent, he's sensitive – and he's a real man, in all the best ways that can mean.'
[From The Daily Mail]
Eh. Angelina really is loved up, isn't she? I worry about that, actually. As much as the tabloids portray her as a woman with one eye on the door and the other eye on her costar's wang, I think she's just totally batsh-t crazy in love with Brad. And that worries me.
Speaking of batsh-t crazy, I finally got the chance to read Star Magazine's full cover story from last week, including all of those allegedly hardcore photos of Angelina on her "heroin binge" (and her heroin minge!). The photos were totally disappointing! She just looks stoned and like she's having a really awesome time playing with some electrical tape and a cowboy hat. Haven't we all been there?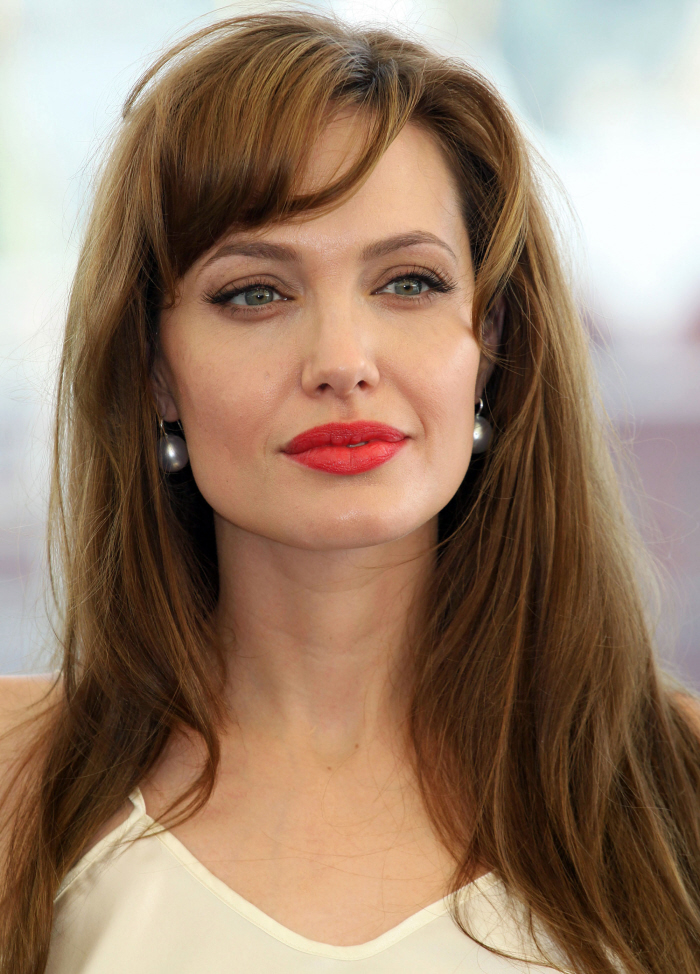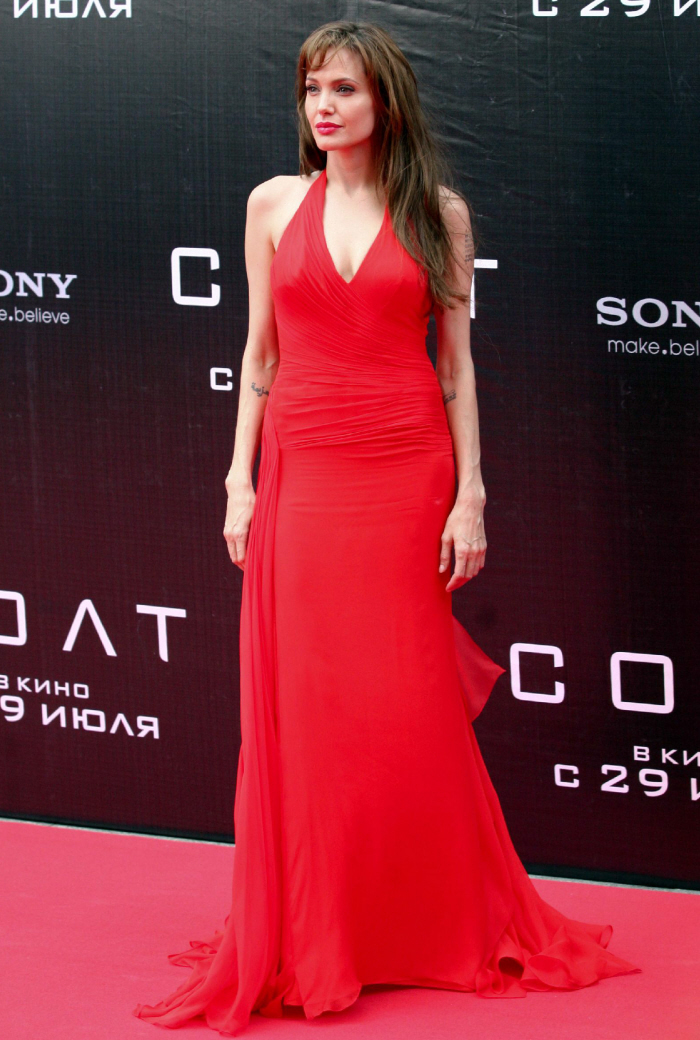 Angelina Jolie on July 25 & 27, 2010. Credit: WENN.