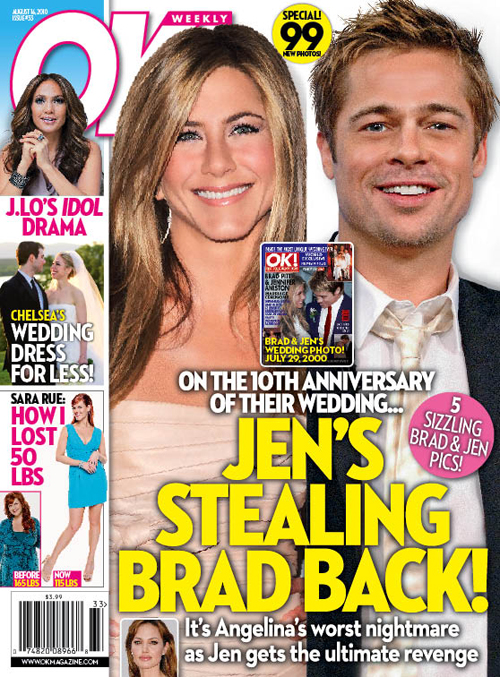 I was in the US for a while recently, and I loved getting a stack of fresh tabloids at the grocery store every Thursday. It wasn't until weeks had passed that I realized I didn't buy OK! Magazine once. (Let me give a shout out to Stacie, who has scanned the tabloids for us for years. I am so grateful to her for helping us get them fast and for providing an online archive of past issues.) Anyway we've never had Stacie scan OK! that I can remember, and since the magazine changed hands last year it's really changed. Star Magazine is now more reliable and breaks more stories than OK!, which used to position itself as a kind of budget People but is now less interesting than Life & Style. (They jumped the shark with that photo of Michael Jackson dead on the cover and have never quite recovered.)
The latest cover of OK! looks like yet another blatant attempt to move copies with fake news. We've had all sorts of phantom pregnancies, engagements, marriages and now a faux-reunion from OK! They claim Jennifer Aniston is "Stealing Brad Back!" on what would be their 10th wedding anniversary. The vague intro article on their site has Aniston calling Brad, meeting up with him and sending him gifts, but it's unclear whether she plans to do this or has actually already done it, according to whatever throwaway text they add to this very familiar and fake-sounding scenario.
On what would have been her 10th wedding anniversary with Brad Pitt, Jennifer Aniston, gorgeous and glowing in a little black dress, bantered with Jay Leno before millions of Tonight Show viewers. "It was an emotional day for her," a source tells OK! about the July 29 anniversary. "She put on a brave front."
And a sexy one: At 41, Jen looks better than ever — and it's no accident. Insiders say Jennifer is looking to get even closer to Brad with late-night phone calls, gifts and private meetings.
[From OK!]
I want to like OK!, I really do. Their online edition has good unique interviews with celebrities and they break news sometimes but it's like they don't recognize when they have a real story to hype. These fake cover stories must sell for OK! or I guess they wouldn't bother. They're not in the top 100 magazines by circulation in the US, though, and have less than a million copies in circulation each week.
How many times have we heard this made up reconciliation story, though? OK! even ran a "Yes, they're back together again" cover for Jen and Brad earlier this year, and we know just how true that was.