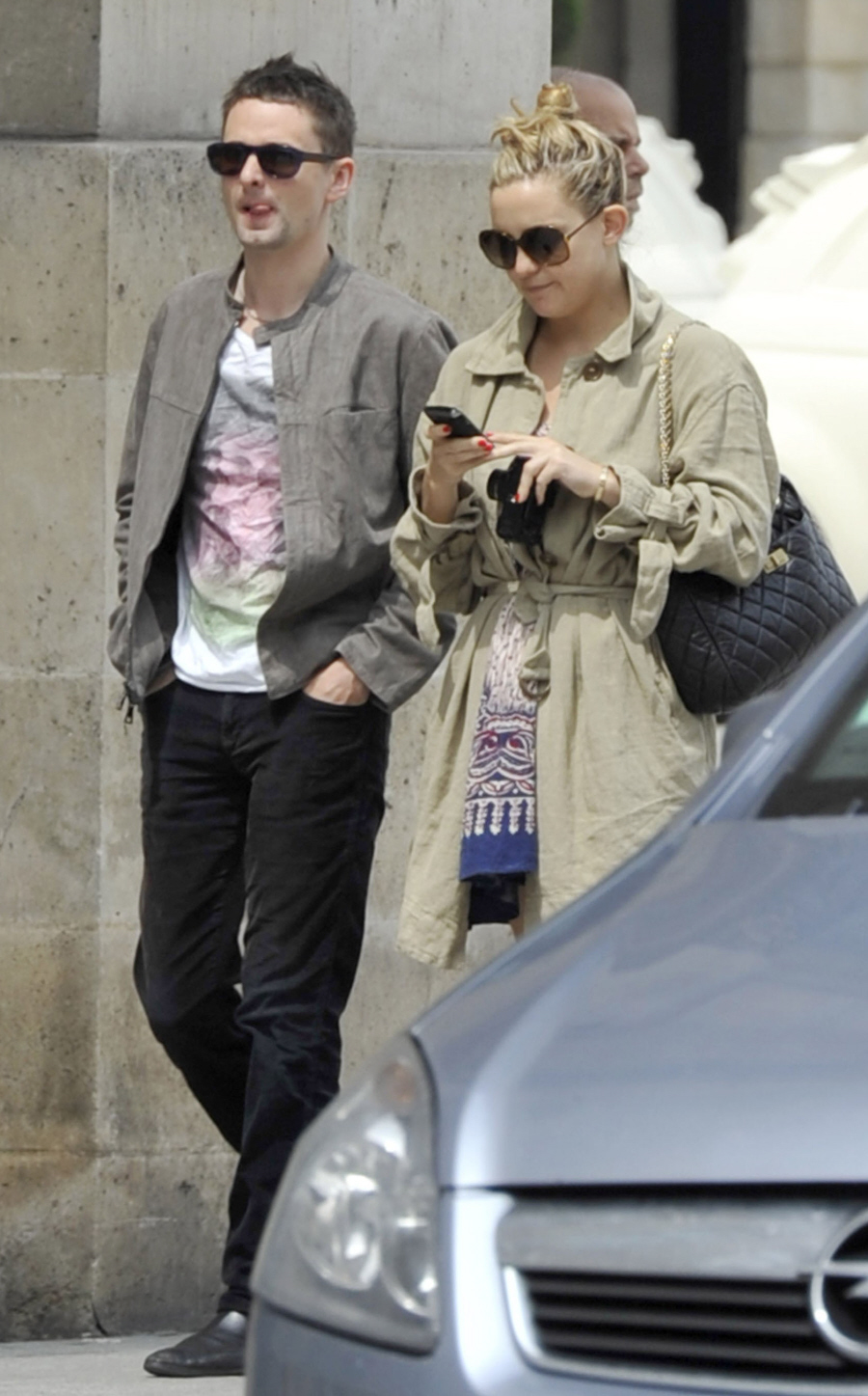 I know a lot of you can't stand her, but I kind of like Kate Hudson. She's a mess, of course. But I've said it before, and I'll say it again: I like that she never plays the victim. She's out for a good time, and she makes no apologies for her lifestyle, and I appreciate her consistency, although I do think she consistently moves too fast and totally overwhelms whatever dude she's dating. After all, the tabloids insinuate that she's a succubus who destroys men's souls, and for good reason: she juggles men constantly, she always has a boyfriend, she's always on the stroll, and she's always ready to uproot her life (and her son's life) for a piece of wang. So, in that way, I don't care for Kate that much. But it makes her predictable, and everyone saw this coming: Kate is apparently so IN LOVE with her new boyfriend Matt Bellamy that she's seriously considering moving to London to be with him:
IT won't be long before KATE HUDSON and MATT BELLAMY have love nests on either side of the Atlantic.

Last week the couple – who have enjoyed a four month romance since hooking up at the Coachella Festival in California – were spotted looking for a pad in New York.

Now they are on the hunt for another loveshack in London.

A friend of Hudson said: "Kate's been swept off her feet. She's not only fallen in love with Matt, but also with the idea of starting a new life in Europe. The plan is for them to divide their time between his London apartment and his home in Lake Como, Italy. She's already started moving her things over. She couldn't be more excited."

The pal added: "Matt's introduced Kate to a world she never knew. He's shown her around the English countryside, taken her to Devon and Cambridge, where he grew up, and Ireland, where his mother was born."

"She's found a man she truly believes she can settle down with. She's truly excited about starting her new life."
[From The Sun]
Well, it could totally be worse. It could be A-Rod, you know? I actually like Matt Bellamy and I think he's really cute, so if he was all "Move to London, we can split our time between a gorgeous little flat and my place in Lake Como" I would be all "Hells to the yes." So can we give Kate a pass on this one, just because we would do the same sh-t? Or do we have to just roll our eyes and say "Ugh, Kate, STOP IT. You're moving to fast AGAIN"?
Header: Kate and Matt in Paris on June 13, 2010. Credit: Bauer-Griffin.