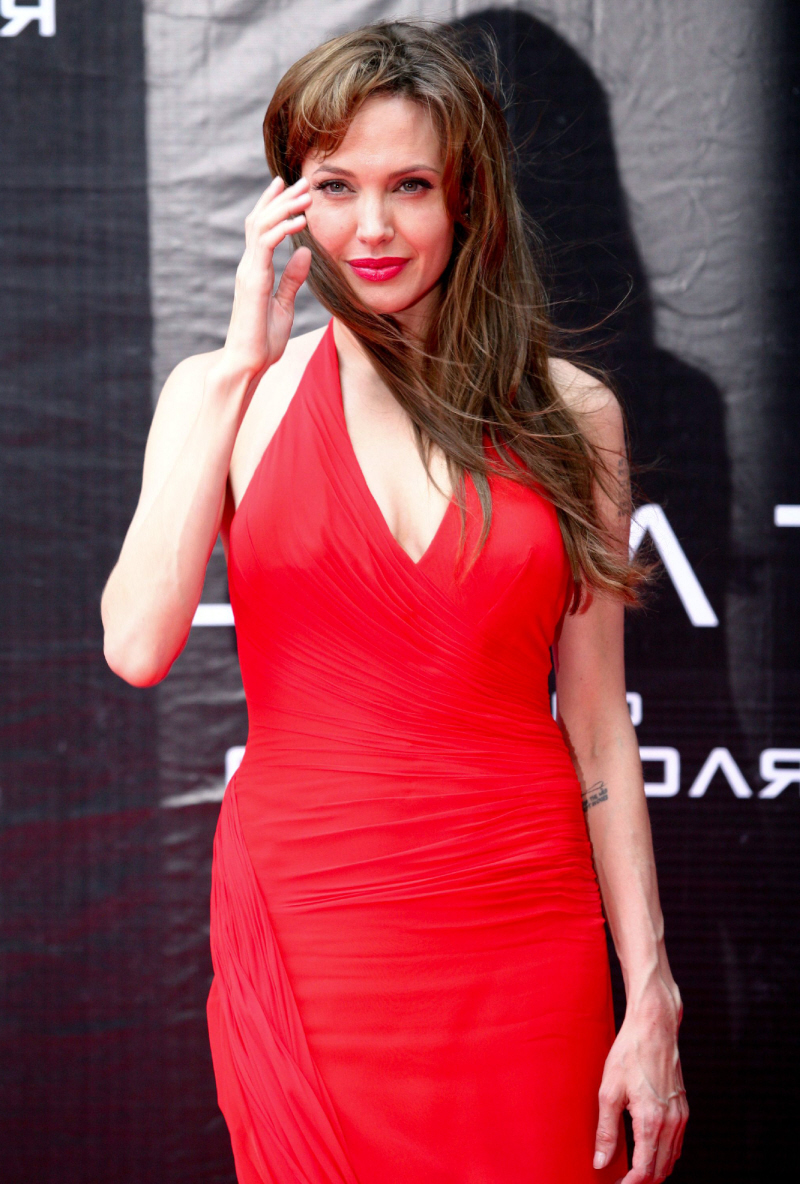 There are a bunch of Angelina Jolie stories in this week's tabloids, but most of them are pretty uninteresting. The National Enquirer has one about Angelina Jolie inappropriately kissing Johnny Depp while they were filming The Tourist, even though the script didn't call for it. They made it sound like Angelina just wanted it "spicy" and Depp was offended. However, doesn't The Tourist have a bunch of sex scenes? Weird. Also, the British tabloid Grazia has some strange quotes attributed to Angelina. I'm not sure if Jolie actually said this stuff or not, but it's interesting:
Salt star Angelina Jolie has revealed that it is "not her choice" that daughter Shiloh wants to dress like a boy.

The 35-year-old actress has six children with partner Brad Pitt, 46, and their four-year-old daughter Shiloh has recently been making headlines with her tomboy dress sense and short hair.

Jolie admitted that Shiloh didn't like her previously long hair and asked her mother to cut it off.

She told UK magazine Grazia: 'It's not my choice. I have a very strong-willed four-year-old girl, who tells me what she want to wear and I let her be who she is. I think people think kids should be a certain way, but I feel they should wear what they feel like wearing and they should express themselves.'

"Shiloh cried one night and said, 'Please cut my hair off. I don't want to have long hair'."
She added: 'I'm not going to leave it long because somebody thinks I should.'
[From Monsters and Critics]
It seems like Grazia is just guessing as to how Angelina felt and just put those words in her mouth, but whatever. There are worse things, I suppose.
Additionally, Star Magazine has a great story about Angelina and her alleged lesbian lover:
Sitting side by side in a candlelit white leather booth, Angelina Jolie cozied up to a beautiful woman with short, dark hair.

"Angelina and this lady were pretty playful and affectionate," an eyewitness at popular date spot Dresden Restaurant tells Star. "They were having a lot of fun."

The pair couldn't keep their eyes off of each other as they talked and lingered over their drinks for hours.

On another occasion, Angelina brought the same woman to meet up with several of her closest friends – "Angelina was laughing and seemed very relaxed… she was wearing very little makeup and slipped under the radar."

Intimate encounters like these are becoming a regular occurrence for Angelina. She has reportedly spent time with her special friend, who appears to be also in her 30s, at the Dresden at least three other times in the past two months.

An insider speculates: "Who knows? Maybe Brad is OK with Angie seeing some women on the side."

Another insider: "Brad just doesn't know yet that Angie is dating someone," noting that Angelina often disappears for hours and is unreachable on her cell phone. "She is still very much into women."
[From Star Magazine, print edition]
And then the story goes into an ad for Andrew Morton's new book, in which a source describes Angelina as "megasexual" and that women are Angelina's "true love." As for this mystery woman: meh. Pics or it didn't happen. I find it hard to believe that Angelina goes to the same place with her lesbian lover FIVE times and no one has ever gotten a photo. That being said, the lady sounds nice, and I'm sure Brad is into it. Oh, wait, I meant to say that Brad is SHOCKED by how SCANDALOUS Angelina is.
Header: Angelina on July 25, 2010. Credit: WENN.