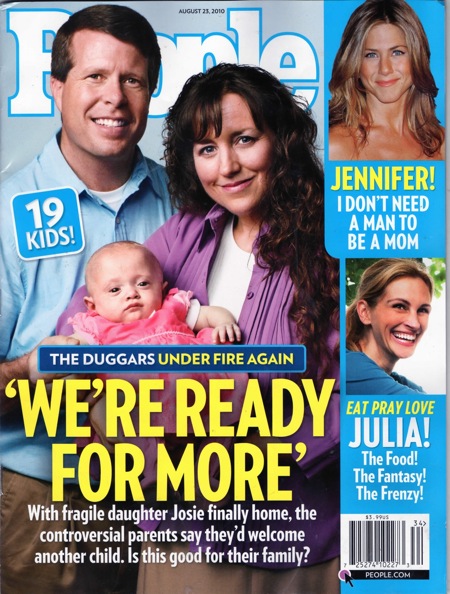 The baby collecting Duggars earned the coveted main spot on the cover of People this week, which should have been reserved for America's (maybe former or tied-for) sweetheart, Julia Roberts. Instead, Roberts got a sidebar when she has her big starring vehicle coming out. (Maybe she didn't give People an interview, though.) I'm not a huge Julia Roberts fan and find her a tad too full of herself, (although she's softened in recent years) but she rates over the Duggars. They're controversial, though, especially when they talk about having more children for their daughters to take care of. The Duggars must sell for People, and I know their posts get a ton of comments here.
Anyway, despite admitting they were wailing and praying to God when their last baby faced health problems after being born prematurely due to 43 year-old Michelle suffering gallstones and preeclampsia, the Duggars are of course giving it another go and letting "God" decide if they're going to have another kid. The Duggars have said this all along, they said it in their last People interview in May and they said it last Tuesday in an appearance on the Today Show.
Michelle and Jim Bob Duggar have always been open about their willingness to have children. But when the devout Baptists and stars of TLC's 19 Kids and Counting faced the catastrophic aftereffects of their 19th child's premature birth, many assumed they might be done.

But now the couple – who only recently brought baby Josie home after being hospitalized for six months as she recovered from a perforated bowel and rare digestive problems – say they are ready to consider a 20th child.

"Our family is stronger than ever," Jim Bob, 45, tells PEOPLE in its new issue. "We made it through the storm."

That's not to say that everything has been easy with baby Josie. Born early after Michelle developed preeclampsia (pregnancy-induced high blood pressure), Josie was just 8 days old when a perforated bowel threatened her life.

"When she first came home, I couldn't sleep at all," says Michelle, 43. "That was the scariest part for me, having the full responsibility of her care on my shoulders … It was intimidating."

Similarly daunting are the very real medical risks Michelle could face with another pregnancy – particularly a return of preeclampsia, which can lead to a stroke or prove fatal. But despite the risk – and intense criticism – the pair vow to stick to their beliefs.

"People think we are overpopulating the world," says Jim Bob. "We are following our convictions."
The Duggars may be "following their convictions," but that doesn't mean that they're not contributing to th overpopulation of the world. They're doing that through their own family, of course, and also by publicizing their enormous family on their reality show and in these magazine profiles. They're making it look like a viable option for families that may chose to follow that belief system and have as many kids as humanly possible. In our last story, commenter "Awkward Turtle" posted a link to a site by a divorced mother of seven children and former member of the Quiverfull movement. It's called "No Longer Quivering" and has some powerful personal stories from women who have suffered while raising large families under a rigid idealogical system. In a profile on Salon.com, the site owner describes how she came to raise her family under Quiverfull's doctrines, which she eventually rejected. She writes on her site that she "was seriously sucked into a hate-filled worldview and was so committed that I was willing to die for the cause – and now I am equally bold in speaking up to say that the Quiverfull worldview and lifestyle overburdens women, enslaves the daughters and destroys families." Maybe it only works when you've got a passive wife who is willing to do whatever her husband wants, even if that means endangering her own health to bear well over a dozen children.
Thanks to CoverAwards for the People cover.