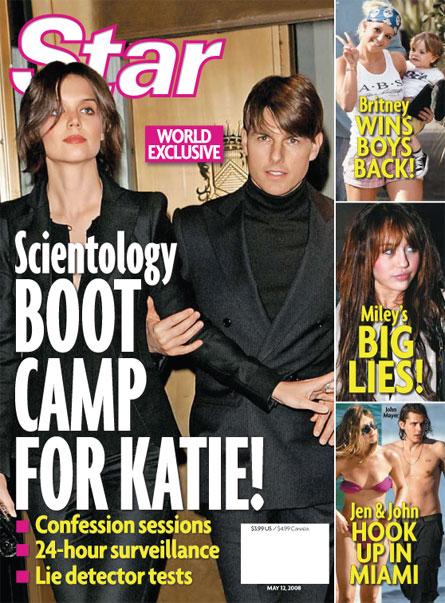 As nice as it must be to be famous and wealthy, I really think I'd rather be a platypus than Katie Holmesbot. Which is ironic, because Tom Cruise tends to treat his wife the way I imagine a wayward platypus should be treated. Katie has been forced to go to Scientology "boot camp" according to Star magazine. Though boot camp sounds a lot more like what cult experts call "reprogramming." Apparently Katie had an original, independent thought, and that freaked Tom out. So he shipped her off to have her circuits rewired – though we're not sure if she's as good as new yet.
In the new issue of Star, we report exclusively on how Katie was recently secluded for three days at Gold Base, the remote, supersecret Scientology compound in Hemet, Calif., where she was put through a demanding schedule.

"It included various tests, confession sessions, tons of reading and physically challenging purification processes," a Scientology insider reveals. "Tom insists that auditing and purification practices are incredibly beneficial to Scientologists at all levels."

Katie's intensive Scientology training and treatments have been accelerated in recent weeks, says another source, because she wanted to go to New York City without Tom to star in a Broadway play. But Tom stepped in and put the kibosh on her plans. And now Katie's been going in for a series of intensive auditing sessions, some which have lasted for 36 hours straight — with little sleep or food.
[From Star]
I'm pretty sure that along with her GPS tracking chip, Tom also had some kind of Frankenstein-esq nodules installed onto Katie's neck while she was at "Gold Base." He can hook her up whenever he wants, charge her batteries, and reprogram her wiring to revert Katie to her factory default settings of "Blank." And then fill her with whatever information or personality he wants. Though from recent interviews, it seems like she must be low on disk space or something, because Tom hasn't installed much personality onto Holmesbot. Luckily she's been reprogrammed, so I'm guessing that whole New York thing isn't going to happen.
Header photo thanks to Popbytes.