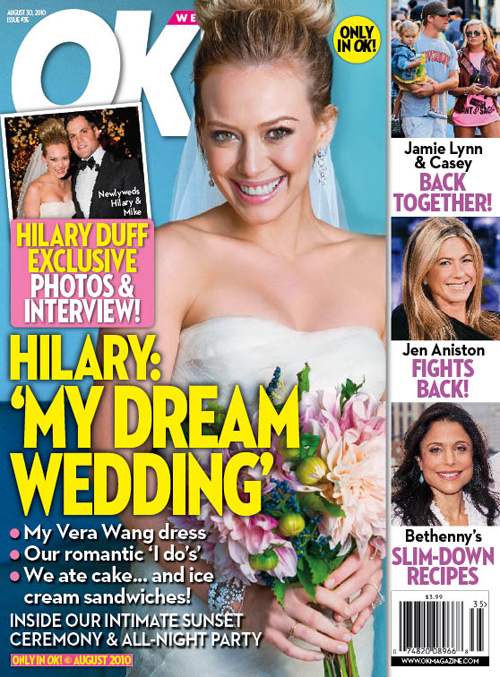 I won't buy a celebrity magazine for random wedding or baby pictures usually, but I love to look at my "friend's" photos on Facebook. It's not just wedding photos, I love baby pictures, showers, drunken college parties and vacation photos. I don't know most of these people as I just have one Facebook account for Celebitchy. (Add me as a friend and I'll check out yours. The other day I was checking out someone's birthday vacation to Chicago, where she caught a Cubs game and took in the sights. I'm mentioning it to see if she reads this story.)
Anyway I knew when we saw just those blurry faraway photos of Hilary Duff's wedding to hockey player Mike Comrie that she must have optioned the photos to a celebrity outlet. OK! Magazine has them, and Hilary looks really lovely on the cover. (If not a little 'toxed and/or Photoshopped.) The cover promises to have "exclusive photos" and an interview with Hilary. I'll buy the exclusive photos part, but I'm thinking the interview isn't that extensive. Maybe I'm just so used to OK!'s bait and switch covers that I'm having trouble giving them props for an exclusive piece that they surely paid good money for. Here's more, from E!, which has more of the story than OK! does on their site:
Hilary Duff's big day began all wrong, but it certainly didn't end that way.

"I started my day with a chipped tooth!" she reveals in the new issue of OK! "My wedding planner snuck me out to the dentist! Thank goodness it was fixed within the hour."

Fortunately, everything else went smoothly for the 22-year-old bride as she tied the knot with Mike Comrie last weekend in Santa Barbara, Calif.

Walking down the aisle in front of about 100 guests, Duff wore a Vera Wang gown with an organza mermaid look that was adorned with giant blossoms while carrying a bouquet of blush dahlias.

"There are not even words to describe it," says the starlet about her dress. "It's exactly what I imagined, plus 10 times better."

Duff says she also abided by the tradition of wearing something old, something new, something borrowed and something blue.

"I wore blue underwear and borrowed all of the jewelry [from Van Cleef & Arpels], and the something old was my great-grandmother's cameo, which I wore on the inside of my dress. The dress itself was new."

Upon exchanging vows, the newly married couple joined their loved ones under a muslin tent for the reception, which, according to Duff, featured truffled corn ravioli, pepper-crusted rib-eye steak and miso-glazed black cod, as well as a dessert station that included ice cream sandwiches with hot fudge dipping sauce.
[From E! Online]
That must have freaked Hilary out to no end to have chipped a tooth on her wedding day! Thank goodness she was able to get it fixed right away and I wonder if it was even noticeable. Also, I love food "stations" at weddings! I once went to a wedding with different chinese food stations ahead of, unbeknownst to me, the main meal. I walked around and filled up and then we sat down for a few courses.
OK! has two photo sneak peeks of Hilary's wedding on their site, a picture of the reception set up and a photo of her shoes overlaid with a couple of her diamond accessories. The reception looks gorgeous, with multiple understated chandeliers, lots of draped fabric, and pink and yellow rose bouquets. It must have been such a special day. I wish she was my friend on Facebook so I could just see the pictures there and look at all her friends' comments on how drunk they got.
There's a little more gossip on Hilary. US Weekly reports that she had a prenup with her new husband, who is a multi-millionaire hockey player in his own right and comes from a wealthy family with a furniture empire. An insider says "It was a totally amicable agreement. They love each other very much and knew this was just a technicality." That was smart, and good for them. People get married thinking it's going to last forever, but the truth is that we all have about 50/50 odds – maybe a little better but it's smart to be prepared.