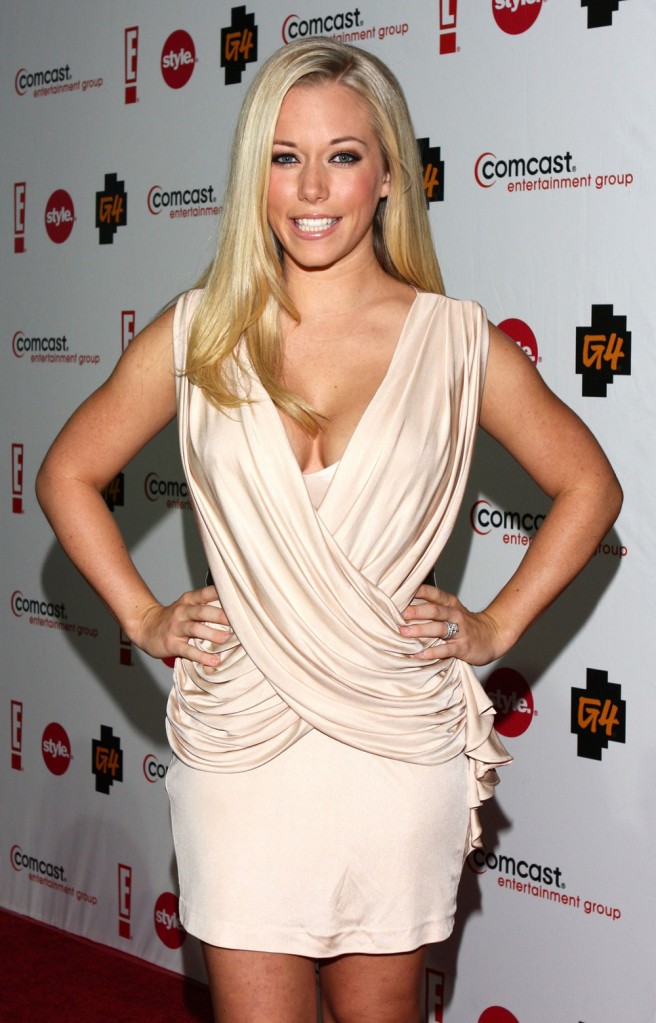 This week's Star Magazine has a new interview with reality star Kendra Wilkinson, who is talking about her body after baby yet again. Kendra lets us know that she wants to have another baby within the next year with her husband, football player Hank Baskett, and after that she's going to get liposuction to help her lose the post-baby flab. She must have the money now that she's cashed in from that sex tape she claims she was humiliated by:
"It was fun to see my body transform during my first pregnancy… but I'm dieting all the time now and exercising more than ever, yet I can't get my body to where it used to be.

"Being fit and sexy is definitely important to me, and it's what makes me happy…

"Happy a 91/2-lb baby stretched me out so much, I have all this loose skin that just won't go away.

"Initially my motivation to get back into shape was for the photo shoots I had agreed to do before gaining weight in my pregnancy. But then I had a C-section, which changed everything and put a bump in the road to my weight loss.

"I didn't get liposuction after Hank [Jr], because I knew I wanted more babies… But I will 100 percent have lipo after my second baby, because until then, I know I will never be satisfied looking in the mirror…

"We're not trying to get pregnant just yet, because we're too busy loving the first one right now… But it will definitely be sooner rather than later, because I want to be pregnant within the next year."
[From Star Magazine, print edition, August 30, 2010]
I know that fat cells never go away and that even after you lose weight you still have the same number of cells, they just shrink in size. Only liposuction can reduce the number of fat cells, but it's also very risky and in the time it takes to recover from surgery you could have made great gains in losing the weight and toning up at the gym, especially someone like Kendra who is just 25 and isn't very far from their goal. In that interview she admitted that she has been so busy trying to sort out the house after a recent move to Philadelphia that she hasn't been able to work out. That doesn't really jibe with what she said about how she's exercising more than ever.
It's sad to hear Kendra say "Being fit and sexy is definitely important to me, and it's what makes me happy." Happiness comes from within, but I understand that you feel better when you're healthy and at an ideal weight. It just sounds so naive and depressing to think that happiness is just a few pounds or inches away, and so many people, women especially, fall into that trap. I've been there and it sucks. There are other things dragging you down other than the number on the scale or in the back of your damn jeans. It's not your weight and no amount of dieting, plastic surgery or exercise is going to bring you happiness. We're always searching for that thing that going to make us fulfilled and happy and that only comes when we learn to slow down and enjoy life just as it is now, right where we are now. See what I did there? I got all philosophical over some dumb reality star saying she wanted lipo so she could be sexy. Sometimes a cigar is just a cigar, especially when we're dealing with someone as shallow as Kendra. Maybe being fit and sexy really is all she needs to be happy.
Kendra is shown on 8/6/10. She looks great. Credit: WENN.com