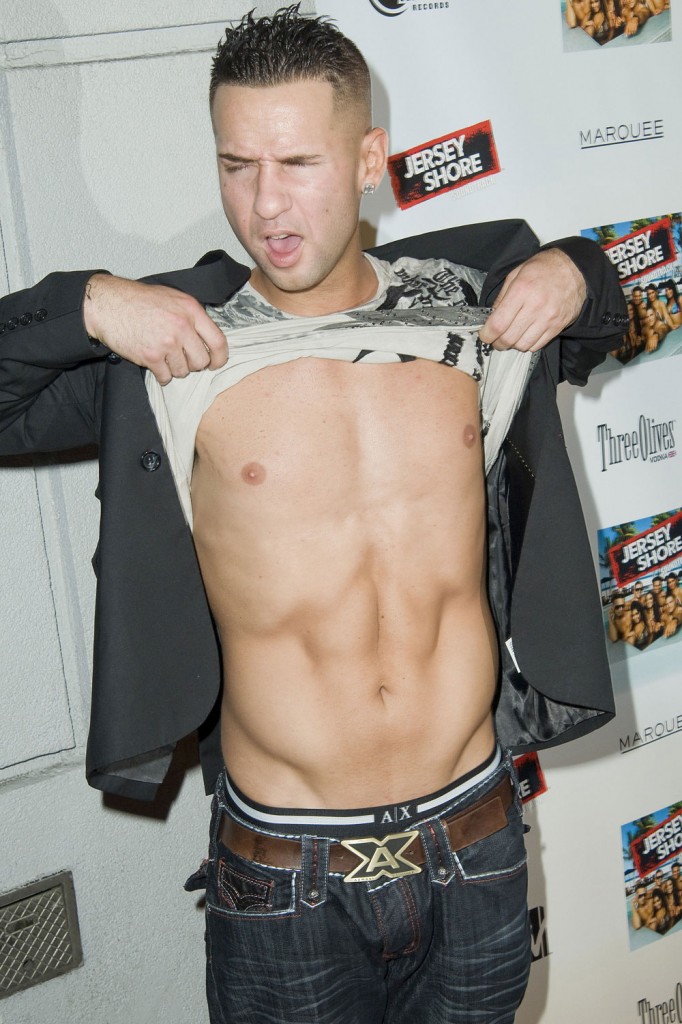 From the one episode of Jersey Shore I watched, I got the impression that Mike "The Situation" Sorrentino was the most stable kid out of the bunch of misfits and dimwits that make up the house. That's truly not saying much. The guy also has strong name recognition due to his unique moniker and distinctive freakish abs, and he's been cashing in. He's applied to trademark his name and stands to make an incredible $5 million this year off the show, endorsement deals and event appearances. That's pretty incredible for a kid whose claim to fame is being able to maintain a washboard stomach and party at the same time.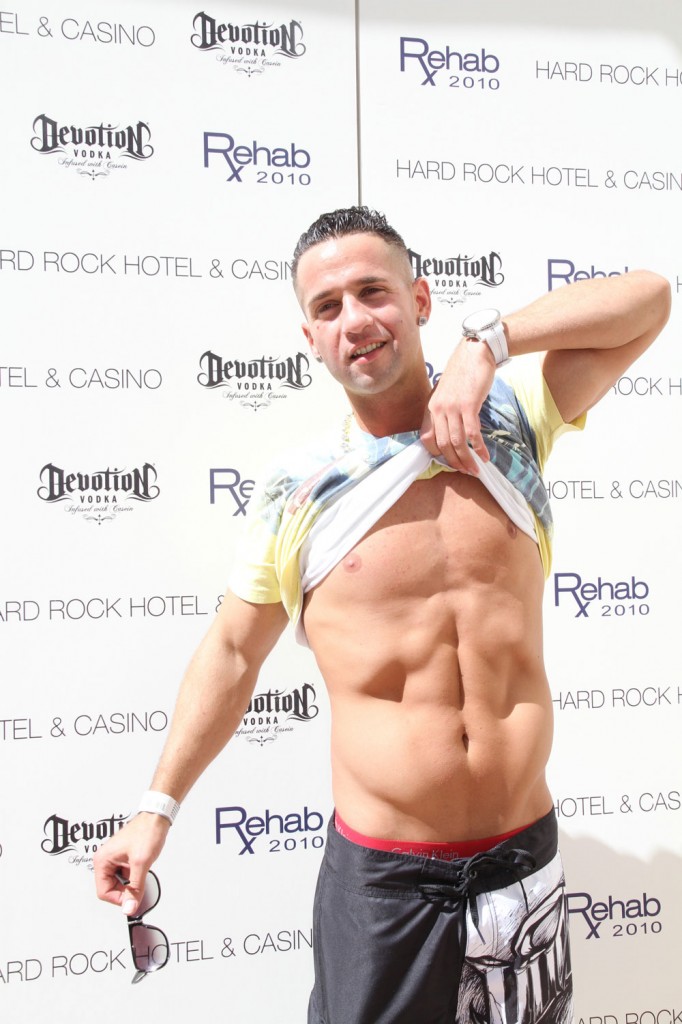 The "Jersey Shore" star is predicted to earn up to $5 million by the year's end, according to The Hollywood Reporter. A source for THR revealed that "The Situation" is earning close to $60,000 an episode when bonus incentives are factored in, and he receives between $15,000-$50,000 for event appearances. "We are really excited about all the opportunities coming Mike's way," the reality star's manager, Mike Petolino of Gotham Entertainment, said.

In addition to the "Jersey Shore" and his event fees, which could bring him a cool $1 million this year alone, "The Situation" is also using his trademark abs to his advantage by creating an abs-focused fitness video called "The Situation Workout," and has a chewable supplement line at GNC.

"The Situation" doesn't stop there! According to THR, the reality star will be releasing his autobiography Here's the Situation, is signing on to endorse a new vodka, and has a GTL application (Gym, Tan, Laundry) as well as a rap song available on iTunes. Not to mention he has further endorsements with Vitamin Water, Reebok and a deal for a clothing line.

Petolino told THR of his client's fast cash, "It's a platform. You have to use it intelligently."
[From ET Online]
The Situation will also appear on the next season of DWTS, OK! Magazine and E! Online are reporting. That will surely bring in more cash and name recognition for this douche. Also scheduled to appear on the new season are Audrina Patridge, Brandy and former NFL star Kurt Warner, according to OK! E! has a few more names in consideration, including Bachelorette Ali Fedotowsky and her fiance Roberto Martinez, and possibly Troy Aikman. (Although Aikman prematurely Tweeted the news, which could have got him booted and replaced by Warner. That's just speculation on my part.)
So does this kid deserve to make $5 million a year? (I keep calling him a kid, but I just checked and he's 27. I thought he was younger. Most of the other castmembers are in their early 20s – except for Ronnie – which could be why Mike seems more mature.) Mike worked as an assistant gym manager prior to landing a spot on Jersey Shore. He's certainly taking advantage of his fame to cash in while he can. He just made $400,000 for endorsing a new kind of vodka that has some protein in it. Just eat a hardboiled egg before you take a shot.
Look at this kid. The douche is high with this one.
Photo credit: WENN.com