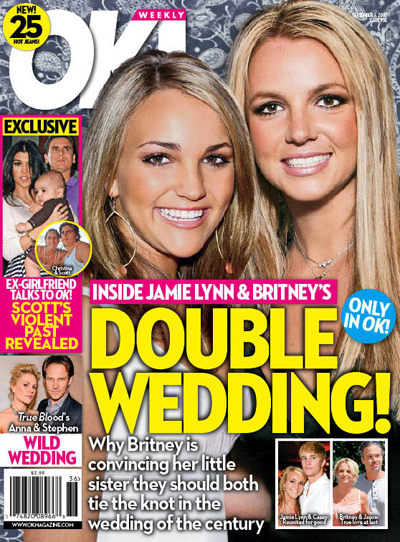 So now that it's known that Jamie Lynn Spears is back with the father of her baby, Casey Aldridge, and that Britney is still with her longterm boyfriend, Jason Trawick, OK! is running with a creative cover claiming that Britney is trying to convince Jamie Lynn to throw a "lavish double wedding" with her. I had the chance to read the article, and the cover really isn't misleading as far as what OK! claims inside. The title is a little off, "Inside Jamie Lynn & Britney's Double Wedding," but the description on the cover is accurate that the story is about Britney trying to convince Jamie Lynn to have a fairy tale double wedding. Supposedly Britney and Jamie Lynn were fantasizing about their dream weddings and possibly having them at the same time, and now Britney wants to make it a reality. It could all be b.s., of course, but I can imagine Britney wanting a huge wedding along with her sister. OK! also offers a lot of reasons why this would be useful for Britney in terms of revamping her image and career. They also claim that Britney's beau Jason is ready to propose, which of course we've heard many times before. Here are some relevant quotes from the article:
According to an insider, Britney, 28, was half-joking about creating "a huge, over-the-top Hollywood affair" at first. But when the two couples went back to her Calabasas, Calif., home, the sisters couldn't stop talking about it. "They were trying to top each other with crazy things they could do – like arrive in a horse-dram carriage," says the insider. "Their kids… would be ring bearers and the flower girl…

"Britney even suggest she and Jamie Lynn walk each other down the aisle…

"It's to show how close she and Jamie Lynn are, and how much they are there for each other.

"A lot of it is crazy stuff, but Britney is also just crazy enough to put the plans in motion."

Britney's boyfriend of more than a year, Jason, 38, liked the ideas, too. "Britney and Jason are on the verge of announcing an engagement," says a source. "They're both ready to make that commitment and know they want to spend the rest of their lives together…

"Jason said it would be bigger than a royal wedding, and Britney's eyes lit up," recalls the insider. "She loves the idea of being back on top, being respected and in the media for positive reasons. A Spears-girls double wedding would be a huge attention-getter. The media would be all over it. She'd probably sell the rights for millions and split it with Jamie. It could be very profitable for both of them…

"Jason is all about stability and image. He tells Britney that if she settles down – i.e. marries him – and acts like a grown-up, a good wife and mother, her career will come back."
[From OK! Magazine, print edition, September 6, 2010]
The article doesn't have much in the way of Jamie Lynn's reunion with Casey, but we know that they're tentatively back together, which seems to be confirmed by all the happy photos of them and their two year-old daughter, Maddie, on Casey's Twitpic account. It's not a bad idea for Britney and Jamie Lynn to have a double wedding, even if it it's OK!'s idea and not their own. They would certainly make a lot of money on the photo rights, as OK! points out, and it would do wonders for both of their images and careers in the short term. There's the pesky issue of getting married to those two guys they each have well documented problems with, including breakups and cheating allegations. It would be for the best if they tried to work on their individual relationships for a while before making them legal. This double wedding should remain a fantasy for the forseeable future.
Britney and Jason were photographed together on the beach in Hawaii recently. Whatever is going on with them, they're maintaining some really awesome physiques.
Photos are of Britney and Jason on 8/22. Credit: Fame Pictures. Jamie Lynn and Casey are shown in undated photos from Twitpic posted about three weeks ago. There's also a picture of Maddie from June.