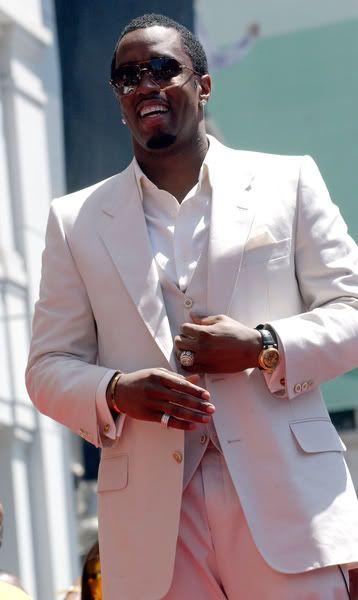 Diddy was on Ellen today and she set up a taste test for the mogul in honor of Cinco de Mayo. (Video below) Diddy has developed his own vodka for Cîroc and receives half of the profits. He said in a press conference that his partnership with Cîroc came after a year of negotiations and that he "wanted to build a brand that represents the art of celebration." He said vodka is his drink of choice and that he wants to stand behind his brands.
Diddy explained to Ellen that he wants a smooth drink and you want to "preserve your sexy" and that's why he's a vodka fan. Ellen put out a taste test with four shots of vodka for each of them with the bottles covered by boxes. Only one of the four was Diddy's vodka. He realized quickly that his vodka wasn't the first one, because he made a face when he did the shot. The second two vodkas were hard to tell apart, and he faked like he was getting drunker after each shot. Ellen played it cool and looked amused. He joked with Ellen that her shots must contain water. When he got to the last shot he spit out the vodka, and quickly realized it wasn't his. It came down to picking which of the middle two shots was his brand and he got it right! He picked his own brand over Ketel One, which he said was also pretty smooth. The first vodka was Absolut and the last was Popov or another cheap brand.
The whole exchange was pretty fun and although Diddy is known for being arrogant, combative and a player he definitely is talented at representing a product.
Cîroc vodka is superior according to Diddy and is not more expensive than its competitors. Cîroc runs at around $30 per 750 ml bottle while Ketel One is only slightly cheaper. Flavored versions of Absolut are similarly priced. I would buy Diddy's vodka at least once after seeing this video. The man does his job well.
Here's the video, thanks to rockers94 on Redlasso:

Diddy is also starting a chauffeur service for drunken celebrities, and it sounds like he wants to get them coming and going if he has a vodka brand too.
Here's Diddy getting his star on the Hollywood Walk of Fame Friday. Thanks to PRPhotos.